Brand new 120 tonne Liebherr four axle AT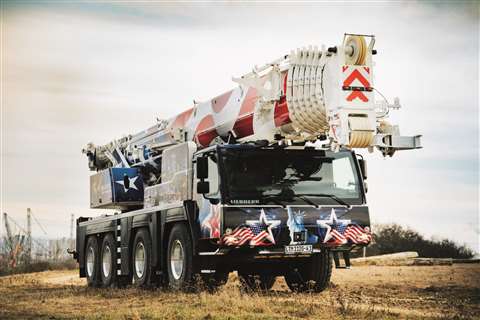 Maximising what can be achieved within the constraints of a four axle carrier is Liebherr's aim with its new 120 tonne capacity LTM 1120-4.1 wheeled mobile telescopic crane. Alex Dahm reports.
Manufacturer Liebherr will unveil its new LTM 1120‑4.1 wheeled mobile telescopic crane on a four axle carrier at the ConExpo construction equipment exhibition in March. The crane Liebherr described as the most powerful 4-axle mobile crane ever will be launched at the vast US show which runs from 7 to 14 March in Las Vegas, Nevada. Its 66 metre telescopic boom, in seven sections (6 plus the base section), puts it on an equal footing with 200 tonne cranes, Liebherr said.
"There's nothing more on four," proclaims Liebherr's slogan for this new 120 tonner. It is said to break into the performance class previously the preserve of five axle cranes. Its boom is claimed as the longest ever on a four axle crane. It is at an advanced stage of development and testing with deliveries due to start in the third quarter of 2020. (See the video)
The LTM 1120-4.1 will replace the 110 tonne capacity LTM 1100-4.2 introduced in 2009. That outgoing model set new standards in its class with its 60 metre boom and 10.2 tonne capacity on full boom. With its boom set at 60 metres to match the old one, the new crane is 18 percent stronger than its predecessor. The boom on the new one is 10 % longer too.
Capacity of the new crane is 9 tonnes with the 66 metre Telematik boom fully raised so it is good for tower crane erection and dismantling and putting up radio masts. Adding the lattice boom extensions increases hook height to 94 metres. A 64 metre lifting radius is achieved with a 7 metre lattice extension and the 10.8 to 19 metre double folding jib. An option on this is to have hydraulic adjustment between 0 and 40 degrees. There is also a 2 metre erection jib with a runner which can be swung sideways.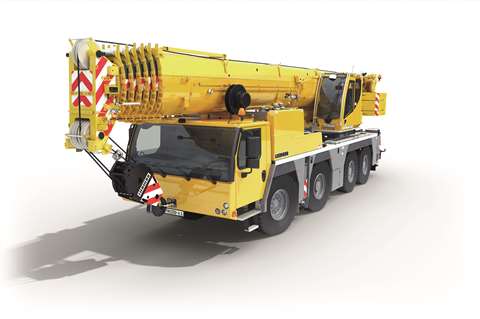 The LTM 1120-4.1 will sit in the range above the LTM 1070-4.2 and LTM 1090-4.2. Where it will really score is on jobs previously done with a five axle crane, the manufacturer said. Eliminating the logistics work of obtaining route permits and licensing associated with five axles, means jobs can be done sooner, cheaper and with more flexibility. Fewer axles means better access to smaller spaces, on more congested sites.
A standard fitment is the VarioBase outrigger extension optimisation system. VarioBallast, a similar system for the counterweight, is an option. Fitting VarioBallast give a ballast radius of 3.83 or 4.77 metres. Radius can be reduced by 940 mm. In addition to getting into smaller spaces it means a wider range of work can be carried out without having to carry around as many slabs of counter weight.
A maximum of 31 tonnes of counter weight is available. Shifting it around can give evenly distributed axle loads of 12, 13.5, 15 and 16.5 tonnes per axle. At 12 tonnes per axle, the crane includes hook block and 2.1 tonnes of counter weight. In countries where higher axle loads are permitted, for example, at 16.5 tonnes per axle, 20 tonnes of ballast can be carried on board.
The new crane is designed as a fully global model. Advantages regarding permitting with a four axle crane can be realised in Texas and some other US states, in Saudi Arabia, in France, Spain and other European countries.
Power for the entire crane is from a 330 kW, six-cylinder inline Liebherr diesel engine mounted in the carrier. Maximum torque is 2,335 Nm. The engine is designed to meet the requirements of the stage V emissions directive in Europe. It can also be built to comply with other requirements, for example, Tier 4 in the USA or stage III for less regulated countries.
A TraXon gearbox from ZF offers benefits that include quieter running (lower than the ZF AS Tronic by 6 decibels) and high efficiency at 99.7 per cent, the manufacturer said. Coupled with Liebherr's established Ecodrive programming fuel is saved and the Hillstart Aid makes hill starts easier.
For crane operation the Ecomode function is now standard on Liebherr mobile cranes with a load-sensing control system. Engine output is matched to the level of demand from the crane's hydraulics to avoid unnecessarily high engine speed. It saves fuel and the machine operates more quietly overall.