Mini Excavators: Little Dynamos
The buzz around electrification is clearly audible at any construction equipment trade show nowadays, especially with smaller equipment. And for good reason: there seems to be a strong and growing demand for it.
For instance, Doosan Bobcat saw its new E10e zero tail swing electric mini excavator sell out just after the first of the models rolled off the production line in mid-2019.
The tracked models are produced at Bobcat's Dobris factory in the Czech Republic, which has a production capacity of 2,000 units per year.
Jarry Fiser, Mini Excavator Product Line Director at Doosan Bobcat EMEA, said, "We are very pleased that actual demand is higher than our original expectations and production capacities.
"The E10e is just the start of our journey in further expanding our portfolio in alternative power sources."
The first E10e off the production line was delivered to Netherlands-based dealer Inter-Techno, where it is being used for demonstration and rental.
At 71cm in width, the E10e can pass through a single doorway, which, together with its lack of exhaust fumes, makes it particularly suitable for indoor use.
The model is powered by a maintenance-free lithium-ion battery that can operate for up to four hours on one overnight charge using a standard 230V socket. It can also be recharged to up to 80% of its capacity with an optional 400V supercharger.
Prize winning
German compact equipment manufacturer Wacker Neuson recently won a SaMoTer Innovation Award in the hydraulic mini excavator category for its first electric mini excavator, the EZ17e.
The battery-powered machine won the award for its efficiency, the optimal integration of the electric drive, and its performance. The EZ17e has been designed to perform and handle like a diesel-powered model.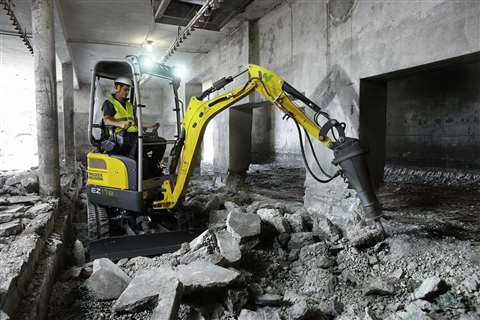 Martin Lehner, CEO of Wacker Neuson, said, "We've channelled years of experience and expertise in zero emission products into our first mini excavator with battery and electric drive technology.
"Our development work always focuses on usability and customer value, which is why we make no compromises when it comes to performance, with power ratings matching those of our diesel-powered model."
The EZ17e also weighs virtually the same as its diesel counterpart and can therefore be transported on a trailer.
Alexander Greschner, Wacker Neuson's Chief Sales Officer (CSO), said, "Electric drives are becoming increasingly important.
"For rental companies in particular, these solutions are an interesting supplement to existing fleets as many of their customers rent products for specific projects such as renovation work inside buildings or tunnel construction."
He added that electric drives are low-maintenance; "This is a huge benefit as it reduces maintenance time and costs, and maximises machine availability."
While the excavator can be run entirely on its battery, the smart charging management system gives the option of operating, and even charging the machine, while it is connected to a mains power supply.
The lithium-ion battery can be charged overnight using a domestic socket of either 110 or 230V, or in just four hours using a high-voltage power source.
JCB is also producing its own electric excavator, the 19C-1E, which went into full production in the fourth quarter of 2019.
Europe's largest rental company, Loxam, recently bought its first electric mini excavator from JCB.
The machine, which was delivered to Loxam's depot in Colombes, north-west of Paris, is said by JCB to be five times quieter than its diesel counterpart.
Loxam's Group Equipment Director, Thierry Lahuppe, said, "The addition of this first electric mini excavator to the Loxam equipment fleet shows our genuine commitment to the development of a more responsible rental sector which is respectful of the environment and urban work sites.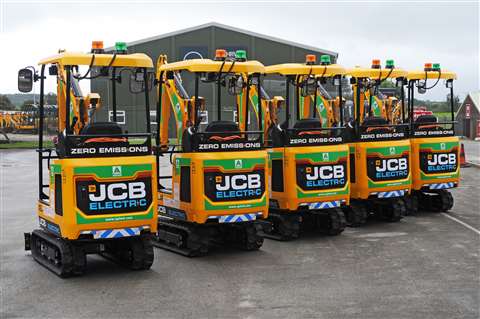 "As a leading player in the rental sector, Loxam aims to show how essential it is to offer a range of electrical equipment. It is about preparing for the future and meeting the growing environmental requirements of our customers who work on urban construction sites."
The 19C-1E has four lithium-ion battery packs providing a 20kWh storage capacity. A battery management system ensures full-shift availability and the option for 230V charging when required, with 10 hour recharging time.
Investing in electric models
A-Plant also invested more than £350,000 in 10 of JCB's electric mini excavators recently.
Dave Harris, Business Development Director for the UK-based rental company, said, "Over the past year, we have witnessed significant customer demand for sustainable construction equipment and have made this a key focus of the company's investment strategy."
Two Japanese equipment manufacturers have electric mini excavators in the pipeline.
Kobelco Construction Machinery's European arm (KCME) unveiled its electric 17SR prototype mini excavator at Bauma 2019.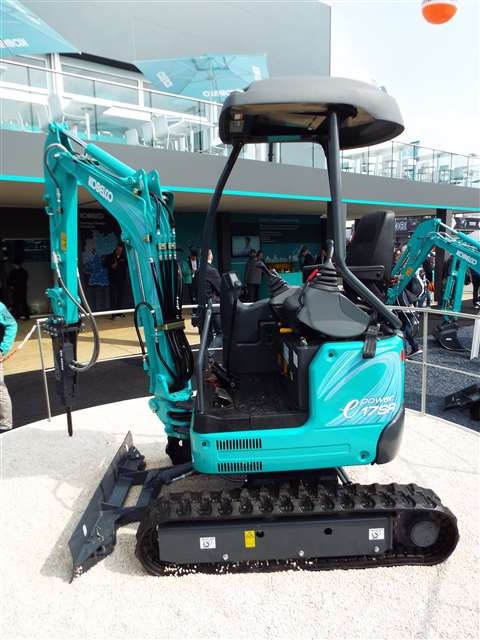 The 1.7 tonne machine follows the introduction of the company's SK210HLC-10 Hybrid excavator three years ago and is the result of a research and development partnership with German engine manufacturer Deutz, which is supplying the electric drive technology.
KCME Managing Director Makoto Kato said, "The Kobelco Electric powered 17SR will be our first fully-electric mini excavator, which we believe will be a popular choice for urban and small construction jobsites in the very near future."
The 17SR is expected to become commercially available in Europe in 2021.
In the pipeline
Meanwhile, Kubota recently unveiled its own prototype electric mini excavator in Japan.
The company said it has developed the battery-powered machine in response to the global shift towards electric vehicles, particularly in Europe where there are calls to ban diesel engines.
Although the prototype is still being tested and is not ready for commercial production, it will be powered by lithium-ion batteries and have an equivalent output to that of its diesel-powered counterpart.
Glen Hampson, Business Development Manager at Kubota UK, told IRN, "We have seen some interest from rental companies following the launch of our electric prototype excavator. However, having said that, it's still early days. There's still a lot of work to do behind the scenes, to ensure the electric model lives up to our high-quality standards."
When asked how rental companies can justify the higher cost of such equipment, Hampson said, "It's true that electric excavators are likely to carry a higher cost. And because of this they probably won't be for everyone.
"But there is an undeniable global shift towards electric vehicles. Demand is being driven by those that need to meet emission regulations and lower noise output. These will be the key points that rental companies can use to justify the higher cost."
At the same time, Kubota is continuing to develop an alternative fuel model using liquefied petroleum gas (LPG), which is due to be launched this year. Commercial production of the KX019-4 LPG is set for 2021.
In 2016, Caterpillar introduced the 300.9D VPS mini excavator with HPU300, which offers Dual Mode Selection for a choice of diesel or electric power. Although the manufacturer could not comment on any ongoing product developments regarding electric models, the company's Global Commercial Manager for Mini Excavators, Sam Mottram, told IRN about the roll-out of Caterpillar's Next Generation excavator line-up, which began in February 2019.
Entering a new class
The latest addition is the Cat 306, which marks the company's entry into the 6-tonne class.
Mottram said, "The 6-tonne size class is experiencing growth in many regions as it fits a gap between the often utilised 8-tonne and the 5-tonne machines. This new segment could provide rental companies with a revenue opportunity for users that do not require a full 8-tonne machine because of size constraints and where a 5-tonne machine does not meet their performance needs for digging and lifting."
There are two versions of the model: the Cat 306 CR, which is available in Europe, North America, Australia and New Zealand, and the Cat 306.5, which has a fixed boom and is available in China, Southeast Asia, South America, Africa, Eurasia and the Middle East.
With its 3.5 tonnes lifting capacity at a 3m radius, the model will be part of Cat dealers' rental fleets.
"The new features in the next generation mini excavators have been very well received by rental customers," Mottram said, "Where labour is in short supply and learning time is limited, features like stick steer, cruise control and the hydraulics settings in the new monitor will ensure that operators are able to quickly gain efficiency."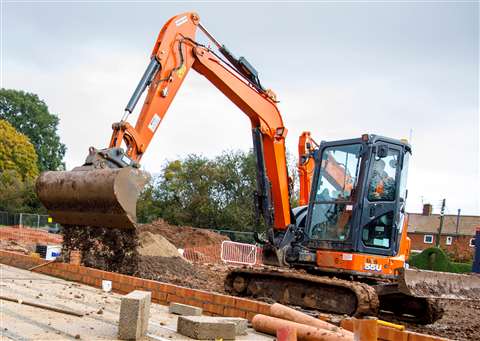 Rolling out new technologies
Hitachi Construction Machinery (Europe) (HCME) recently teamed up with European telematics company ABAX to make Hitachi's remote monitoring system, Global e-Service, available on its latest Zaxis-6 range of mini excavators.
Giving users access to data on the machines was said to simplify fleet management and maintenance scheduling. In this way, productivity, efficiency and availability are increased, and running costs are reduced.
The software is available on all of Hitachi's current mini and compact equipment, and it can be retrofitted to previous generation models by Hitachi's European dealers.
Meanwhile, Italian compact equipment manufacturer Messersi is rolling out servo controls on the joysticks across its range of tracked mini excavators.
The new controls allow the boom swing and PTO (power take-off) to be controlled by proportional rollers on the joysticks, rather than via standard pedals. While the rollers allow more precise control of the machine, the removal of the pedals also provides more space.
The roll-out started with Messersi's 2.3 tonne zero tail swing model, and then the 2.5 and 3.4 tonne zero tail swing models. This was followed by the 1.6 tonne standard model last year, and in 2020 the roll-out is due to be completed with the new 1.5 tonne zero tail swing M-16U and 5 tonne zero tail swing M-55U models, as well as the 5.4 tonne M-60U with articulated boom.
Proving popular
Mini excavators have never been more popular, according to specialist market research and forecasting company, Off-Highway Research (OHR). Global sales of machines under 6 tonnes operating weight are believed to have exceeded 290,000 units last year.
That would make 2019 the third year in a row that global sales of these machines set a new record. Whereas global sales of many types of construction equipment are currently below the high-tide mark that was set in the boom of the mid-2000s, demand for mini excavators is now a staggering 60% higher than it was in that period just before the collapse of Lehman Bros.
OHR believes there are several reasons why demand for these machines has been so strong. First, they are replacing other types of traditional machines, particularly backhoe loaders, in many developed markets. There is a preference for machines with a smaller footprint than a backhoe loader and 360° slewing structure is a big advantage over the 'Swiss Army Knife' machine.
In addition, mini excavators are gaining ground in many emerging markets. They essentially replace manual work, so this is always a challenge in countries where labour is cheap and indeed construction projects are often intended to provide employment to as many people as possible. However, rising labour costs and the need to complete projects quicker is a huge driver towards this type of mechanisation.
The classic example is China, where there was essentially no mini excavator market 20 years ago, but now sales are in excess of 60,000 machines per year. That makes it the single biggest mini excavator market in the world – although if Europe were taken as a whole, it would be a bigger market.
In developed markets, rental companies are major – sometimes dominant – buyers of mini excavators. Across Europe for example, OHR says some 55% of all mini excavator sales are to rental companies – currently around 37,500 machines per year out of the total regional market of 68,500 units. In the UK, which has the highest rental penetration in Europe, perhaps the world, the proportion is 85%.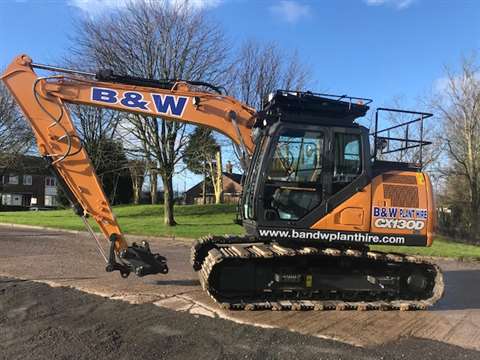 B&W Plant Hire expands Case fleet
UK-based B&W Plant Hire recently expanded its fleet of Case excavators to 34 units as part of a decision to diversify its machine offering.
The rental company, which began investing in Case in 2018, said it had even replaced other excavator brands with Case models after trialling the machines through its local dealer, Dennis Barnfield, and being pleased with the strength and power of the excavators.
Andrew Partington, B&W Plant Hire General Manager, said, "We describe these machines as 'bullet-proof'. They really are incredibly strong and very well made. When you're working in the plant hire industry, your machines are put through a lot; you need reliability and a low total cost of ownership."
Anthony Bouvié, Business Director Northern Europe for Case Construction Equipment, said, "We are always delighted when customers take a Case machine following a trial. It allows customers to see the power and efficiency the machines deliver prior to purchase. We hope to see B&W Plant Hire continue to expand their fleet in the future."
Role models
Here are examples of what some of the top equipment manufacturers are offering in terms of emission-saving electric excavators.
| Brand | Model |
| --- | --- |
|  Caterpillar |  300.9D VPS with HPU 300 |
|  Doosan Bobcat |  E10e |
|  Hitachi CM (Europe) |  ZE19 and ZE35 |
|  JCB |  19C-1E |
|  Kobelco |  17SR prototype |
|  Kubota |  Prototype electric model |
|  Volvo CE |  EC25 Electric |
|  Yanmar |  eFuzion concept |