Electric equipment: A bolt from above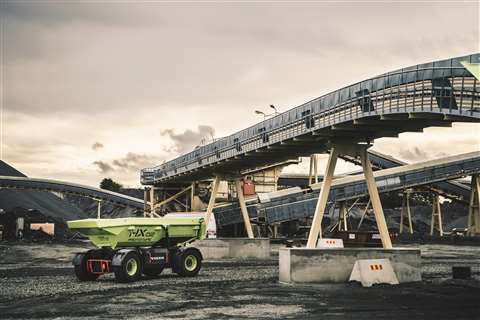 At the biggest construction event of 2019, Bauma Munich, there were several themes and trends that clearly stood out, even amidst the hordes of crowds. New technology in general was one of these themes but, even amongst this, there was one element that stood out on its own: electric power.
Electric power is nothing new to the construction industry, with some mining machinery being electric powered for many years. However, at Bauma Munich it felt like most of the major original equipment manufacturers (OEMs) were talking about electric power and that it was now established in the industry – it wasn't just a handful of companies dipping their toes into the water to test the temperature.
Electric construction equipment 
One man who has been working in the electromobility field for many years is Volvo Construction Equipment's (Volvo CE) Ahcène Nedjimi. His job title is electrics & electronics systems lead engineer and electromobility specialist – not only is he a technical expert but he is responsible for strategy and implementation of electric powered equipment.
Nedjimi has been working on electric power in his role for over a decade; he was project leader for the launch of the EX2, the company's electric compact excavator prototype that was first shown at the company's Innovation Summit in 2017.
"With that project Volvo CE was making sure that we are preparing for the future," he comments. The electromobility specialist also reveals that he believes that it was the reaction at the summit that helped persuade the company to make the leap to only produce electric compact excavators and wheeled loaders from mid-2020, a decision announced last year.
"It was a successful event, especially for customers because it was the first time that they saw a fully electric excavator. It was after this that Volvo CE took the decision to go electric."
The Swedish-based company are by no means the only company embracing electric power. However, the announcement that the company would not produce diesel powered compact excavators or wheeled loaders in the future was an important announcement; it was the metaphorical planting of a flag in the ground.
Nedjimi adds, "As a specialist in electromobility, I can tell you that it's now obvious that we are standing before a shift towards electromobility. Volvo CE would like to be part of it, and to drive it. The decision to stop the diesel engine-based development is a great commitment with a lot of challenges, but we are convinced that this is the future."
The consultancy group Knibb, Gormezano and Partners (KGP) has a joint research program on Powertrain technology with Off-Highway Research and, as such, have collected a host of data on this topic. Alex Woodrow, managing director of KGP, agrees that this is a sector which has seen a surge in popularity.
"There is certainly a significant increasing in interest in fully electric equipment. KGP tracks all electrified models, including electric, hybrid, fuel cell and others across construction, material handling and agricultural machinery," he comments. "Of over 150 models, half are all electric, with a significant share of those being compact construction equipment. Noxious emissions is the key driver, but noise is also relevant."
Compact machines for urban environments
Even though larger pieces of equipment are produced that run on electric, or electric-hybrid power, there is no doubt that the most popular segment for construction equipment when it comes to electromobility is compact equipment.
The development of battery technology has coincided with many cities implementing increasingly strict emissions regulations; thus many in the industry see compact electric equipment operating in the town centres of developed countries as the perfect match.
At a recent event in Kyota, Japan, Kubota unveiled a mini excavator electric prototype which will be powered by lithium-ion batteries.
The company said that it has engaged in the research and development of electric-powered equipment in response to the move towards banning the use of diesel engines in Europe and the global shift towards electric vehicles.
The electric mini excavator prototype will operate using the equivalent output of existing diesel engines and, the company says, has been developed to operate uninterrupted for longer on a single charge. The engine of the new prototype will meet emission limits and has a low noise output, making it suitable for construction work in urban environments.
Glen Hampson, business development manager, Kubota UK, said, "Electric technology is certainly evolving and, on the face of it, it's evolving fast. There has been an undeniable global shift towards electric vehicles, with demand being mainly driven by increased emissions regulations. Every manufacturer is working hard behind the scenes to stay ahead of customer demands.
"Kubota is focused on overcoming the challenges that come with the use of electric machines, such as the issue around the amount of charging infrastructure available and limited battery capacity."
Market demand for electric equipment 
Another OEM, Bobcat, has also launched a battery-powered mini excavator. The one tonne E10e zero tail swing mini-excavator is based on the design of the diesel-powered E10 one tonne mini-excavator and, according to the company, has the same profile and external dimensions but offers equal or better performance.
Jarry Fiser, mini-excavator product line director, Doosan Bobcat EMEA, says that the company has produced this model due to market demand. "Based on market research and customer interest, we concluded that the one tonne electric mini-excavator sector is the most useful type and size – it is ideal for indoor demolition and basement digging," he commented.
"In developing the E10e, we are meeting a market demand – not just demonstrating the technology for the sake of it. We are providing a product that offers clear customer benefits. Whilst it is extremely challenging to fit a complete electric solution in the one tonne class, this gives us the benefit to scale it up easier to other larger products in the future."
One of the companies that used Bauma Munich to launch an electric option was Hyundai, with the unveiling of the HX10A at the event. The excavator is powered by a Yanmar diesel engine but can be bought with an HPU electro hydraulic unit.
Peter Sebold, product specialist, Hyundai Construction Equipment division, said, "The Hyundai Twin Drive concept is an innovative solution for all applications with zero tolerance for noise and exhaust emission, working indoors and in sensitive areas, such as reconstruction and demolition work in hospitals, homes or commercial zones where operations are ongoing, inside of buildings or halls which cannot be contaminated with harmful emissions."
Hyundai – which is also working with engine manufacturer Cummins on a 100% electric-powered excavator – clearly believe that by offering a plug in system with no charging required they can appeal to a specific sector of what is an ever-increasing market.
When asked whether the increase of electric equipment in construction is inevitable in the future Sebold comments that, "We see two different machine categories: in the compact range focus will be on the ecological aspect and the fact they are operating in urban areas. In the heavy machine range focus is also combined with the ecological aspect, but with a greater economic saving attached to it."
Diesel powered construction equipment isn't dead
The development of electromobility is exciting and, for a world that is increasingly focused on emissions, very timely. However, it is also important to not lose sight of just how far diesel-powered construction equipment has developed regarding emissions and that, for some job sites, electric powered equipment simply is not feasible.
German-based OEM Wacker Neuson has embraced electric equipment, with the company producing a wide range of electric equipment from vibratory plates through to the EZ17e mini excavator and WL20e wheeled loader. However, a spokesperson from the company makes the point that diesel is cleaner than ever, saying, "Although the trend is certainly going towards electric mobility, at Wacker Neuson we do not believe that in the medium term all products will be completely electric. The electric drive is not the universal solution for all product groups.
"Since diesel engines already emit less than 95% emissions today than 20 years ago, the development of conventional construction equipment is also remarkable. Electric machines will find their place especially in cities and in classic indoor applications, such as demolition, tunnel or renovation work."
Another way to make diesel-powered equipment even cleaner is to convert it to electric power, something that China-based LiuGong has done. The 906E-EV excavator utilises most of the diesel excavator's hydraulic system allowing for a rapid R&D time for conversion. It is equipped with a battery that is large enough for a full working day run time. Although it is a simple conversion, it is still a powerful and energy-saving machine.
LiuGong recently used the stage provided by BICES 2019 — the Beijing International Construction Machinery Exhibition & Seminar — to not just launch the 906E-EV excavator but also another electric excavator, the 922F-EV, as well as its first purely electric loader.
The new electric machines use lithium-ion battery systems for energy storage with the power directed to permanent magnet electric motors to create the power to drive the machines. LiuGong said that a typical electric vehicle will have a peak power output two times that of a conventional machine and is equipped with fast-charging technology and energy-saving technologies, which reportedly require one hour to charge the battery to 80%.
"The total operating cost of a battery powered earthmover is, or soon will be, depending on the exact vehicle design and customer application, lower than that of a diesel-powered machine," said Edward Wagner, executive director of LiuGong New Technology.
Elsewhere, French-based Mecalac is producing a wheeled electric excavator, the e12, which the company says has an operational range of eight hours and 146kW per hour of power. The excavator has two electric motors and, as it is 100% electric, will produce no CO2 or particulate emissions.
A spokesperson from the company confirmed that big cities are ready for electric-powered equipment and increasingly ask for it in the calls for tenders.
Challenges for electric equipment
The construction industry is increasing embracing electromobility, but it would be wrong to suggest that this form of power didn't bring its own challenges. One of these is infrastructure – or more accurately, a lack of infrastructure. It is no good having an electric-powered excavator on a construction site if there is nowhere nearby to charge the battery.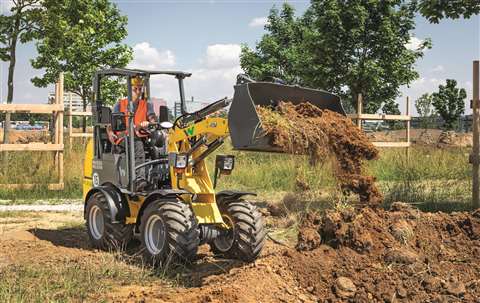 Volvo CE's Nedjimi explains that one of the issues in relation to this is that, in many countries, when a machine operates at 60 volts (V) or above, a special electrical certification is needed which can be costly and time consuming to achieve. With this in mind, most OEMs are producing compact equipment that operates at 48 V, which is safer, but requires infrastructure to be developed.
Another challenge facing electromobility is quite simple: cost. While the cost of batteries is likely to reduce in the near future there is no escaping that, for some, the expense of electric power will be a drawback.
"Cost is big challenge when it comes to electric," agrees Hampson from Kubota. "The machines carry a higher price tag and this won't be for everyone. This will probably have the biggest impact on adoption across the industry and present challenges for both rental and construction companies."
Battery power 
KGP's Woodrow agrees that cost is an issue but thinks that the biggest barrier is run-time and life cycle of the batteries. While this is not such a problem in compact equipment, it becomes more of an issue for those OEMs looking to produce larger electric-powered equipment.
"Battery capacity will decline over time which, for larger machines with long life, may mean very expensive battery replacement just part way though its life," he comments. "Battery performance also deteriorates in cold temperatures, reducing run time. For large applications that run multi-shifts per day batteries will not be feasible without technologies like battery changes, induction charging and opportunity charging."
While there are undoubtedly challenges for electromobility the benefits are plentiful. The lack of emissions being produced is good for the environment and also – increasingly – for contractors who want to work in urban environments in large cities, but the benefits related to a machine's performance shouldn't be overlooked.
For the final word we return to Volvo's Nedjimi who says, "From a performance standpoint we have prototype machines operating with selected clients. I can tell you that the feedback is very positive because the electric motor has more advantages in terms of performance. You would be very surprised."
Perhaps, in the not too distant future, electric powered equipment will be common enough for nobody to be surpised by its performance. 
Hitting the electric heights
New range of electric and hybrid cranes to be launched by Spierings
Crane manufacturer Spierings was the first to develop a hybrid electric crane two years ago with the SK487-AT3 City Boy.
The plug-in hybrid eDrive capability has been realised using a drivetrain with a 370kW electric motor from electric drivetrain specialist Visedo, and a battery pack from lithium-ion battery systems specialist Forsee Power. There is also a small 170kW John Deere diesel engine that can be used to drive the crane on the motorway between jobs or to charge the battery pack via a generator.
"The concept of a compact truck with a crane with incredible dimensions which can drive and operate fully electric is a solution many customers were waiting for. The response of existing customers was really enthusiastic and many companies placed an order, but it also opened the door for a lot of new customers which were really impressed by this innovative solution and also placed many orders," said a spokesperson from Spierings.
Spierings has recently announced that towards the end of this year the company will deliver two new hybrid upper crane models: the SK597-AT4 and SK1265-AT6. There will be two main operating modes: electrical mode (powered by battery and grid) and hybrid mode (powered by battery and diesel engine).
The spokesperson added, "Through environmental challenges the market requires the possibility to operate a hydraulic crane in an electric mode. Spierings developed a solution by using a 32A grid connection and still using the crane on full capacities and speeds. The hybrid powerpack will convert electrical and/or mechanical into hydraulic power. Driving the carrier is done by a separate diesel engine."
New media for new types of power
New Power Progress covers latest electric-powered news and more
New Power Progress is a recent and timely addition within sister titles Diesel Progress International (DPI) and Diesel Progress (DP).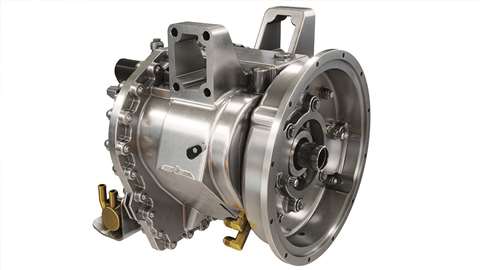 The magazines provide global coverage of the products, technology and industry news for all the engine-powered equipment markets. The titles cover new products used in engine-powered equipment such as engines, axles, filtration, transmissions, hydraulics, cooling, controls, silencing and more.
Traditionally the coverage focused on long-standing, traditional components such as diesels. However, as the way machines are powered and propelled is changing the magazines, which both have an updated-daily online presence, changed to reflect the new world.
That lead to the creation of New Power Progress (NPP), a section within DPI and DP. NPP also has an online presence where the news is updated daily.
NPP informs readers on the latest products and technologies in electrification, hybrids, batteries and new powertrain technologies. NPP features in each issue in 2020 of DPI and DP.
HS2's electric excavator
JCB 19C-1E used on one of Europe's biggest infrastructure projects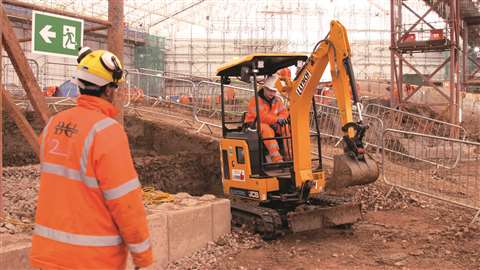 One of the first electric mini diggers to roll off JCB's production line has been pressed straight into service on one of Europe's biggest infrastructure projects.
The JCB 19C-1E was bought by plant hire firm Lynch for use on the High Speed Two (HS2) rail scheme in England after the company was involved in early evaluations of pre-production models.
Lynch Directors, Merrill Lynch and Rob Lynch, said, "Electric means clean technology, reducing harmful emissions – especially in urban sensitive environments and enclosed spaces – as well as reduced noise levels, fuel savings and an overall reduction of the carbon footprint."
The 19C-1E, JCB's first-ever full electric mini excavator, is working inside a huge tented structure on behalf of the Costain Skanska Joint Venture (CSJV) which is carrying out the HS2 enablement works at Euston. It has zero emission operation at point of use, with no tethers or trailing cables.
Supporting documents
Click links below to download and view individual files.