A long-serving demolition man, two high-profile retirees and three people who passed away in 2019 were among those honoured as the US National Demolition Association (NDA) hosted the banquet that traditionally closes its annual convention and expo.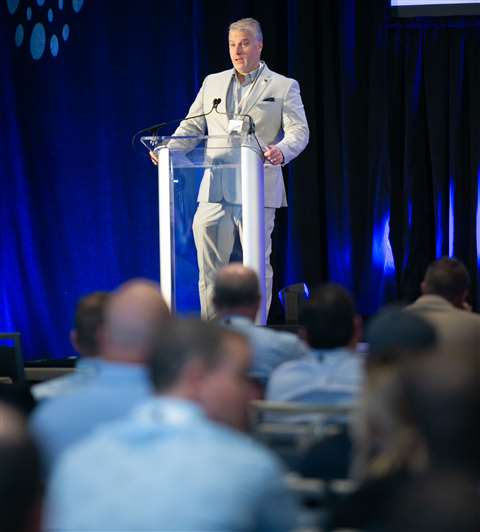 Jon A Manafort received the Lifetime Achievement Award from NDA president Chris Godek, who praised all the evening's winners for their contribution to the demolition industry in general and the association itself.
Jon has been involved with the company for more than 60 years, including its work in the aftermath of the New York World Trade Center attacks in September 2001.
Bob Stuppy, who has retired after 34 years with LaBounty, was one of six inductees into the NDA Hall of Fame, and was joined by Walter Reeves, who retires from Volvo Construction Equipment at the end of April after another 30-year plus career, while Saul Spector of Spector Manufacturing Inc – whose involvement with the NDA goes back to its very early days – was similarly recognised.
Former industry consultant and NDA board director Bill Gumbiner, who died in July 2019, was also inducted, as were Bill and Susan Baumann. Bill, who died in December, was the owner of Ohio-based B&B Wrecking and Susan, who filled a number of roles in the company over the years, was present to receive the award.
This year also marked the first year since the NDA's Safety Awards were renamed in honour of the late Mike Casbon.
Mike passed away just before the 2019 convention and members of his family were in the hall to see the awards presented. The awards were in categories up to 175,000 hours, 500,000 hours and over 500,000 hours respectively and the winners were Adamo Group, Cherry Companies and Independence Excavating respectively.
This year's Excellence in Demolition Award winners were Stryker Demolition and Environmental Services, Alpine Demolition and Veit and Company.
The 2021 NDA convention will take place in New Orleans from March 4 to 7.