GAP invests £2 million in tanker fleet
By Leila Steed28 February 2020
UK rental company GAP Hire Solutions has invested £2 million in the expansion of its new Tanker Services division.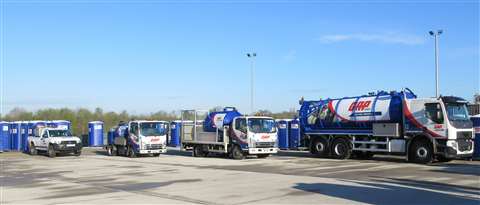 GAP Tanker Services, which offers emptying and cleaning options for cesspits, septic and wastewater tankers, has ordered 18 26-tonne Volvo liquid waste tankers.
GAP's Head of Procurement, Ken Stewart, said, "This is a significant investment amounting to in excess of £2 million for these 18 units. We're delighted to continue our excellent working relationship with both Volvo and GK&N."
The new tankers will be capable of carrying up to 12,250 litres of waste liquid and 2,200 litres of clean, non-drinking water at the same time. Specialist equipment and services provider GK&N Services will customise the new vehicles.
Stewart said, "Following on from our initial order of six, which have all been delivered as of January, Volvo will be providing the cab/chassis at the rate of one per month.
"The bodywork will be undertaken by GK&N Services Ltd of Huddersfield who will supply and fit a 3,200-gallon [14,550 litres] vacuum tank (to hold clean and foul water) to the cab/chassis."
The company is aiming to improve the efficiency of its tanker services and increase the size of its liquid waste tanker feet to 80 units.
GAP said the investment in its fleet would allow it to provide waste tank emptying and non-drinking water to construction sites.