Lind to launch All-In-One at IRE
By Thomas Allen04 March 2020
Canada based manufacturer Lind Equipment's All-In-One Beacon LED light tower will be making its European debut at the International Rental Exhibition (IRE) 2020.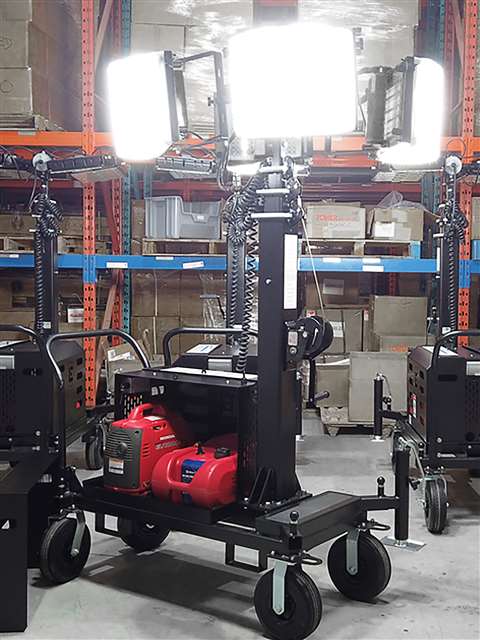 Designed to provide rental companies with a versatile piece of equipment, the new lighting tower was said to offer the functionality of three separate lighting assets in a single package.
Brian Astl, President of Lind Equipment, said, "A single All-In-One Beacon LED Tower can be used as a generator-powered light tower, as a no-glare diffuser light tower and as an electric powered light tower."
He highlighted the fact that the new All-In-One model alleviates the need for rental companies to own three separate towers for different types of job.
It can illuminate remote construction sites with an onboard generator as small as 1,000W.
For areas that require diffused, no-glare lighting, clip-on diffuser frames can be attached to the All-in-One in less than one minute, according to the company. By using separate diffuser frames for each light head, diffused light can be focused where it is needed, rather than a diffused light being shone in all directions as with a traditional balloon light.
"Our customers have been asking us to come out with a diffuser/balloon light tower for a long time," said Astl, "But as usual, we thought that there was a better way to do it. Once the word got out about the new All-In-One concept, that's all our equipment rental companies and agents have been inquiring about."
And when it comes to sensitive jobsites, the All-In-One can operate quietly and without producing fumes by being powered via an external power source.
"Equipment rental companies can finally own a single lighting asset that can be rented out in multiple different applications, and triple their return on investment," said Astl.
The model, with its tough and durable exterior, has an IP65 wet-location rating and weatherproof light heads that deliver 30,000 lumens. The unit can pass through a standard doorway and two towers can fit in the back of a pick-up truck.
The All-In-One unit has been used on a range of construction sites across North America, from the far north to the desert.
Until now focused on the North American market, 90% of Lind Equipment's sales go into rental.