Skyjack unveils 69-foot working height scissor
By Lindsey Anderson10 March 2020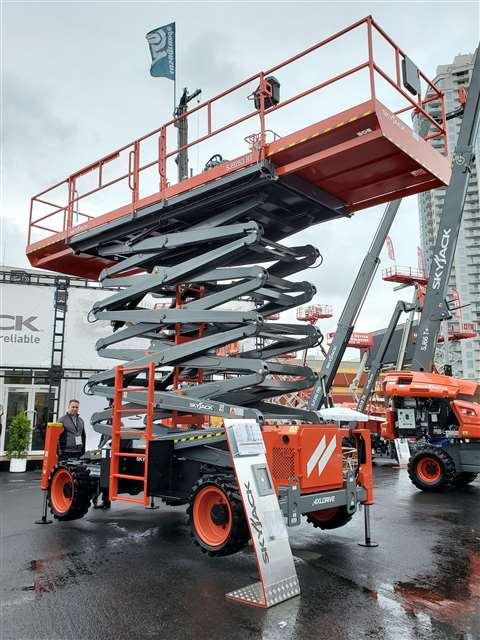 Skyjack unveiled its highest-reaching scissor lift, the SJ9263 RT, at ConExpo. The unit features a working height of 69 feet and is rated for four people.
"Similar to the approach we took with our DC scissor lifts, we looked at what changes were mandated by standards, both ANSI in North America and Stage V in Europe, and dug a bit deeper to see how we could develop a whole new class for our customers," said Corey Connolly, product manager at Skyjack. "Bringing a machine to the market with a working height of nearly 70 feet expands rental opportunities for our customers without them having to jump to a specialized class."
The new scissor lift has a 23-foot, 4-inch platform when equipped with the optional dual extension deck. The unit shares common features of Skyjack's full-sized scissor range to make maintenance and service easy. Updates have been made to the hydraulic and axle-based drive systems.
"Right now, market standards for full-size rough terrain scissors are the 30-50 foot models we've offered for years," says Barry Greenaway, senior product manager at Skyjack. "If a rental company is looking to take a step up from there the next best option in North America is a boom, and in Europe is the specialized 90-120 foot classes. We found a way to offer something that's a step between the two options."
The unit is in its final stages of testing and will go into production in Q2.