Bell Equipment tracks into a new market
By Joe Sargent11 March 2020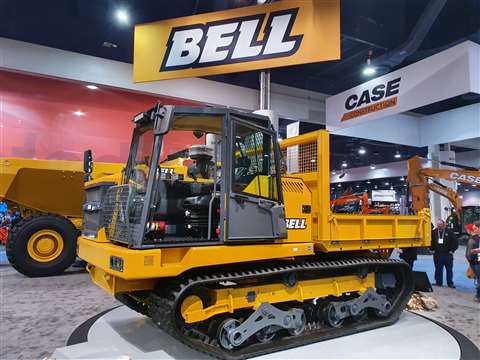 South African manufacturer Bell Equipment has created a new tracked hauler - a first for the company. The TC7A is designed for the North American market and has been premiered at ConExpo 2020.
Bell is now taking orders for the machine and it expects to deliver the first machines later in the year.
The TC7A has an undulating undercarriage - supplied by Camso - which reduces ground damage and eases access over rough terrain. It will be ideal for oil and gas related work, including pipeline construction, and could also find favour with equipment rental companies.
The unit is built in South Africa by Bell and features a Cummins engine and Rexroth transmission.
The company's fifth generation B-series haulers are also featured at the show. Ranging from 18 tonnes to 30 tonnes the ADT's are said to be suited for both construction and infrastructure.
As well as showcasing the company's haulers a great focus has been placed on the company's progress in automation processes through software development.
Demonstrating part of the process for developing autonomous systems, Bell's product specialists are on hand to show how Microsoft Xbox controllers have been utilised to aid in the autonomous programme.
The company's booth is located in the North Hall N11601.