SaMoTer 2020 rescheduled for October
By Joe Sargent17 March 2020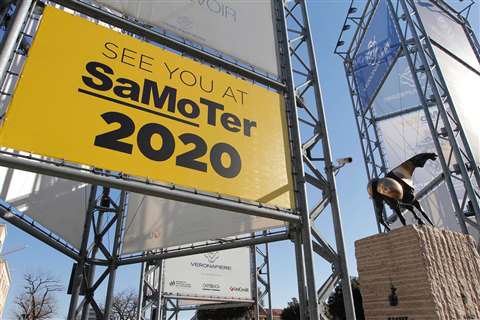 The SaMoTer fair in Verona has been rescheduled once again as a result of the rapidly spreading strain of Coronavirus in Italy.
The show, which is Italy's premier construction exposition, will now take place between 21 and 25 October, 2020, and is to again share the Veronafiere stage with the international asphalt industry show Asphaltica.
Giovanni Mantovani, CEO of the show's organiser, Veronafiere, CEO, said, "This decision was shared and supported by companies and reference associations; there is trust in our trade fairs as tools for overcoming the crisis."
Both SaMoTer and Asphaltica were originally scheduled for March 2020 and then later rescheduled for 16-20 May following the Italian government's policy to ban all large public gatherings indefinitely.
These events will now be held alongside Oil&nonOil, the energy, fuel and mobility services trade fair, which is scheduled 21-23 October.
In a statement, Veronafiere said; "The decision to postpone these events was taken in view of the evolution of the novel Coronavirus SARS-CoV-2 health emergency and the latest dispositions in the decree of the President of the Council of Ministers dated 11 March which imposes a blockade until 25 March of all activities that do not involve ensuring essential minimum services."
The organisers admitted that this was not ideal timing given the logistical challenge of organising such a show; where large, complex equipment must be shipped and assembled.
Veronafiere did, however suggest that the October dates are the best option with regards to the seasonal work needs of supply chains, which are concentrated in the Summer.
Mantovani, said, "We continue to monitor the situation, together with the steering committee involving companies, partners and associations. The new postponement agreed upon is consequently the result of real time listening to the market and careful assessments. We took into account the need to ensure safety in health terms and safeguard the important investments planned by companies taking part."
News on the impact of the coronavirus on the construction industry is regularly updated here.