Compact excavators: Rise of the minis
By Mike Hayes22 April 2020
Compact construction equipment includes products that are small, robust, cost effective and versatile in application. Their rise in popularity can also be attributed to the increasing adoption of electromobility, with manufacturers investing heavily in developing electric solutions for which mini excavators are ideal.
According to specialist market research and forecasting company, Off-Highway Research (OHR), mini excavators have never been more popular. Global sales of machines under 6 tonnes in operating weight are believed to have reached 290,000 units last year; the third year in a row that global sales of minis have set a new record.
OHR says that mini excavators are replacing other types of traditional machines – particularly backhoe loaders – in many developed markets, as well as gaining ground in many emerging markets due to rising labour costs and the need to complete projects quicker.
Leading electrification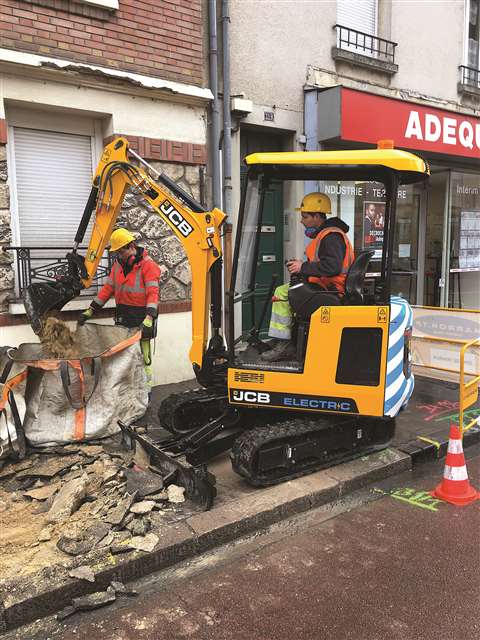 In February, JCB showed the fast charge version of its first fully electric mini excavator at the Executive Hire Show in Coventry, UK.
The 19C-1E is powered by four lithium-ion batteries to provide 20kWh of energy storage; enough for a full working shift on a single charge, the company said. With the fast charge option, the excavator is fully charged in just two and a half hours, benefiting customers who require unplanned, quick responses, such as utility services.
The rapid charge time is achieved by directly taking 415V, 3 phase supply from the grid and converting this supply from AC to DC power.
JCB said that the zero emissions 19C-1E delivers all the performance of a conventional diesel-powered 1.9-tonne mini excavator with a reduction of both internal and external noise levels. Other features include a Bosch Rexroth load-sensing hydraulic system, a convenient 110V input on-board charger for 16-hour recharging capability and the option for 230V charging when required.
The machine's three operating modes can be controlled by a rotary dial: the 'low' setting runs the electric motor at 1,200rpm, 'general' at 1,600rpm and 'high' at 1,800rpm. Auto Kick Up mode for tracking has the machine operating at 2,300rpm for rapid movement between digging sites.
With the same adjustable undercarriage and choice of digging equipment as the diesel model, the 19C-1E provides a maximum digging depth of 2,891mm with the longer 1,344mm dipper arm, JCB said.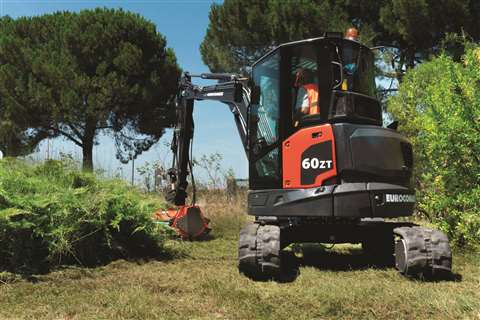 A range of power packs are also being launched by the manufacturer to support its growing line of fully electric machinery, including the 19C-1E. The zero-emissions power packs are designed to offer electrical back-up to remote and urban construction projects, available with a choice of four or eight 'automotive quality', maintenance-free lithium-ion batteries.
The power packs will deliver power outputs of 5kVA, in both single and three-phase supply, and, with a 50Hz to 60Hz frequency, it will be available for customers in the UK, Europe and North America.
Quieter construction
Italy-based Sampierana is also entering the electric market, under its Eurocomach brand, with its first mini excavator designed for electrical operation expected in 2021. It will have the same weight and appearance of the company's 14SR model, as well as the same hydraulic function. It mounts a lithium battery integrated in the rear compartment and has an external battery charger for construction sites. The range is expected to go up to 5 tonnes.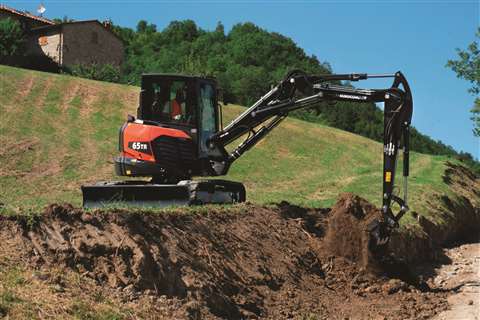 New excavator models will also be shown at the 31st SaMoTer exhibition in Verona, Italy. This was due to take place in March but has been postponed to October due to the rapid spread of the Covid-19 strain of Coronavirus.
In the 6-tonne excavator segment, the company is displaying the zero tail 60ZT with monolithic boom and the short radius 65TR with triple boom. Both models come with a Stage V Kubota engine and are said to be quieter because of a Fan Drive system and its reverse function for cleaning the radiant masses.
In terms of operator comfort, the cabin is installed on four hydraulic silent blocks to eliminate vibrations on board, as well as soft touch servo-assisted manipulators and a double-sided cushioned seat complete with armrests. Storage compartments, including a mobile phone holder, are also present along with a radio with Bluetooth speaker.
The company's technical department have been working on new excavator models for the 4 to 4.5-tonne range, with a prototype of the 4-tonne excavator being unveiled at SaMoTer. This will be the first example of this segment with a 'completely renewed' design, in line with the new 6 tonne range. It is due to enter the market around the end of 2020.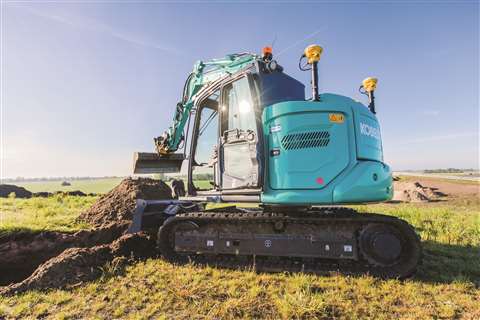 Kobelco's next-generation SK75SR-7 and SK85MSR-7 models have been popular across central Europe
An increasing number of original equipment manufacturers are releasing electric-powered construction equipment to the market, mainly for compact models. Other notable machines include Bobcat's new E10e zero tail swing electric mini excavator, which sold out just after the models rolled off the production line in min-2019. The company says the E10e is 'just the start' of expanding its portfolio in alternative power sources.
The mini can pass through a single doorway at just 71cm in width, and with its lack of exhaust fumes it is suitable for indoor use. It is powered by a maintenance-free lithium-ion battery that can operate for up to four hours on one overnight charge using a standard 230V socket.
German compact equipment manufacturer Wacker Neuson has won a SaMoTer Innovation Award in the hydraulic mini excavator category for its first electric mini excavator, the EZ17e. The award was given for its efficiency, the optimal integration of the electric drive and its performance. The excavator has been designed to perform and handle like a diesel-powered model, the company says.
Of course, there are other considerations to factor into the purchasing of mini excavators than just their power source.
Increased demand
Edging into the midi range of excavators is Kobelco's next-generation SK75SR-7 and SK85MSR-7 models that were launched at the Bauma, Munich, exhibition last April.
Kobelco said that there has been popularity across central Europe, with several machines already being sold to customers in Scandinavia, UK, Benelux, France, Austria and Germany on simple construction projects and road building to agriculture and housebuilding.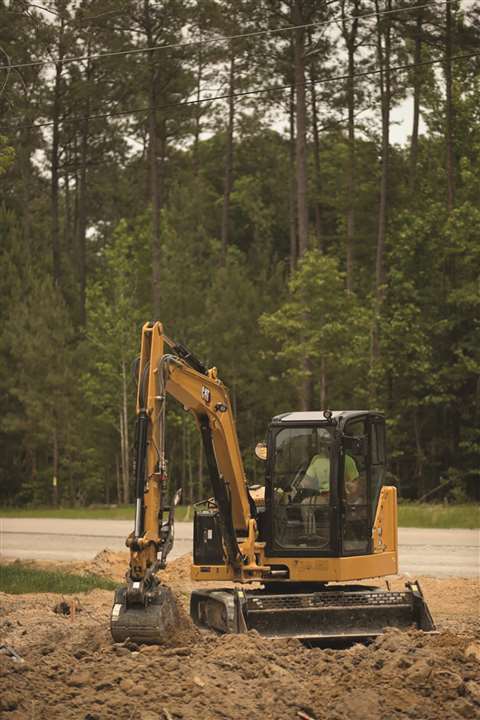 The SK75SR-7 and SK85MSR-7 are the updated models of the SK75SR-3 and SK85MSR-3 excavators, and through years of research and development, including consultation with European dealers and customers, Kobelco made 'significant improvements' on the design.
These improvements include an increase of 20 millimetres (mm) between the machine's upper structure and undercarriage to reduce damage by rocks, improved blade geometry for operation in mountainous regions and a 15 % reduction in digging cycle and 37 % increase in arm digging speed.
In terms of urban working credentials, both models benefit from short radius designs as well as Kobelco's Integrated Noise and Dust Reduction Cooling System (iNDr).
Inside the larger-sized cabin, a heated air suspension seat is installed as standard and the armrests and joystick moves with seat for an 'optimum' working position, the manufacturer says.
Also released at Bauma was a selection of new mini excavators from Hitachi Construction Machinery (Europe) (HCME), all with Stage V engines. The new Zaxis-6 models – ZX17U-6, ZX19U-6, ZX26U-6, ZX33U-6, ZX55U-6, ZX65USB-6 and ZX85USB-6 – are said to be suitable for rental, utilities, foundation work, landscaping and indoor demolition or construction projects.
Ranging from an operating weight of 1.7 tonnes to a not so mini 9 tonnes, the new line has a quick cycle time and high workload. Lower noise levels can be expected, the manufacturer says, along with new LED lights on each model.
Seigo Yamamoto, product manager for mini and compact products at HCME, said, "Zaxis-6 mini excavators are designed to be user-friendly, which makes them ideal for first-time users of the machine, such as in the rental market, for example. They are invaluable additions to any fleet, thanks to their versatility for working on a variety of job sites with different attachments, and impressive comfort and easy maintenance features."
Regarding the largest excavator in the mini range, Yamamoto said, "The ZX85USB-6 may be classed as a compact excavator, but operators will experience the power of a larger machine with the new 41.8kW engine. The muffler filter after-treatment device reduces harmful emissions, helping to create a healthier environment for the operator to work in."
Japan-based Takeuchi, who claims to have released the first compact excavator in 1971, has the Tier 4 Final hydraulic excavator TB260. Although not new to the market, this conventional tail swing model has recently increased in cabin size as well as giving improved service access by a reconfiguration under the hood, said by the company to reduce maintenance times.
Inside the cab, standard features include a high-back suspension seat, a colour monitor, Bluetooth radio and 'low-effort' pilot controls. Outside of the cab, a steel-reinforced heavy-duty blade has been redesigned for better material retention and to keep material rolling to the front and away from the machine.
The TB260's triple-flange track rollers maintain two points of contact at all times, the manufacturer said, making it less susceptible to detracking. Rubber, segmented rubber and steel track options are available.
Takeuchi says that the heavy-duty construction of the swing boom allows the unit to dig offset on both the left and right sides of the machine without repositioning.
Regarding telelmatics, Takeuchi Fleet Management (TFM) is available on all current excavator models providing alerts and service information.
Caterpillar recently made an entrance into the 6-tonne class of hydraulic excavators with its new 306 CR.
The company says the machine boasts enhanced performance and operator experience, but also benefits from extended service intervals and simplified maintenance. New standard features for operators include stick steer and a new LCD monitor.
The controls layout and common components of the new machine will be familiar Cat devotees, but the 306 CR features a heavy-duty structure and enhanced fuel efficiency, plus load-sensing hydraulics.
The excavator has a maximum dig depth of 4 110mm and 7,175kg maximum operating weight when equipped with the sealed and pressurised cab. Cat says a canopy alternative to the pressurised cab will be available this year.
The machine has a swing boom and its compact radius design results in a low tail swing with counterweight for working close to obstructions.
Hitachi mini is 'perfect fit' for groundworks project
A new Zaxis-6 mini excavator has been added to UK-based civil engineering firm Jim Dorricott's fleet for a groundworks project. The ZX26U-6 was delivered by HCM(UK) to begin work on a commercial/retail development on the outskirts of Telford, UK.
The mini excavator is being used to excavate parts of the two-hectare site so that operators can investigate and remove the existing services. Hitachi said that the company selected the ZX26U-6 due to positive experiences with its four Zaxis medium excavators. One of these, a ZX225USLC-5, is working alongside the mini to fig deeper and lay sewage pipes connecting the site to the main sewer.
Russel Buckley, director at Jim Dorricott, described the new excavator as having 'excellent all-round visibility' and said the company found it to be 'noticeably more economical'.
Derek Jones, an experienced operator with the contractor who has been using the mini, said, "I've been working in the construction industry for 38 years, operating machines from two to 70 tonnes. The ZX26U-6 is comfortable, and easy to get in and out of to change attachments. This is really important as it saves time on this type of project."
Four new minis for Komatsu Europe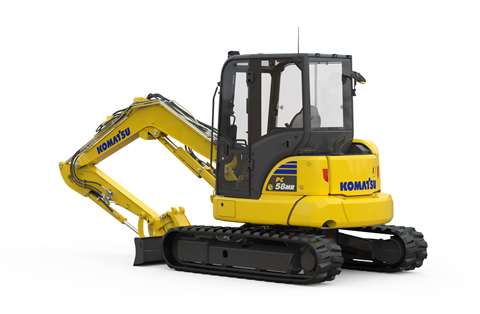 Komatsu Europe has announced the release of four new MR-5 mini excavators due to be presented at the 31st SaMoTer exhibition in Verona, Italy. This was due to happen in March but has been postponed to 16 to 20 May 2020 due to the rapid spread of the Covid-19 strain of Coronavirus.
The MR-5 range – PC18MR‐5, PC22MR‐5, PC26MR‐5 and PC58MR‐5 – builds on the company's MR-3 product line with 'a full host of improved customer-focused features' including a seat belt indicator, an easily accessible secondary shut down switch and protected PPC levers.
Simone Reddi, mini excavator product manager at Komatsu Europe, said, "The MR-5 range concentrates on the quality and performance of the larger Komatsu construction range into a compact package."
Compliant with Stage V emission standards, the four MR-5 models – due for introduction to the European market in the second half of 2020 – have operating weights ranging from 1.8 tonnes to 2.7 tonnes and digging depths of 2.3 metres (m) to 4.1m.