Huge drop in UK construction equipment sales
By Mike Hayes28 April 2020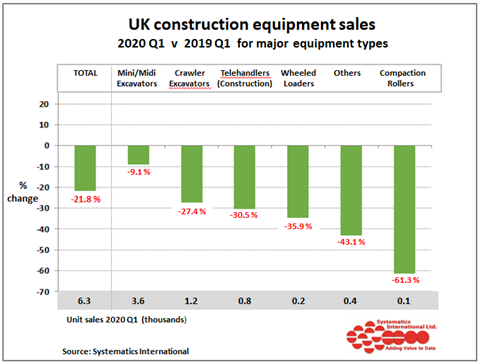 Sales of construction and earthmoving equipment in the UK saw a significant drop in the first quarter (Q1) of 2021, according to figures released today by the UK trade body, the Construction Equipment Association (CEA).
The organisation reported a 21.8% fall, compared with the same period in 2019, showing the dramatic negative impact of the Covid-19 crisis.
Less than 6,300 units were sold during the period, down from more than 8,000 in Q1 of 2019.
The figures show that sales in January and February of this year were down by 6%, compared with last year, approximately in line with expectations.
In March, however, sales plummeted by 45%, compared with March 2019. With the UK's lockdown measures remaining in place for the time being, it is likely that April's figures will be equally depressed.
The CEA's figures, which also break down units sold into equipment types, demonstrate that the popular mini and midi excavators category has proven the most resilient over the period, with a fall of 9% in sales (see graphic).
All other equipment types experienced falls in sales of 27% or more during Q1.