Manlift aids Covid-19 lab construction
By Thomas Allen07 May 2020
Dubai-based aerial work platform (AWP) specialist Manlift's operations in the United Arab Emirates (UAE) recently supplied rental equipment for the construction of a Covid-19 laboratory in the UAE.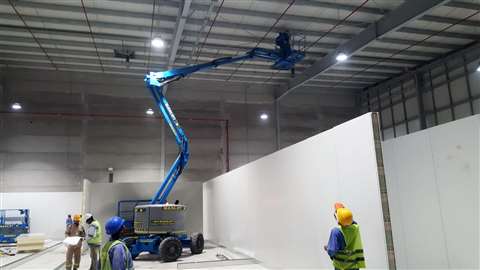 The state-of-the-art laboratory was built in just 14 days to deliver population-scale detection and diagnosis of Covid-19 in the country. It was said to have the capacity to conduct tens of thousands of tests daily.
Manlift supplied the initial order of 10 machines in a matter of hours. After two days, a further two machines were required, which were also delivered promptly.
Manlift Group's Managing Director David King said, "In these challenging times, the call went out for AWP's to Manlift UAE and we responded immediately."
Working with Amana Contracting and Steel Buildings, Manlift supplied a total of 12 Machines, comprising nine battery scissors and three diesel booms.
King added, "Manlift Group are proud to be part of the solution to establish this laboratory that will provide immediate Covid testing."