Sharp improvement in Downtime Index
By Murray Pollok14 May 2020
The Downtime Index – the new measure of construction machine use in North America and Europe - showed a significant improvement last week with utilisation improving in every region, led by Spain and Italy.
The index rose by 10% between weeks 18 and 19 and now stands at 85, which is 15 index points below the base week at the end of January. The index shows that machines are operating, on average, at 10% lower utilisation compared to the same period in 2019.
The index – developed by telematics specialist Trackunit - compiles weekly changes in engine use from 150,000 machines, expressed as an index to allow for quick international comparisons.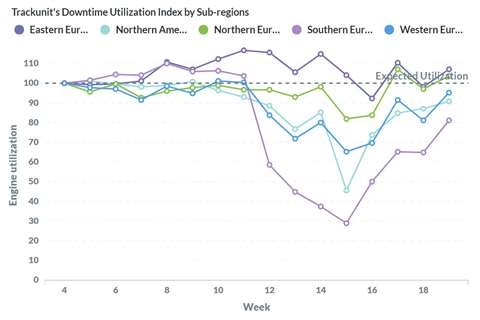 Overall, almost 8.5% more machines were started and worked in week 19 compared to week 18. This represents an increase in the machine activity metric from 51% in week 18 to 55% in week 19, meaning that more machines are working, and are working longer hours.
Most notable is the improvement in machine utilisation rates in Southern Europe (France, Italy and Spain), which rose by 25% last week, the largest regional increase. This was primarily driven by strong growth in Spain and Italy which are now at indexes of 107 and 83, respectively. In sharp contrast, machines in France remain at 50% of the expected utilization.
Despite the improvement, Southern Europe remains the worst impacted region, with the indexes for the rest of Europe all significantly higher.
The index for Western Europe, which includes Germany, the Netherlands, Belgium and Austria, saw a big week-on-week improvement and is now over 90.
Eastern Europe (Poland, Hungary, Romania and the Czech Republic) and Northern Europe (including the Nordic and Baltic countries as well as the UK and Ireland) also saw significant improvements and are now reporting higher index values than the base rate of 100 in January.
Machine use in North America showed a more modest improvement, with the index rising a few points to around 90.
The Downtime Index is an initiative by Trackunit and other partners to publish anonymised telematics information to help the industry track the impact of Covid-19. KHL Group is the exclusive media partner and is publishing weekly updates on the Index.
The underlying data comes from approximately 150,000 off-highway construction machines in Europe and North America, with high populations in France, Germany, Denmark and the US (40% all together). The data includes both rental and end-user owned equipment.
The Index website can be found at www.downtimeindex.com