Construction sales down 25% for John Deere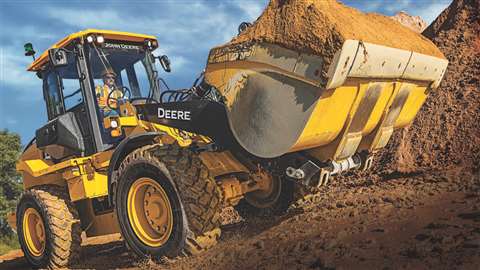 John Deere, the world's third largest construction OEM according to the latest Yellow Table, has seen sales for the second quarter of 2020 decline by 25%.
According to the company's financial results, net sales for the second quarter of the year for the Construction and Forestry division dropped from US$2.991 billion in 2019 to US$2.256 billion – a fall of 25%. Operating profit for the sector fell by 72%.
The company predicted that, due to the impact of Covid-19, worldwide sales of construction and forestry equipment are anticipated to be down 30-40% for 2020, with sales in North America down by 20-30%.
The desire to bring down field inventory levels and unfavourable currency rates also contribute to the predicted decline.
John C. May, chairman and chief executive officer, said, "John Deere's foremost priority in confronting the coronavirus crisis has been to safeguard the health and well-being of employees while fulfilling its obligation as an essential business serving customers throughout the world."
"We've had good success in these areas thanks to the proactive measures we have taken to keep employees safe and our production facilities and parts distribution centers operational. At the same time, the company has reached out to our local communities to help those in need as a result of the pandemic."
The company as a whole saw sales in the second quarter of 2020 drop 18% to US$9.253 billion. In the same quarter in 2019 sales were US$11.342 billion. Net income for the second quarter was down from US$1.135 billion to US$665.8 million.