ALH Conference moves online for 2020
By Lindsey Anderson26 May 2020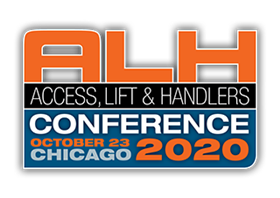 In an effort to protect the health of conference attendees and presenters, the ALH Conference, Oct. 23, will be held virtually this year. More information will soon be available and interested participants will be able to register for free.
The Conference, in its fifth edition, will be reworked to accommodate an online audience with fewer speakers and shorter presentations, but will maintain essential information on rental business trends, safety, management of rental operations, new rental technology and the latest product developments.
If you or your company is interested in a possible speaking opportunity, please contact editor Lindsey Anderson at lindsey.anderson@khl.com or events director Murray Pollok at murray.pollok@khl.com.
If you are interested in sponsorship, Tony Radke can be reached at tony.radke@khl.com.
In 2019, around 200 industry professionals attended the event in San Diego. Visit www.alh-ca.com for developments. The ALH Conference is organized by Access, Lift & Handlers magazine and its publisher KHL Group, and has support from industry partner IPAF.