Maxikraft orders 17 Grove ATs
As a first batch, six new Grove all terrain cranes left the German factory in June to join the Maxikraft fleet.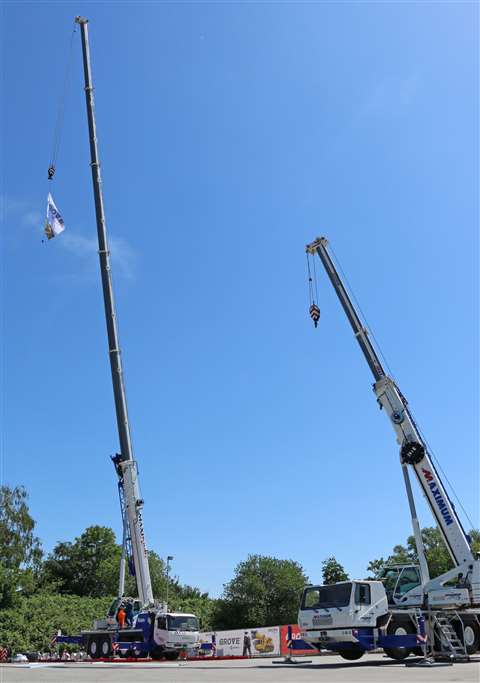 The two 60 tonne capacity GMK3060Ls, three 90 tonne GMK4090s and one 150 tonne GMK5150L went straight from Wilhelmshaven to MaxiKraft job sites at the end of the month. By November another 11 new Groves will have joined the fleet for a total of new 17 units.
Commenting on the order Giorgio Angelino, Manitowoc senior vice president mobile cranes, said, "We are proud Maxikraft has come to rely on our crane technology from Wilhelmshaven."
Erdogan Arslan, regional director mobile cranes CEN, Scandinavia and used cranes at Manitowoc said, "Maxikraft and Manitowoc have enjoyed a longstanding partnership. Thank you for the trust you have placed in our product and customer service."
Maxikraft Group already has Grove cranes. Owner Maik Kanitzky said, "The new Grove mobile cranes from Wilhelmshaven will help us modernise our fleet and offer impressive efficiency. They can travel with extensive equipment and counterweights, they have high load capacities, and as such, perfectly meet the needs of our customers. This focus on the customer is our trademark at Maxikraft."
Frank Lichtenberg, managing director at KranAgentur Werner, via whom the deal was done, said, "Thank you very much for your confidence in Manitowoc and KranAgentur Werner, and I look forward to further good co-operation."
Maxikraft Group was founded by Maik Kanitzky in 1992. It has 23 locations in seven federal states of Germany. The five subsidiaries are; Maxikraft, Maximum, Kranlogistik Sachsen, Kranlogistik Lausitz and Treffler. Around 500 people work with the 200-unit fleet of wheeled mobile and lattice crawlers up to 1,000 tonnes capacity.