Fleet management: Seizing the opportunity
By Thomas Allen07 August 2020
With the Covid-19 crisis forcing rental companies to seek contactless alternatives to conducting their operations, the benefits of going digital have become all the more apparent. And rental management software providers have been seizing this as an opportunity.
For instance, the pandemic has prompted US-based rental software company Point of Rental to think differently about the products it offers to customers.
"Instead of thinking about our ERP [enterprise resource planning] products as being the product we sell," says Wayne Harris, the company's CEO, "we realise we have lots of technologies built into our products that can be sold by themselves."
Harris became CEO of the company in 2011, and it has since grown to serve customers in 80 countries, employ more than 200 people, and offer five products.
"We have a lot of knowledge about the rental industry and we get a lot of feedback from our customers," Harris says. "So I think we're going to be separating out more products as stand-alone products that can help a customer accomplish their job, instead of going to customers and saying we'll need to replace their entire ERP system just because they want electronic signatures, for instance."
Helping rental firms social distance
In order to help the rental industry continue operating while observing social distancing rules, at the peak of the pandemic Point of Rental decided to separate out its eSign electronic signature programme, which had been embedded in its ERP software for a number of years, and offer it for free for 90 days.
"We have hundreds of customers across the world that have signed up for it – not using our ERP products but using e-Sign as a stand-alone," says Harris.
However, it turned out that customers were also faced with the problem of taking payment without social contact. So Point of Rental went on to do the same thing with its electronic payment programme; "You can take an electronic payment via e-mail, and we also added the ability to text payments. Totally touchless, totally paperless."
He adds, "Those are the kinds of things that make the difference between being able to operate your business during this time and not being able to."
Although the rental industry has generally been slow to incorporate digital technologies into business processes, Harris suggests the pandemic has had the effect of accelerating adoption.
"We're seeing a number of companies go to a paperless system because they have to," he says. "Even though there have been ways that they've been able to accomplish that for years, they just hadn't embraced that, but now they are."
In this sense, the pandemic has been good for business for Point of Rental.
Remote working
Harris also expects remote working to become a more permanent feature of rental operations. In connection with this, the company has prioritised the development of its POR One App, which Harris described as "the foundation of a mobile product that can be used by anyone."
POR One will have various functions built into it, for instance messaging; "Someone at the depot counter will be able to send a message directly to a driver through the POR One App and the driver can then message back. If there's an issue in the field, the driver can take a photo of whatever's broken and send it directly to a mechanic and then the mechanic can answer directly," says Harris.
It is intended to simplify communications and better enable remote working.
Long-term partnership
Point of Rental recently announced a long-term partnership with telematics company Trackunit to build software together.
The intention is to reduce equipment downtime, allow rental companies to enhance customer service, and give customers greater visibility of their rentals.
Point of Rental's Expert and Elite products will share data with the Trackunit Manager system and Trackunit Go application. This connection will make them the second and third Point of Rental products, following the UK-based Syrinx product, to integrate with Trackunit.
Point of Rental sees statuses of on- and off-rent equipment, when equipment is delivered, when it is called off rent, and when it is ready for delivery. That will pair with Trackunit's ability to see that information in real time and provide it to rental customers online via a portal.
Billing information will also be integrated to improve invoicing accuracy and reduce manual entries.
Providing telematics
In early May, 2020, the Ahern Family of Companies opted for Trackunit as its telematics provider.
The group of companies includes US-based rental firm Ahern Rentals, the OEMs Snorkel and Xtreme Manufacturing, and a global distribution network that extends across the US, Canada, Argentina, Chile, Australia, Japan, Germany, Ireland and Spain.
Don Ahern, CEO of Ahern Companies, says, "Our requirements are expansive since we encompass rental, manufacturing and distribution, and we resolved that Trackunit was the best-suited to the needs of our customers."
Roll-out in the rental fleet has begun with immediate effect and is expected to be completed within the next three years.
New Xtreme and Snorkel lifts will be assembled with a Trackunit compatible connection for customers who wish to install the telematics.
This will become available in late 2020 and rolled out across the global manufacturing footprint by model type with OEM branded dashboards.
Latest launch
The latest product launched by rental management software provider inspHire is a cloud-based application called OnRent.
Designed to be particularly simple to set up and offered with a flexible monthly subscription plan, OnRent is initially aimed at start-ups or companies with a relatively simple set of rental requirements.
Martin Bestwick, Sales Director at inspHire, says, "We have a suite of solutions that cater for all types of rental organisation, and over time OnRent will develop to suit the needs of the complex rental organisation."
The pay-as-you-go software has a responsive design and integrates with Sage Business Cloud.
OnRent's features range from flexible charging for all products and services, to the built-in collection of documents and reports.
It also has built-in CRM (customer relationship management), rental order processing, and services, repairs and lost items can be managed through it.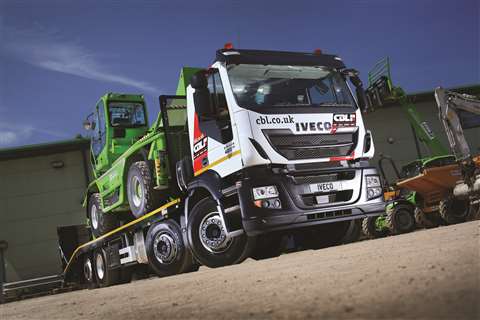 UK-based equipment rental company CBL recently adopted the Transport Mobile solution from MCS Rental Software. It enhances the firm's delivery and collection processes by ensuring equipment is in good condition and any damage is recorded accurately and efficiently.
Photographic evidence
MCS Transport Mobile makes it possible to record photographic evidence at point of delivery and collection. CBL is now able to record information and store relevant images in the right place in its rental system.
David Butler, CBL's Finance Manager, says, "Any evidence over the condition of machines and fuel levels are now easily collected and stored digitally. This was important to us as it prevented disputes over any issues with returned equipment by providing a more honest platform to have sensible discussions with customers over any issues associated with returned assets."
The new system has also significantly reduced the amount of paperwork required.
Reducing contact
As rental companies consider ways to reduce touch on machines, telematics provider ZTR has been partnering with customers to help them make business process changes and adopt digital transformation initiatives that enable them to leverage data from a distance, control equipment remotely and implement the necessary safety protocols.
ZTR's factory programme has grown by 50% over the past year, increasing the prevalence of OEM equipment that is pre-fitted with ZTR telematics.
So rental companies are using a range of ZTR solutions across multiple machine types, and ZTR is coordinating and managing the engineering and integration details related to each unique machine application. One recent example is a factory installation that ZTR has been working on with Sunbelt Rentals in the US.
Also, ZTR expanded its portfolio earlier this year with five new products: a new Data Brokerage serive; the ZTR M7 advanced telematics solution; T-series tags; Access Management; and the new ONE i3 interactive dashboard.
Trackunit shifts focus of Downtime Index
Trackunit said its Downtime Index has served its purpose as an aid to the industry during the pandemic crisis and it will now focus on a new "co-creation phase with cross-industry partners" to define how the Index can be developed in the future.
The index was launched in early May and showed machine utilisation based on data from 150,000 machines in Europe and North America. KHL Group had been publishing the results as media partner.
Historical Index data will no longer be publicly available, although the graphs and articles that appeared on KHL.com and on Trackunit's website will be kept on the sites.
Mathias Frost, Director of Software Products at Trackunit, writing on the company's blog, said, "The Downtime Index was developed rapidly by our data science team as a sprint response to the pandemic and what we perceived to be an urgent need for relevant and time-critical openly available data… it has been a source of hard facts in a situation where all people at every station of construction were in need of clarity."
Frost added that the project had shown how data can be a "positive disruptor" but that the pilot study had run its course; "The story doesn't end there. We have reached a juncture where we and our collaborators will transfer what we have learned from the initial launch of the Downtime Index into the next stage of development.