UK contract awards up 21.2%
By Leila Steed21 September 2020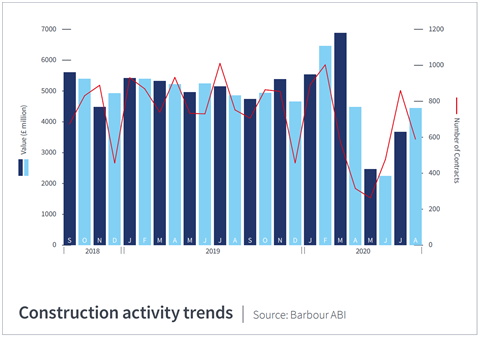 Construction industry analyst Barbour ABI has reported a 21.2% increase in the value of contract awards in the UK in August 2020, based on a three-month rolling average.
In its latest Economic & Construction Market Review, the company found that the value of construction contract awards for the month totalled £4.4 billion (€4.8 billion).
The company's analysis for the month of August revealed a sector rise of 37.6% for residential, followed by a 9.0% increase for the industrial sector and an 8.1% increase in the commercial and retail sector.
While Barbour said the rolling three-month average data was positive, it also showed the value of contract awards had declined by 8.5% when compared with August 2019.
Tom Hall, chief economist at Barbour ABI and AMA Research said, "The UK economy continued its stronger than expected recovery in July, growing by 6.6% following June's expansion of 8.7%.
"The economy has now recovered around half of the lost output between March and May. In the construction industry, contract awards returned strongly in July, but in-month awards were significantly lower in August."
According to the company, raw data for the monthly period reveals that contract award in August were 37.6% lower than in July 2020. However, Barbour noted that July was "particularly buoyant" and suggests that the raw data for August might reflect a "return to more normal growth levels".