From top to bottom with Doka in Cologne
Germany-based formwork specialist Doka is helping in the demolition of Cologne's landmark former "Deutsche Welle" building, which is scheduled for next year.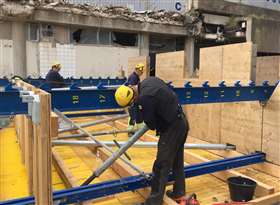 Originally, the towers of the former radio studio were to be blasted into the ground. However, for various reasons, the plan was changed and the 138 m (453 ft) high towers would be dismantled from top to bottom.
Work began in May 2019 and to ensure that dismantling could progress safely, the contractor called on Doka's expertise. Doka planned and assembled the protective screen enclosure and trained the team from demolition company BST Becker Sanierungstechnik to use the automatic climbing technology.
Formwork experts are generally called in during construction of concrete buildings, not for tearing them down. However, Doka says its Xclimb 60 automatic climbing formwork and protection screen are suitable for dismantling structures as well as building them.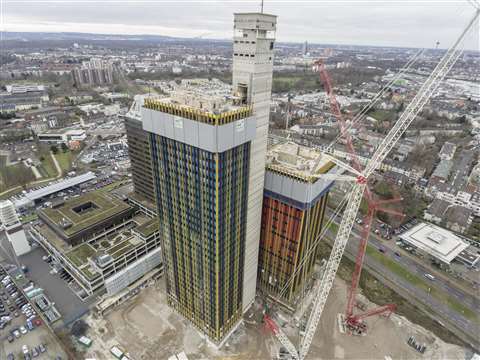 The protection screen Xclimb 60 enclosed the entire demolition area, sheltering the BST Becker team from wind and weather. Rubber lips cut to fit perfectly between the protection screens and buildings created an integrated seal to prevent small parts, debris and dust from falling down, while the system also hugely reduced noise emissions.
The platform and enclosure elements were pre-assembled from detailed plans into large transportable units by Doka's service teams.
On-site, Doka's pre-assembly team handled the final assembly and suspended the system on the building.
Despite several weeks of very high temperatures, the assembly was completed in under six weeks with no complications. Also present on site were the Doka instructors, who trained the construction site team for the automatic climbing system.
"As a demolition firm, we had virtually never come across a need for formwork before," explains Michael Wagner, foreman for BST Becker Sanierungstechnik.
"However, the Doka team were there to answer all our questions about the processes and supported us in every way."
The enclosure, façades and buildings worked their way downwards step by step, reaching the ground in August.
Demolition is scheduled to finish in 2021, creating space for a new residential complex with 700 apartments.