ConExpo-Con/Agg 2023: rolling news on the Las Vegas show
KHL Group is providing a rolling news update for ConExpo 2023 as the biggest construction trade show of the year prepares to open its doors on Tuesday 14 March.
We will report on new products being launched and any other news relating to the show. If you have stories and photos to share, please e-mail to murray.pollok@khl.com, andy.brown@khl.com, alex.dahm@khl.com, leila.steed@khl.com, or any KHL journalist.
Donaldson announces three new filtration products (Monday 20 March)
Donaldson Company launched three new filtration products, the Alpha-Web hydraulic media, Synteq DRY coalescing technology and the PowerCore Edge air cleaner, at ConExpo-Con/Agg 2023.
Record numbers of visitors attend ConExpo (Sunday 19 March)
Show organisers AEM has confirmed that the 2023 edition of ConExpo has attracted more visitors than ever before. According to AEM, a record breaking 139,000 visitors were in attendance throughout the course of the week.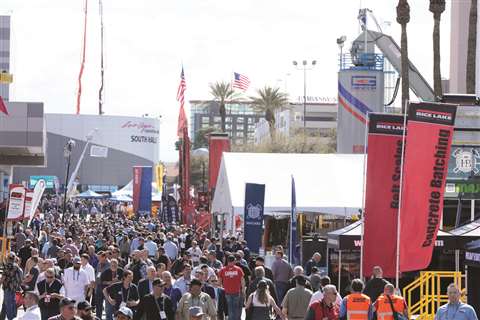 Sinoboom NA signs up with Trackunit (Friday 17 March)
Sinoboom North America has announced the launch of a telematics partnership with Trackunit at ConExpo, taking place in Las Vegas this week. The agreement was signed by Paul Wilson, vice president, North America key accounts on behalf of Trackunit, and by Susan Xu, CEO of Sinoboom.
Liebherr launch truck mounted concrete pump (Friday 17 March)
Liebherr has launched its 36 XXT truck mounted concrete pump at ConExpo 2023 in Las Vegas. The manufacturer said the advantage of the compact pump is the combination of a five part folding boom, Powerbloc drive unit and a semi-closed oil circuit. The machine has also been given a new and appealing look, Liebherr said. 
Caterpillar awards winner of Global Operator Challenge (Thursday 16 March) Caterpillar has announced the winner of the final competition alongside other awards presented by the company during ConExpo 2023. The year-long Global Operator Challenge is one of the largest construction industry events, with operators from nearly three dozen countries participating.
Perkins launches new power solution capabilities (Thursday 16 March)
At ConExpo, Perkins is demonstrating smarter ways customers can cut development time and costs, spotlighting its next-generation integrated powertrain programme. Perkins is exhibiting an integrated, end-to-end diesel-electric hybrid powertrain at the show.
IPAF power line safety guidance released (Thursday 16 March)
Comprehensive new guidance outlining key principles and ways to reduce risks when using MEWPs in the vicinity of power lines has been launched by the International Powered Access Federation (IPAF), as part of its High Voltage! targeted global safety campaign, at ConExpo. The new guidance document, entitled Safe Use of MEWPs in the Vicinity of Power Lines, aims to help to reduce electrocution and electric shock incidents.
Sany shows off carbon monitoring platform (Thursday 16 March)
Sany has showed its 'state-of-the-art' carbon monitoring platform, which is developed in partnership with Rootcloud, a leading industrial IoT solution provider. The platform is being shown alongside the company's latest equipment, which includes the SW956E electric loader. 
Xtreme debuts tracked telehandler (Thurdsay 16 March)
Xtreme Manufacturing has showcased its new XR50100-G tracked telehandler. Nicknamed "Trackzilla" by the company, the machine has been developed alongside construction technology firm BZI.
Develon debuts with driverless excavator (Thursday 16 March)
Following months of anticipation, Hyundai Doosan Infracore has officially launched its new Develon brand. Formerly known as Doosan Construction Equipment, the machines of which are famed for their distinct orange livery, Develon debuted with an opening ceremony at the ConExpo 2023 construction trade fair in Las Vegas, US.
Engcon demonstrates the benefits of tiltrotators (Thursday 16 March)
Tiltrotators and their benefits are the focus for Swedish attachments specialist Engcon at this year's ConExpo event, currently taking place in Las Vegas in the United States. As well as a sizeable range of excavator attachments, Engcon is using three different excavators to demonstrate how tiltrotators help to improve both efficiency and safety on construction sites. The company's exhibit also includes a John Deere 85G excavator and a Cat 306 machines for visitors to test-drive with its tiltrotator
Vita shows load safety software (Thursday 16 March)
USA-based Vita Industrial will be offering live demonstrations of its will be Vita Load Navigator (VLN) software at ConExpo 2023. The Vita Load Navigator system includes aviation sensors which the company said will automatically stabilize loads and prevent them from spinning as it can detect loads and wind speeds.
'Recycling solutions for a changing world' (Thursday 16 March)
CDE, which supplies sand and aggregate washing solutions for waste recycling and natural processing, has showcased its next generation equipment at ConExpo – described by director Darren Eastwood as "the very best of CDE engineering excellence."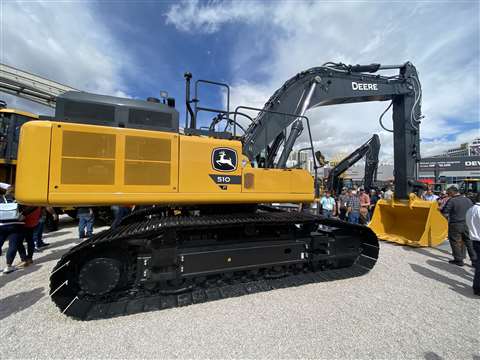 Two generations of excavator on show from John Deere (Wednesday 15 March) 
US equipment manufacturer John Deere is displaying a variety of new and updated excavator models, highlighted by the new 85 P-Tier and 510 P-Tier current generation excavators, at the ConExpo show currently taking place in Las Vegas, USA. In addition to these new model updates, the company says it will offer a first look at its all-new future generation excavators.
Comer electric drivetrains shown under e-comer brand (Wednesday 15 March)
Comer Industries, which designs and produces engineering systems and mechatronic solutions for power transmission, is showing its latest solutions for compact equipment, mining and excavators at ConExpo-Con/Agg 2023 in Las Vegas. Electric drivetrain solutions for a variety of electric compact and medium-sized vehicles are being specifically highlighted.
Volvo Penta, Gradall team on e-excavator concept (Wednesday 15 March)
Gradall has unveiled an electrified concept model of its multipurpose, highway speed XL 4100 V wheeled excavator, powered by Volvo Penta's electric driveline, at ConExpo. The zero-emissions concept EL41H4 is powered entirely by two Volvo Penta batteries, matched to the duty cycle of the excavator, which fit neatly into the existing engine bay.. 
Cat: Expanded attachments boost mini excavator versatility (Wednesday 15 March)
Caterpillar has announced new attachments for mini excavators, increasing application versatility for these machines. The new models comprise demolition and sorting grapples, as well as multipurpose grapples for Cat tiltrotators.
Komatsu introduces new next-gen loader (Wesdnesday 15 March)
Japan-based manufacturer Komatsu is highlighting the importance of waste management at the 2023 ConExpo exhibition, currently underway in the United States, with the introduction of its new next-generation WA475-10 wheeled loader and waste guarding package. The WA475-10 is a 25-t machine that is fitted with a 6-cylinder Komatsu diesel engine and includes Komatsu's hydraulic mechanical transmission (K-HMT).
Cummins introduces fuel-agnostic 15-liter engine (Wednesday 15 March)
Cummins has unveiled its new 15-liter, fuel agnostic engine at the ConExpo trade show in Las Vegas. The single platform engine is capable of supporting various fuel types, including hydrogen, natural gas and diesel.
Volvo hails next-gen excavator as it unveils 50 tonne prototype (Wednesday 15 March)
Volvo CE has unveiled the EC500 crawler excavator – a 50 tonne prototype machine designed for heavy applications such as building and road construction, quarrying and utilities. The company said the new machine – which will be made available in regulated markets including Europe and North America – heralds its next generation of large machines, being faster, safer and more productive than predecessor models.
Hella lighting solutions for heavy-duty applications (Wednesday 15 March)
Lighting and electronics company Hella, which operates under the Forvia umbrella, is presenting several new lighting solutions at ConExpo-Con/Agg 2023, including the U.S. introduction of the C240 LED combination headlamp.
Bobcat advance innovation with Rogue X concept (Wednesday 15 March)
Bobcat has released the design of the RogueX conceptual machine. As a research and development project, Bobcat says that the machine was built as a proving ground to advance the Bobcat innovation roadmap, evaluate customer perceptions and test the limits of machine functionality.
Skyjack reveals global production expansion (Tuesday 14 March)
Skyjack has announced plans for its fast-growing international manufacturing footprint during ConExpo 2023. The company also presented the first machine produced at its new factory in Mexico. The SJ1056 TH telehandler, which came off the line at the new plant, located in Ramos Arizpe, has been shown at ConExpo, which is taking place in Las Vegas, US, this week.
Skyjack's president Ken McDougall spoke to Access Lift & Handlers and Access International to provide a full view of its production plans in Mexico and internationally.
Manitex debuts new truck crane on ConExpo Day One (Tuesday 14 March) Manitex International has launched of an all new TC850 Series truck mounted crane in conjunction with opening day of ConExpo in Las Vegas, NV. The TC85159 will feature an 85-ton base rating at 10-foot radius and a 5-section 159-foot, full power and an extended boom with 168-foot tip height.
Leica and Caterpillar announce 'strategic cooperation' (Tuesday 14 March)
Leica Geosystems, part of Hexagon, announced at ConExpo a new option for Caterpillar Next Gen Hydraulic (NGH) excavator users to leverage Leica Geosystems' 3D machine control solution with Cat Assist features.
Soilmec shows advanced foundation equipment (Tuesday 14 March)
Soilmec's latest SR-95 piling rig – on show this week at ConExpo – has been upgraded to the Blue Tech version, with a newly-designed cab, new hydraulics, enhanced efficiency and reduced fuel consumption. Soilmec says the new rig is able to dig deeper and larger piles, due to an increase in its torque and a new variable drilling axis feature.
Aquajet unleashes 'mean machine' hydrodemo roboto (Tuesday 14 March)
Swedish hydrodemolition specialist Aquajet has brought its 'mean machine' to Las Vegas – with the first North American showing of the Aqua Cutter 750V. The powerful hydrodemolition robot has on board the company's patented Infinity system, which controls the figure-8 oscillation of the machine's water jet, down to the millisecond, allowing it to remove more concrete in a single pass.
Caterpillar's smart blades just got smarter (Tuesday 14 March)
Caterpillar has expanded the capabilities of its smart blade technology, making it applicable to Cat skid steer and compact tracked loaders. At this week's ConExpo, the manufacturer will show how the external control kit's capabilities for GB120 and GB124 smart grader blades can now be utilised by selected skid steer and compact tracked models.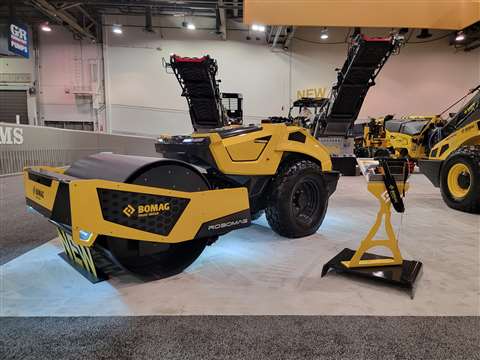 Bomag previews autonomous compaction robot (Tuesday 14 March)
Autonomy and sustainability are the focus of Bomag's offering at the 2023 ConExpo construction exhibition, currently taking place in Las Vegas, US. Describing its presence at the event as "its largest show effort yet", Bomag's equipment lineup comprises over 40 machines, including a number of new zero-emission compaction machines and its new autonomous single drum roller concept, the ROBOMAG 2.
Heavy lifting robot to 'provide 50% schedule savings' (Tuesday 14 March)
Advanced Construction Robotics (ACR) is launching its second product, IronBOT, during ConExpo, Las Vegas. IronBOT augments construction crews by lifting, carrying, and placing bundles of rebar in a transverse or longitudinal orientation without the need for heavy lifting from workers.
Dynapac launches electric vibratory plates (Tuesday 14 March)
Road construction specialist Dynapac has launched a new range of electric-powered vibratory plates as part of its Z.ERA program, which aims to produce emission-free machines. It's new electric plates, which include the DFP5X e, are said to provide "exceptional performance for a wide range of paving situations".
Bobcat showcases next-level electric products (Tuesday 14 March)
Bobcat is showcasing its next-level electric innovations and will soon unveil two new concept machines with electric functionality.
The Bobcat stand is displaying electrification, autonomous operation and digital technologies, in addition to sharing the new ways that these advancements are making compact equipment operations easier and more productive.
Trimble to highlight connected construction solutions (Tuesday 14 March)
Trimble has announced that it is highlighting solutions focused on connected construction, compact machines and environmental sustainability at ConExpo 2023. The solutions on show include the new purpose-built machine guidance solution designed to be versatile, portable and easy to use.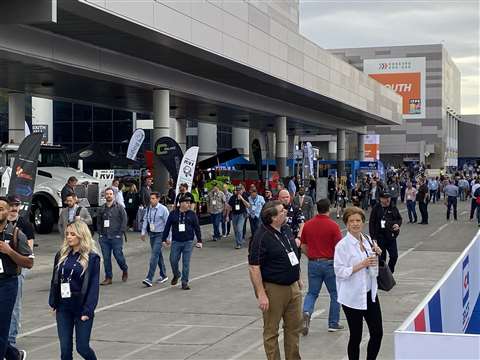 ConExpo 2023 opens with high hopes (Tuesday 14 March)
The 2023 ConExpo-Con/Agg show opened today in Las Vegas with organiser the Association of Equipment Manufacturers (AEM) optimistic about the turnout. Speaking to International Construction as the show gets underway, AEM said that advance registrations indicated that attendance could exceed 130,000 for the week.
What's the outlook for the US construction equipment market? (Monday 13 March)
North America's biggest construction trade show ConExpo-ConAgg 2023 gets underway this week (14-18 March), with 1,800 exhibitors showing off their products in Las Vegas.
The show was one of the last major industry events to take place before the Covid-19 lockdowns put a prolonged halt to in-person gatherings.
A lot has happened since then, not least the continued fallout from the pandemic and the war in Ukraine.
That has precipitated a change the economic landscape in the US.
So where does the US construction equipment market stand now, as Conexpo-ConAgg kicks off once again?
Honda reveals prototype autonomous work vehicle (Monday 13 March)
Honda is showcasing the new capabilities of the latest generation of its prototype Honda Autonomous Work Vehicle (AWV) to improve construction industry and worksite efficiencies at ConExpo-Con/Agg 2023.
"As we continue to advance the Honda AWV platform, we want to meet with potential business partners and companies at ConExpo that are interested in field testing the vehicle at their worksite," said Jason VanBuren, systems engineering manager at American Honda Motor Co., Inc.
Bobcat brand to be used for Doosan gensets and forklifts (Friday 10 March)
Doosan Bobcat is to rebrand its Doosan generators, compressors, lighting towers and forklift trucks as Bobcat products under a new strategy to "create business and growth opportunities". The rebranding will cover products produced by Doosan Portable Power (DPP) and Doosan Industrial Vehicle (DIV).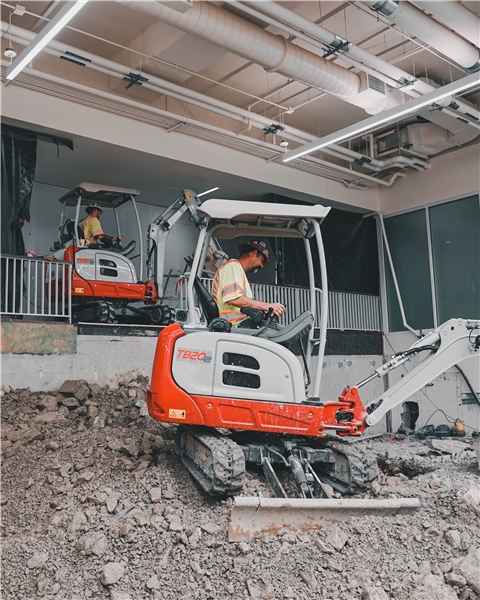 Takeuchi battery-powered excavators now available through North American dealers (Thursday 9 March)
In February 2022, Takeuchi partnered with United Rentals to introduce the first 100 of the TB20e battery-powered compact excavator as part of a pilot program to gauge customer reaction and feedback. Now, Takeuchi is making the excavator available for purchase and rental from qualified dealers throughout North America, and will display the model at this year's ConExpo construction exhibition.
Komatsu to showcase tech solutions (Thursday 9 March)
Displaying a wide variety of its newest technology and latest equipment, Komatsu's exhibit at ConExpo-Con/Agg 2023 will inhabit a booth in the West Hall (W42044) of the tradeshow's campus. Komatsu's main technology attractions will be its Smart Construction, Smart Quarry and intelligent Machine Control 2.0 (iMC) solutions.
Tadano launches two new truck cranes (Wednesday 8 March)
Tadano has announced two new truck crane models for the US and Canadian market, the 110 tonne capacity GT-1200XL-2 and the 72.6 tonne capacity GT-800XL-2. The truck cranes have been designed with a low axle weight, narrow width and long boom designs to aid the process of road permit approvals, making them ideal for taxi crane service, the company said.
All-electric mini mixer truck to be unveiled (Wednesday 8 March)
Terex Advance is to present its first all-electric mini mixer truck at this year's ConExpo-CON/AGG construction exhibition. The unit represents the all-electric option being offered across the company's Mini Mix truck range. It aims to meet the needs of ready mix conrete "producers and contractors with a small volume mixer for short loads or tight spaces" .
Kemroc to show cutting technology (Wednesday 8 March)
The German manufacturer, which produces excavator and backhoe attachments for demolition and excavating applications, is taking the opportunity to present its new Kemsolid division and KSI injection excavator attachment.
Melvin Porter talks ConExpo and Link-Belt Cranes (Tuesday 7 March)
Excited. Ready to introduce new products and see customers. A positive vibe. Those are words that Link-Belt Cranes President and CEO Melvin Porter is using in anticipation of ConExpo 2023. A lot has happened since ConExpo 2020, a show that is not a great memory for crane manufacturers and other OEMs.
"I don't think we anticipated what was about to occur after we left Las Vegas in 2020," Porter said,  remembering back to three years ago... 
Rouse Services launches fleet management system (Tuesday 7 March)
A new fleet management system will be launched by Rouse Services at the 2023 ConExpo-CON/AGG exhibition in Las Vegas, US. Fleet Manager, which was developed by Ritchie Bros. subsidiary Rouse Services, is designed for equipment rental companies and contactors. It aims to support users "throughout the entire equipment lifecycle" 
Terramac crawler carriers on show (Tuesday 7 March)
US manufacturer Terramac is to showcase four machines from its range of crawler carriers next week. On its largest space at the show to date, the company will show two rotating frame units and two straight frame machines.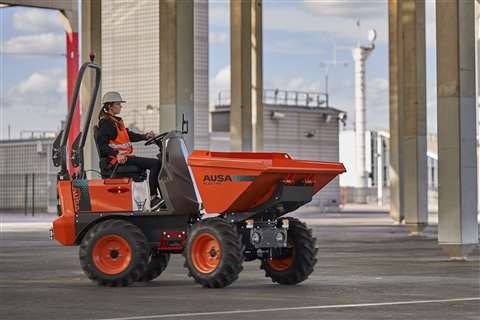 North American debut for Ausa's electric dumper (Tuesday 7 March)
Spanish equipment manufacturer Ausa is to present its entire product portfolio at next week's ConExpo-CON/AGG in Las Vegas, US, with its first zero-emission electric dumper, the D151AEG, making its North American debut. 
XCMG to show '50 flagship' products (Tuesday 7 March)
The China-based OEM says that ConExpo will be the group's largest overseas exhibition to date in terms of booth scale and number of equipment to be featured, with '50 flagship' products on display, including equipment specifically designed for the North American market. 
Doka's innovations and digital solutions (Monday 6 March)
Doka will display its new scaffolding options, innovations in its formwork and shoring portfolio, digital services, and numerous highlights in systems and safety on a 3000 square foot outdoor booth at ConExpo.
World debut for GOMACO (Monday 6 March)
GOMACO's GP460 placer/spreader slipform paver will make its world debut at at ConExp.
As a placer/spreader with a 60 inch (1524mm) belt, the GP460 will accommodate widths up to 50 feet (15.2m) wide. As a concrete slipform paver, the GP460 will pave widths up to 40 feet (12.2m) wide. 
'Gold Rush' for Volvo's electric equipment (Friday 3 March)
Volvo Construction Equipment is planning a "one-of-a-kind booth experience" for next month's ConExpo trade fair in Las Vegas, US, with "construction industry innovators" from the Discovery Channel's Gold Rush television series in attendance.
Volvo has not yet revealed which cast members will appearing at its Festival Grounds booth (F8926), however visitors to the company's stand will also find two equipment test-drive areas, a technology hall and a range of Volvo's newest and most popular machines. Read the full story here.
Essential show information (Thursday 2 March)
From how to get to and from the show, where to stay in Las Vegas, where and when to collect your badge and how to travel round the show itself (Tesla Loop? Golf shuttles?), this guide covers all the bases.
Caterpillar to show new models and prototypes (Thursday 2 March)
The world's largest OEM, Caterpillar will show off more than 30 machines at ConExpo in what it claims is its largest exhibit to date. The OEM has taken a 70,000 sq ft demonstration area for the show in the Festival Lot. Cat is expected to unveil new models as well as battery-powered prototypes with charging stations. It will also offer two main equipment demonstrations each day, with one focused on the latest Cat technology and the other spotlighting the company's full equipment line-up.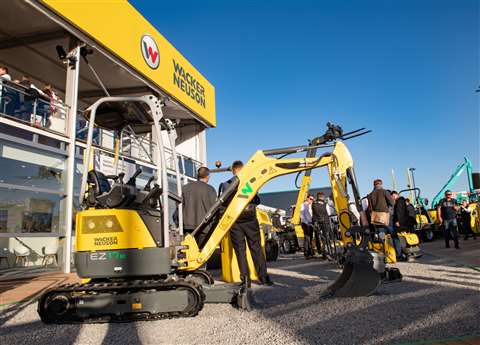 Electric focus for Wacker (Wednesday 1 March)
Wacker Neuson will be previewing a variety of new products at ConExpo-Con/Agg 2023 with a central focus the 1.7-ton battery-powered excavator – the EZ17e. "This zero-emission excavator has been a success in the European market and will launch in North America in late 2023 or early 2024," says Gert Reichetseder, President and CEO of Wacker Neuson Americas.
KHL at ConExpo 2023 (Wednesday 1 March)
KHL Group, the publisher of International Construction and parent company of Off-Highway Research, will be exhibiting at this year's ConExpo-Con/Agg trade show in Las Vegas, US.
Located in the Silver Lot at Booth S5915, ConExpo visitors will be welcomed to the company's stand by a team of editors and sales managers, who will also host KHL's traditional Champagne & Strawberries reception on the Thursday (16th March) of ConExpo 2023, for invited guests. Discover more here.
Hitachi spotlights Next Gen equipment models (Wednesday 1 March)
Diesel-powered equipment will be the focus for Hitachi Construction Machinery Americas at this month's ConExpo-CON/AGG event in the United States. The manufacturer will showcase its next generation of construction, aggregate and mining equipment, with a variety of earthmoving and material handling machines on display. 
Vanguard's newest engines and batteries (Monday 27 February)
Briggs & Stratton is showcasing its expanding mix of power solutions at ConExpo. The latest in the company's commercial engine technology will be on display, including the Vanguard 400 EFI/ETC gasoline engine. The single-cylinder unit incorporates all-weather chokeless starting and is equipped with Electronic Throttle Control (ETC) technology designed to enable the engine to react instantly to any applied load and maintain smooth, consistent power in any operating environment.
Hyundai's online brand launch (Monday 27 February)
Having recently released a video about its rebranding to Develon, Hyundai Doosan Infracore (HDI) will finally unveil the new livery that will now be featured on its construction equipment.
While the launch video describes the brand's vision and purpose with contributions from senior executives and product development staff, visitors to ConExpo 2023 will be the first to see it. Watch the Develon video here.
Trimble to showcase new machine guidance product (Monday 27 February)
Technology giant Trimble is to highlight solutions focused on connected construction, compact machines and environmental sustainability at this year's ConExpo event.
The company will also display a new purpose-built machine guidance solution designed to be versatile, portable and easy to use. The new solution is said to give small site and utility contractors an entry-point into construction technology that has not existed before. Find out more here.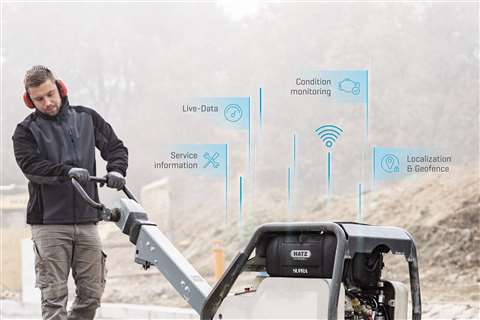 The evolution of Hatz on display (Monday 27 February)
For more than a century, the name "Hatz Diesel" has essentially been synonymous with diesel engines. Yet visitors to the Hatz stand at ConExpo will now also see a variety of new technologies such as synthetic fuels and diesel/electric solutions. Along with a new brand identity, Hatz will exhibit a series of digital products that enable machines with Hatz engines to be operated and monitored more efficiently.
Precision sensor systems and capabilities from John Deere (Thursday 23 February)
John Deere will focus on its latest precision solutions for the construction industry.
These include advanced vision and object detection solutions, SmartWeigh, standard EZ Grade on P-Tier small dozers and various other grade management and automation solutions. Read the full story here.
Bobcat concept machines & digital tech to be revealed (Wednesday 22 February)
Electrification, autonomous operation and digital technologies will be the focus of Bobcat's ConExpo exhibition stand. 
Bobcat said it will showcase its existing electric product lineup as well as unveil two new concept machines with electric functionality. Find out more here.
Hybrid is key for crushing equipment OEM (Tuesday 21 February)
SBM Mineral Processing is to present its lastest hybrid crushers at the trade fair, with the 80-tonne JAWMAX 400 mobile jaw crusher taking centre-stage, among a selection of the manufacturer's most eco-friendly machines.
Hamm to present a packed ConExpo programme (Friday 17 February)
Hamm has announced that it will be presenting several world premieres as well as innovative further developments. The innovations range from electrified tandem rollers, compactors, pneumatic-tire rollers and pivot-steered tandem rollers, right through to the Smart Doc compaction app for self-monitoring and documentation.
Which cranes to see at ConExpo (Friday 17 February)
International Cranes & Specialized Transport editor Alex Dahm and American Cranes and Transport editor D.Ann Shiffler, provide a detailed overview of the key crane models - and related products, that will be on show at the 2023 event.
Yanmar teases new machine ahead of launch (Wednesday 15 February)
Yanmar Compact Equipment is to unveil a new range of compact equipment at ConExpo. According to the company, it will be the largest compact release in North American history.
Case promises new equipment categories (Wednesday 15 February)
US-based manufacturer Case Construction Equipment is set to showcase new equipment and new partnerships at this year's ConExpo. As well as new machines, the company's vice president for North America, Terry Dolan, says they will also "reveal some unexpected products".
Over 30 exhibits for Liebherr (Tuesday 14 February)
Under the motto "on your site," Liebherr is to showcase over 30 exhibits at next month's ConExpo-Con/Agg in Las Vegas, US, including the latest addition to its mobile crane range, the LTM 1100-5.3.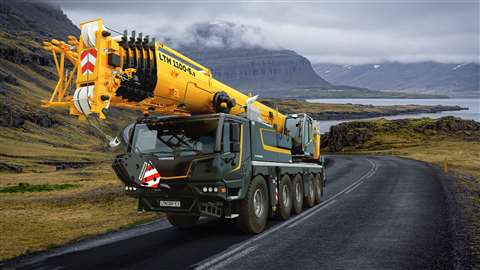 Described by Liebherr as "The master of all roads", the machine has a 62m (203ft) telescopic boom and a 100-tonne maximum lifting capacity. Read full story here.
Wirtgen to highlight sustainable road construction (Tuesday 7 February)
Wirtgen will present a cross-section of its cold milling, recycling, soil stabilising and concrete paving products on the joint booth shared by Wirtgen Group and John Deere.
Alongside nine exhibits from three product sectors, the focus will also be on digital system solutions and assistance systems. Read the full story here.
Bentley System to showcase management platform (Thursday 2 February)
Bentley Systems will present its updated infrastructure platform, Synchro, at ConExpo. 
The updates are said to make the platform the next generation of construction management for civil infrastructure projects and the construction component of the new Bentley Infrastructure Cloud.
Trackunit to expands IoT platform offering (Wednesday 1 February)
The company says that it will introduce a set of site-focused features and capabilities to drive efficiencies in the construction industry to the next level by allowing users to leverage live machine data with connectivity to build their site-based business processes. Find out more here.
Seven new cranes from Kobelco (Monday 30 January)
Since early 2021, Kobelco Cranes USA has dealt with a lot of unknowns, navigating a massive repower project of its CK crane line distributed in North America. 
It's been a difficult journey, according to Kobelco Chief Operating Officer and Vice President Jack Fendrick. But he and his team are excited to launch an entirely repowered line of crawler cranes. American Cranes & Transport has learned exclusively that Kobelco will launch seven new cranes, from 80 to 275 tons capacity.
New look for McCloskey (Wednesday 25 January)
Crushing and screening equipment manufacturer McCloskey will reveal a new colour scheme for its entire product portfolio. The update is set to include existing models as well as new ones.
US debut for JCB's hydrogen engine (Thursday 19 January)
JCB will showcase its hydrogen combustion technology on the international stage for the first time with a debut in North America. Visitors to the ConExpo show will be able to see the zero-emissions engine for the first time, as part of the International Fluid Power Exposition (IFPE).
"The JCB engineering team has made enormous strides in a short space of time to develop a hydrogen internal combustion engine and it already powers a JCB prototype backhoe loader and a Loadall telescopic hander," said JCB Chairman, Lord Bamford. Find out more here.
What to expect from the show (Tuesday 17 January)
Known for being more than just a construction equipment show, ConExpo will again host an extensive programme of educational events that focus on growing construction sector businesses. For more information on what's on offer, click here.
ConExpo: Through the years (Monday 9 January)
ACT editor D.Ann Shiffler looks back at the history of North America's largest construction exhibition. From its humble beginnings - way back in 1909, this article looks at how the show has evolved through the decades, into what it is today.
'Smallest robot' heads to ConExpo (Thursday 5 January)
Remote-controlled demolition machine manufacturer Brokk is to show the smallest electric robot in its range at this year's ConExpo-Con/Agg exhibition in Las Vegas, USA. The model is specifically designed to carry out demolition works in urban areas, and to working on sites where access and or space may be limited.