​Ahern Deutschland appointed Faresin distributor
By Euan Youdale10 July 2020
Ahern Deutschland, the sales, service and spare parts provider for Snorkel and Xtreme Manufacturing equipment in Germany and Austria, has been appointed as the official distributor for Faresin agricultural telehandlers in Germany.
Initially, Ahern Deutschland will carry five agricultural telehandler models, which includes the Faresin 6.26; 7.30C 74hp, and 9.30C 74hp in the compact range; and the 7.45 HLS, 8.40 HLS 74hp, and VPSE 100 variant in the mid-size class, and plans to expand the stocked model range in line with customer demand. Customers will also be able to customise a telehandler to their exact requirements by ordering from the extensive Faresin agricultural telehandler product portfolio.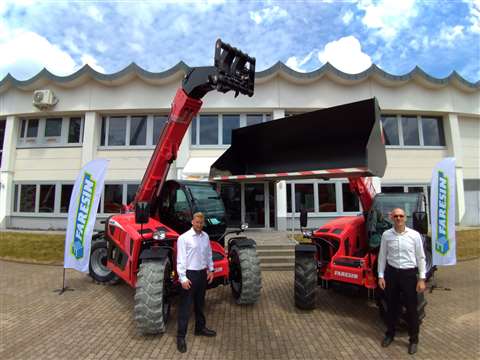 Based in Breganze, Vicenza, Faresin Industries is an Italian family-owned manufacturer of feed mixer wagons and ration analysis instruments for the livestock sector and telescopic handlers for the agricultural, construction and industrial sectors. Founded in 1973 by current Chairman Sante Faresin, the company has a global presence with a strong distribution and retail network.
Sante Faresin, chairman, Faresin Industries, said, "We have known the Ahern Deutschland team for a number of years, and are confident that they are the right partner to introduce our agricultural telehandler models to the German market."
Ahern Deutschland was founded in 2015 and is part of the Ahern International distribution network, which is owned by Don Ahern. Bernhard Kahn, managing director at Ahern Deutschland, said, "The Faresin products are industry-proven and very well-regarded in the agricultural sector globally. They understand their agricultural customers and have developed a range of high quality and reliable telehandlers that deliver the ultimate in safety and productivity while maintaining simplicity in operation and maintenance. This is supplemented by a wide range of attachments that provide maximum flexibility for customers."
"While there is a strong farming customer base who will be interested in the Faresin range, I also see these products as a natural fleet addition for many of our existing customers in rental and construction, who are already familiar with operating telehandlers and may serve or have opportunities in agricultural markets. We have appointed a specialist sales representative to focus on market development for the agricultural telehandlers and I am confident that we will achieve long-term success in this region, working in partnership with the Faresin team."
To support Faresin sales, Ahern Deutschland has expanded its team with the appointment of Felix Zimmerman, who is focused on the direct sales of Snorkel aerial work platforms, telehandlers and material lifts to the industrial and trade sectors across Germany and Austria, as well as Faresin telehandlers to the agriculture and construction sectors in the region around Ahern Deutschland's facility in Weyerbusch. Zimmerman brings many years of sales experience to the role from within the material lifting and material handling sector, and takes an entrepreneurial approach to business development, partnering with his customers to help them to fulfil their goals.
To further strengthen their distribution capabilities for the Faresin agricultural telehandlers, as well as Snorkel construction telehandlers, Ahern Deutschland is now looking to appoint regional sub-dealers across Germany and Austria, for sales, service and spare parts. Interested parties can e-mail info@aherndeutschland.de.