'Indoor' dust suppression cannon hits market
By Leila Steed18 January 2023
Dust control equipment manufacturer BossTek has launched a new mist cannon for indoor applications.
The compact DB-10 is a portable unit designed to deal with particulate emissions within enclosed spaces, such as those generated by demolition and raw material handling activities.
It is mounted on two wheels with a tall handle and, despite being roughly the size of a child's stroller, is said to offer "industrial-level dust control".
The model features a circular manifold with 12 atomizing nozzles that fracture pressurized water into a fine mist and is fitted with a ¾ HP fan that delivers 3,335 cfm (cu ft/min)  of airflow.
This enables the DB-10 cannon to spray mist in a cone-shaped pattern over a distance of up to 10 m (30 ft). 
"Using the 0-50º vertical adjustment, the mist can reach into the rafters of warehouses or be directed at specific emission zones," said United States-based BossTek.
"It is offered with a standard wheeled carriage but can be specified with alternate mounting as needed."
Development of the new mist cannon, which is available across the Americas, came about when one of BossTek's demolition sector clients requested a bespoke dust suppression unit. 
Mike Lewis, dust control specialist at BossTek, said: "Our first customer to use the DB-10 was a demolition contractor removing dusty drywall, plaster and tile containing potentially hazardous materials. These all produce highly regulated dust emissions.
"We worked with them to create a unit best suited to their needs and the DB-10 was born."
According to the equipment manufacturer, the DB-10 produces water droplets just 50-95 microns in size. These are small enough to capture respirable dust, which measures around 10 microns or less.
The company also claims that using the DB-10 for small-scale indoor works means demolition contractors can reduce labour costs, save water and improve site safety.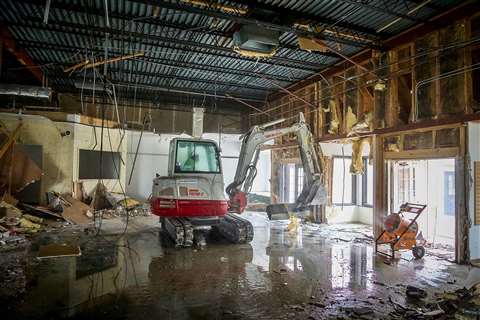 "Workers are often assigned to use hoses for small-scale dust suppression, which adds to the labor cost" and increases the chance that other hazards, such as the accumulation of excessive standing water and water runoff, may arise.
The manufacturer says that not only is using a hose ineffective - as the water droplets from a hose are too big to capture airborne particulates - but that it can also position workers closer to heavy machinery and or falling debris, putting them at greater risk of injury.