New hydraulic excavator from Komatsu America
By Andy Brown21 February 2018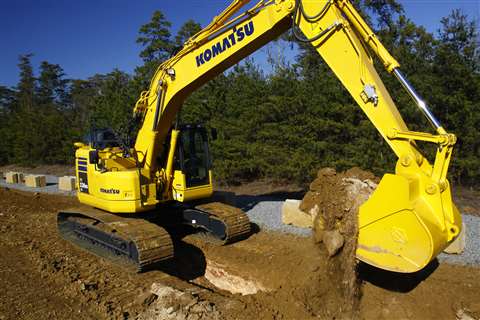 Komatsu America Corp has launched the new PC238USLC-11 hydraulic excavator. Equipped with an EPA Tier 4 Final certified engine and a new viscous fan clutch, engine parasitic loads are now lower, and according to the company, productivity is up to 4% higher compared to the previous model.
The excavator is available with Komatsu's new KomVision system, a birds-eye-view camera system that combines input from three cameras into a surround-view image of the machine and surroundings to provide improved operator situational awareness.
"The PC238USLC-11 maintains the tight tail swing radius of its predecessor, making it well suited for utility and highway applications working in confined spaces," said Andrew Earing, product manager, tracked machines, Komatsu America.
"The machine's contoured cab profile and sliding door allows the cab to swing within the same radius as the counterweight. The additional counterweight remains standard, giving the PC238USLC-11 equal or better lift capacity than conventional models in the same size class," Earing said.
As standard the new PC238USLC-11 includes Tier 4 Final certified engine technology, Exhaust Gas Recirculation (EGR) added to reduce NOx emissions and Komatsu Diesel Particulate Filter (KDPF) and Selective Catalyst Reduction (SCR) system, with Diesel Exhaust Fluid (DEF) injection used to meet EPA Tier 4 Final requirements. The company says that the SCR catalyst does not require scheduled maintenance and is designed to match the life of the engine.
The cab has an upgraded high-resolution, LCD color monitor panel incorporates the standard rearview camera display with gauges as well as a new standard secondary engine shutdown switch.