Stable outlook for North American rental
By Helen Wright23 February 2016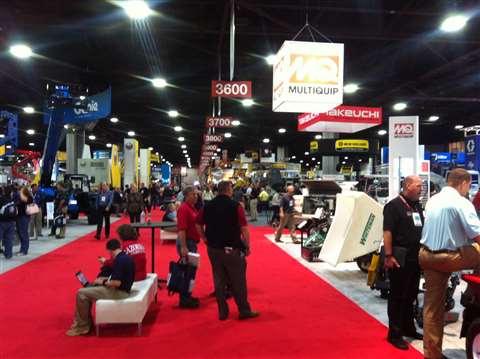 The American Rental Association (ARA) said the US equipment rental industry was poised to see stable growth in the coming years, with its latest forecast showing 6.6% market growth in 2016 followed by 5.6% growth in 2017.
According to the revised figures, issued during the ARA Rental Show in Atlanta, Georgia, total rental revenues - including revenues from the construction, industrial, general tool, homeowner, and party/special event sectors - are forecast to reach US$48.2 billion (€43.8 billion) in 2016, rising to US$53.7 billion (€48.8 billion) by 2019.
The latest forecast compares to the ARA's previous outlook, issued in November last year, of 6.7% US rental industry revenue growth in 2016 followed by 6.7% growth next year.
The ARA said its latest forecast, using data compiled by IHS Economics, reflected the downward shift in energy markets, as well as continued growth in residential and nonresidential construction.
Meanwhile, it said rental penetration decreased slightly in 2015 to 52.9% from 2014's 53.9% - according to data from the latest ARA Rental Penetration Index.
Scott Hazelton, managing director of IHS Economics, said, "Rental penetration is measured as the share of the US construction equipment fleet accounted for by rental companies. Rental penetration will decrease if rental companies acquire fleet slower than contractor-owned equipment, or if they divest fleet faster than contractors.
"The story in 2015 was that construction markets were hot and energy markets were not, equipment required for shale oil exploration was no longer in demand, yet much of this equipment was well-suited for construction.
"For a rental company that supplies equipment to both industries, the solution was to defer some purchases of new equipment for construction sites and redeploy their existing assets from energy to construction."
Mr Hazelton added that fleets still grew in 2015, but at a slower rate, while investments by contractors remained unchanged.
"The result is a mild dip in rental penetration that indicates the flexibility of the industry, not any weakness in the outlook."
ARA CEO and executive Vice President Christine Wehrman added, "There is no doubt that the secular shift to renting equipment continues in the market those in the equipment rental industry serve. Many customers continue to take advantages the benefits at equipment rental offers."