​ Volvo FH16 8 x 4 for KKB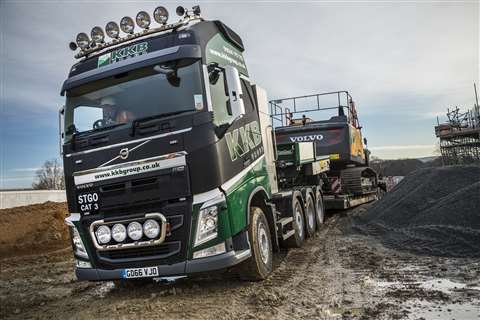 Remediation and recycling specialist KKB Group in the UK has taken delivery of a new Volvo FH16-750 tridem 8 x 4 tractor unit.
M C Truck and Bus of Aylesford supplied the truck for Kent-based KKB to haul its growing plant fleet between job sites around the country.
Craig Hore, KKB plant and operations manager, said, "With gross vehicle weights already exceeding 100 tonnes and expectations that with new plant investments, this could creep higher still, pure muscle is a consideration that we had to factor in."
The 150 tonne GCW tractor has a 750 hp D16K engine, air suspension all round and a steered pusher axle. Power is transmitted through a Volvo I-Shift automated transmission which has enhanced software for off-road driveability and starting. An ultra-low 32:1 crawler gear provides exceptional pull from stationary, Hore said. "I think this truck future proofs us for the next three years."
Additional features include nearside and forward facing cameras, as well as near and off-side rear facing cameras on the Nooteboom 'Pendle' 4-axle low bed trailer that it pulls. There is also an audible left turn alert.
KKB was started more than 20 years ago by the Basi family which still owns it. Its first truck was a 2004 Volvo FH16. Trucks are usually replaced every three years or 300,000 km.