10 of the world's biggest airport megaprojects under construction and development
Air travel took a major hit during the Covid-19 pandemic, stalling a number of airport construction megaprojects around the globe.
But as the pandemic has receded, there has been a resurgence in air travel. Management consultant Bain & Company forecast that air travel demand would surpass 2019 pre-covid levels by next year (2024).
And that means that airport construction projects are back in full swing, with some that previously looked doubtful now preparing for take-off.
International Construction examines some of the biggest projects around the world that are either underway or waiting in the departure lounge:
1) Noida International Airport, India
Noida International Airport, in Uttar Pradesh's Jewar is set to be India's largest when it is finally complete. Switzerland's Zürich Airport International is in charge of building the project, worth an estimated US$4 billion, with operations due to start in 2024.
To begin with, it will open with a single runway and terminal building, with a capacity of 12 million passengers a year. But later phases of the construction could see capacity extend to 70 million passengers a year.
Indian construction firm Tata Projects is in charge of the delivery of the airport, supported by engineer Bechtel Engineering and Construction India.
2) Solidarity Transport Hub, Poland
Poland is planning to build what has been billed as the country's largest airport and one of the largest in Europe in Baranow county near Warsaw.
The project involves building a passenger terminal railway stations and transport hub. It will initially be able to handle 40 million passengers a year.
In September last year, the company developing the $8 billion hub between Warsaw and Łodz, Centralny Port Komunikacjny (CPK) launched a search for a company to oversee the technical accuracy of designs by the lead architect and civil engineer.
CPK aims for the project to be ready by 2027.
Arup is acting as masterplanner for the project, while South Korea's Seoul Incheon Group is strategic adviser.
And in late 2022, a joint venture between Foster + Partners and Buro Happold won a €150 million (US$165 million) contract to be master architect for the new airport. Designs are expected to be ready later this year.
3) U-Tapao aviation city, Thailand
Thailand is to start construction of its 290-billion baht (US$8.8 billion) U-Tapao aviation city this year.
It involves turning the Vietnam-war-era U-Tapao airport into the third main international airport in the country. U-Tapao will link with a budget terminal, Don Muang airport, and the country's main Suvarnabhumi airport.
A public-private partnership will fund the project. Design and consultancy firm One Works has already won a deal with infrastructure business GMR Group, Thai AirAsia and other stakeholders to develop a masterplan.
The project, called 'Eastern Aviation City' will cover 1,040 hectares and is expected to create 15,600 jobs.
In addition to the construction of a third passenger terminal, the project will also see the construction of a ground transportation centre, logistics and cargo complex, a cargo village for a free trade zone, and a commercial centre.
4) Changi Airport Terminal 5, Singapore
UK-based Heatherwick Studio revealed in August last year that work on Terminal 5 of Changi Airport in Singapore was to resume as the Covid-19 pandemic started to subside.
Designed in conjunction with KPF, the project aims to add capacity for about 50 million passengers a year.
The terminal has been designed with the "airport as a city" concept in mind, with each area a "series of neighbourhoods" with their own character.
The project has required an injection of another $2 billion in investment and is estimated to cost around $10 billion in total. Construction is due to start in 2025, with the terminal operational by the mid-2030s.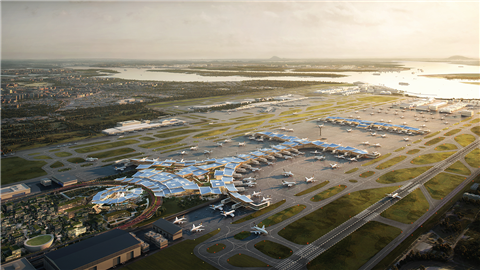 5) Sangley Point International Airport, Philippines
The construction of an $11 billion airport in Manila Bay in the Philippines is gradually moving forward, after a consortium swooped in to bid for the work in 2021.
The project had looked in doubt after the government of the province of Cavite announced that a second tender to build the airport had failed.
But the Sangley Point International Airport (SPIA) Development Consortium moved to bid for the work Led by Filipino entrepreneurs Lucio Tan, Helen Yuchengco-Dee and investment banker Luis Virata. Construction companies involved in the project include engineer Arup and contractor Samsung C&T.
Early this year, the consortium submitted a $5 billion performance bond, with work forecast to start in 2024.
Construction of a first runway, which is expected to take four years, will provide the airport with an annual capacity of 25 million passengers, before a second runway lifts that to 75 million.
6) Los Angeles International Airport, USA
Los Angeles World Airports is undertaking a $14 billion capital investment programme at Los Angeles International Airport (LAX), which is now in its final phase.
The modernisation programme is the largest public works programme in the history of Los Angeles and started in 2009.
Work in the final phase involves the modernisation of Terminals 4 and 5, with another $1 billion in funding for this work approved last year.
An automated people mover (APM) designed to take people between the terminals and three stops outside the airport is due for completion in 2024.
And a consolidated, off-site facility for all rental companies which will be the largest car rental facility in the world with room for around 18,000 vehicles is also due for completion in 2024.
Work to upgrade several other terminal buildings is also still ongoing.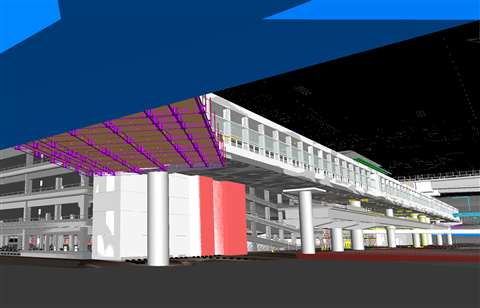 7) JFK Airport expansion, New York
A project to upgrade and expand John F. Kennedy International Airport in New York started in 2019 with the modernisation of Terminal 8, completed in 2022.
But other elements are still under construction. Construction on Terminals 1, 4 and 6 will advance in the next year.
In September 2022, the ground was broken for the US$9.5 billion Terminal 1 project with the help of the design-build team AECOM Tishman and Gensler. Work includes building 23 new gates, retail and dining spaces as well as an indoor green space.
The current project is expected to be completed and open to passengers in 2026 with the entire project anticipated to be complete by 2030.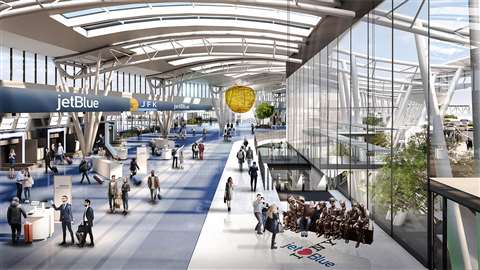 8) Long Thanh International Airport, Ho Chi Minh City, Vietnam
Construction of Vietnam's $16 billion new airport in Ho Chi Minh City, billed as the most expensive infrastructure project in the country's history, saw work on the runway start in late 2022.
The first phase of the project involves building a new terminal and a 4km-long runway. Completion is due for 2025 and the airport will be able to handle 25 million passengers a year.
But the Airports Corporation of Vietnam (ACV) only found one bidder for the $1.5 billion terminal building contract and it failed to meet requirements. ACV has since launched a hunt for new bidders.
The first phase of the airport is expected to cost $4.1 billion.
9) Heathrow Airport expansion, UK
Heathrow Airport in the UK won a Supreme Court battle in 2020 to go ahead with a $17.4 billion expansion, including the construction of a third runway.
The project ended up on ice following a collapse in passenger numbers amid the Covid-19 pandemic but Heathrow Airport Limited last year said that the pandemic showed that there was pent-up demand for flights out of Heathrow, as well as demonstrating that it was critical for UK trade routes.
Heathrow's outgoing chief executive John Holland-Kaye said in February this year that it would make an announcement on its plans for the expansion later this year.
10) Al Maktoum International Airport expansion, Dubai: $33bn
A huge $33 billion expansion at Al Maktoum International Airport would see it become one of the world's biggest.
The project, also known as Dubai World Central, would involve increasing the airport's capacity to 130 million passengers per year by 2030.
Work on the substructure of Concourse 1 and the West Terminal building was completed in a $2.7 billion package of work but the project then stalled amid the Covid-19 pandemic.
Officials in Dubai are now reported to be considering the project, after Dubai International Airport handled 66.1 million passengers in 2022.