1000th Genie Z-33/18 rolls off production line
By Euan Youdale14 October 2016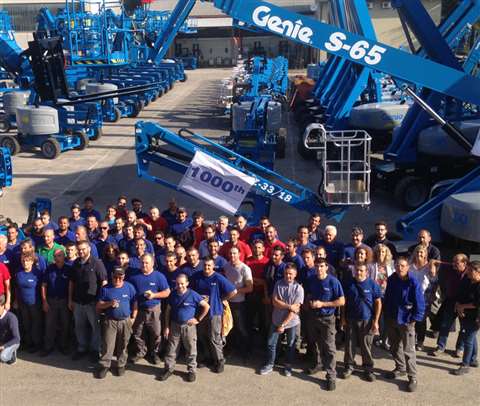 Terex Aerial Work Platforms (AWP) has met a production milestone with the production of the 1000th GenieZ-33/18 articulating boom at its Umbertide facility in Perugia, Italy – the centre of Genie manufacturing in Europe.
"This 1000th unit of the Genie Z-33/18 boom lift notably marks a milestone in terms of serving our customers in Europe, as we continue to invest in developing Umbertide as a world-class design, engineering and manufacturing centre," said Joe George, VP and managing director, Terex AWP EMEAR. The 1000th Z-33/18 was sold to Heintzelmann Autokrane in Germany.
Building on significant investments and the introduction of an increasing number of production lines dedicated to the Genie brand in Italy over the past three years, the company recently appointed Francesco Aiello to the position of senior director Terex AWP for the Umbertide plant.
After working as Qquality manager and auditor for ISO 9001, Mr Aiello first joined Terex in 2000 where he has held positions of increasing responsibility over the past eight years. From service manager, Mr Aiello rose to become director of operations in Umbertide and later the director of supply chain for Terex AWP. (See a picture of Mr Aiello by clicking on the image above, then 'next' top right).
"Francesco has an extensive manufacturing background which he has already demonstrated with the successful integration of our S-65 boom and Z-62 boom production lines, which are the most recent Genie boom lift models to be manufactured in Umbertide," says George.
"We have every confidence in his ability to lead our team as he continues to directly oversee the next phase of the improvement and expansion of our Umbertide factory."