20,000th Bobcat telehandler rolls off production line
By Sarah McCay29 July 2014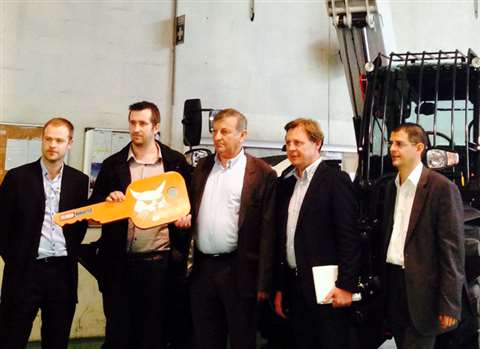 The 20,000th Bobcat telehandler rolled off the production line at the manufacturer's Pontchâteau plant in Loire Atlantique in France earlier this month.
The landmark unit was welcomed by an official ceremony attended by the site's 200-strong workforce. Xavier Larroque, telehandler products manager, and Laurent Gicquel, Pontchâteau plant manager, presented the keys of the new Bobcat T40180 to its purchaser, the Manuco dealership from the suburbs of Rouen.
Bobcat said production at Pontchâteau continued to go from strength to strength. The manufacturer forecast sales growth of 15% and a 17% increase in turnover for 2014, compared to 2013.
It added that around 51% of revenues came from the rental and construction sectors, as well as general industry.
Underlining its optimism in the market, Bobcat said it planned to make improvements to the Pontchâteau site in 2014 to boost production and take advantage of strong demand for Bobcat's French-made telehandlers.
Mr Larroque said, "80% of our production is exported. Apart from France, we have a strong presence in Eastern Europe, Germany and the Middle East."
The manufacturer said the Pontchâteau site produced 12 different Bobcat telehandler models, with lifting heights from 5 to 18 m.
It said it planned to introduce a new generation of machines, continuing the trend set by the TL360 and TL470 models with Stage IIIB engines and T40140 and T40180 construction industry models launched last year.