3.5 tonne truck highlights Ruthmann event
By Euan Youdale24 October 2016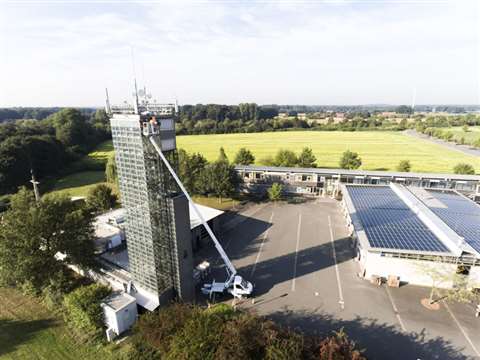 Ruthmann has launched a 29m working height truck mount at a customer event in Hamburg last week.
The Steiger TB 290 truck mount is designed for Euro 6 3.5 tonne chassis, setting a record working height for this vehicle weight. It means workspaces can now be reached that were previously only accessible using 7.49 tonne trucks, according to Ruthmann.

The model is a development of the previous TB 270+, with 2m more working height with the same outreach and an additional 3° elevating angle, which allows set up closer to working areas. There is also a 230kg load capacity.
A further feature is the interchangeable basket system for aluminium and plastic baskets allowing work on live lines up 1000 V. The TB 290 can also be placed on 5 tonne to 6.5 tonne GVW trucks for extra payload options. Staying with the 3.5 tonne class, the manufacturer has also presented Euro 6 sister TBR 250 product, which was launched previously.
Ruthmann also presented its two latest highflex Steiger truck mounts, the T 650 HF and T 750 HF, adding to the T 510 HF and T 570 HF models launched at Bauma this year.
They bring the Height performance class up to 11 models with the new 75m working height T 570 HF being the tallest. It also offers a maximum 600kg in the basket, or 320kg at full height, as well as a 41m lateral outreach. The model can be mounted on a standard 4-axle MAN, Mercedes-Benz, Volvo or Scania chassis.
It is ideal for the maintenance of wind turbines where one operator and at least one technician with tools and materials can work at full height.
The 65m working height T 650 HF, also offered on a 4-axle chassis, also has a maximum basket load of 600kg. Another advantage is that the total length of the unit does not exceed 12m. With 43 m outreach at a basket load of 100kg, it is 4m longer than the current 60m class Steiger T630.
Ruthmann has also announced its next after sales service-related project, adding to the existing facilities in Seevetal and Gescher, completed in 2014 and 2015. Under the new scheme, the capacity at Gross-Gerau is being expanded by more than 40%. Furthermore, properties have been acquired in Ingolstadt and Berlin. The centres also provide 'cross-brand service', for repair of components from other manufacturers.
Ruthmann's service network includes eight factory service stations in Germany and Austria and 11 service points, two of which are in France. Some 25 mobile workshop vehicles are controlled by this network.