3D printed parts and prototypes made to order
In addition to or in place of in-house production, OEMs and component suppliers have the ability to outsource additive manufacturing/3D printing of prototypes and select parts as needed. Though limited early on, the capabilities these service providers now offer are only restricted by the technologies and materials they utilize.
"Due to costs, speed and difficulty, most 3D printing service bureaus began life at the time with one of the more popular processes (technologies) – SLA (Stereolithography), SLS (Selective Laser Sintering) or, in our case, FDM (Fused Deposition Modeling). There were only one to two materials available for each technology," Mike Littrell, president and CEO for CIDEAS Inc. and managing director and CEO, Paxis LLC, explained.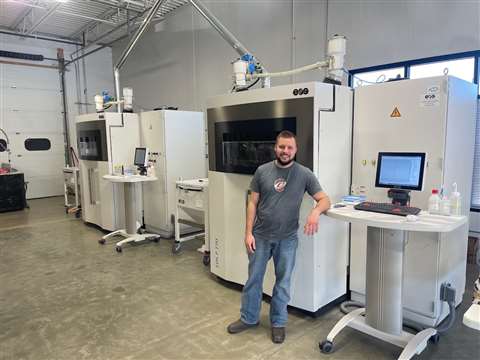 Now, his company – which was founded in 1998 – offers a full spectrum of additive manufacturing capabilities and materials. "Today, CIDEAS Inc. (BuildParts) operates over 30 large-frame industrial additive manufacturing 3D printing machines spanning across six different technologies," said Littrell, including SLA, FDM, SLS, Jetted Photopolymers, Gel Dispensing, DLP and DLS. "We offer over 100 polymer materials ranging from digitally controlled elastomers to high-temp thermal and thermoplastics, with attributes such as V0, FST certifications, optically clear or tinted, digital color and more."
Engineering services are provided, as well, along with a full paint shop with computer-controlled color matching in various finishes. In addition, CIDEAS has spun off a separate company, Paxis LLC, for the development of Wave Applied Voxel (WAV) technology, which Littrell describes as "an entirely new fully scalable large format advanced manufacturing technology, that will allow for multiple materials as well as embedded electronics within the same build."
Following an additive roadmap
Protolabs is a relative newcomer to additive manufacturing, having "plunged" into the market very quickly, said David Giebenhain, 3DP global product director. It started with the acquisition of North Carolina-based FineLine Prototyping Inc. in 2014, followed by acquiring Germany-based Alphaform the following year.
Initially, these acquisitions were intended to service existing customers who were using Protolabs' injection molding and CNC machining services. "That vision quickly grew into a strategic roadmap that allowed us to become a global leading service provider of additive manufacturing," Giebenhain stated. "Across the two continents, we offer six different additive technologies, 150+ machines, 30+ materials, and plans for further expansion to meet demand and maintain pace with the industry's technical advancements."
Protolabs' facilities can print products in a variety of plastics or metals. "We've also drastically increased the size of parts we can print through the addition of large-frame machines," Giebenhain said. "Our new XLine platform can produce metal parts nearly a meter long.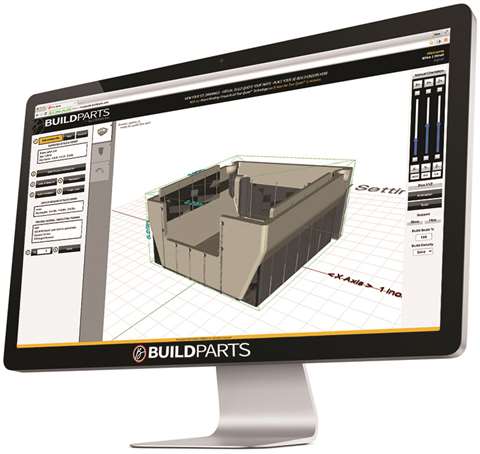 "Protolabs has only been in the additive game for eight years," he acknowledged, "but the 3D printing portion of the business has grown at a rapid pace and proven that demand for the technology continues to rise."
Online ordering
Additive manufacturing/3D printing service providers are now taking the order process online to help make it faster, easier and more accurate.
"About six years ago, we started developing an online quote engine, True-Quote. The interactive quote system provides a customizable 3D printing price matrix unlike any current online quote system on the market," Littrell asserts.
Developed in-house, the system allows the customer to control the preferred part orientation as well as multiple process selection, scaling, fill density (FDM only), build layer height and finish level. It also allows the customer to visualize the part; check units of measure, basic dimensions and wall thicknesses; and determine if small features are printable – all of which simplifies ordering and helps to ensure the customer gets what they intended.
Protolabs, a "digital manufacturing source for prototypes and low-volume production parts," also strives to make the online order process as quick and painless as possible.
"Product developers can upload a 3D CAD model online any time and receive an automated quote with design feedback and pricing information in a matter of hours – often instantly," Giebenhain said. "The interactive analysis helps eliminate potential manufacturability issues before any actual production happens so our customers don't get any rude surprises after placing an order.
"Once a design is ready, digital instructions are sent to the production floor where manufacturing begins shortly thereafter," he continued. "Finished parts can then be digitally inspected before being shipped out to customers."
Additively manufactured parts are typically shipped within a day. "The result, is an unprecedented speed-to-market value for designers and engineers," said Giebenhain, "and an on-demand resource throughout a product's life cycle."
The self-printing option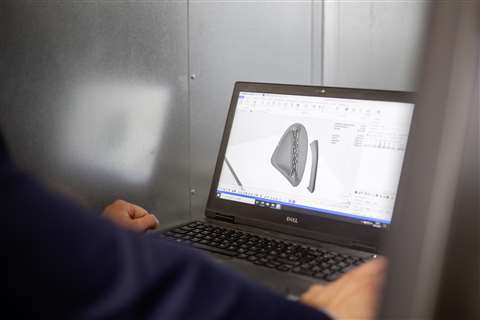 For those who can't wait to receive their parts, Daimler Buses recently announced the ability – through its Omniplus service brand – to 3D print spare parts on site. Targeted to the aftermarket, the service will initially offer more than 100 parts as the first available licenses from a digital warehouse that will grow to include more than 7,000 digitized parts.
    The process requires the customer or its service partner to have a certified 3D printer available and obtain a "license" for the required part in the desired quantity. Once printed, the license expires without the data being saved to ensure proprietary information is protected.   
Click here
to read more.