4Hire provides sea defence
By Euan Youdale04 February 2015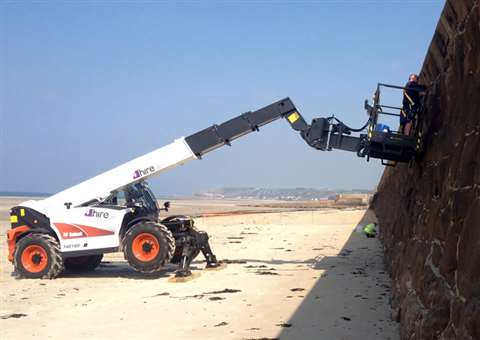 Jersey-based rental company 4hire has provided a new Bobcat T40180 telehandler for use in crucial sea defence work on the island.
The island's Environment and Public Services Committee is employing the 18 m Bobcat T40180 telehandler equipped with a platform attachment. It is considered to be a time-saving, more convenient and cost-effective alternative to scaffolding, for a number of tasks including maintaining and upkeep of the rock armouring used in the sea walls that form a vital part of Jersey's coastal defences.
Jersey, one of the Channel Islands, has the fourth largest tidal movement in the world, with a range of 12 m between the high and low water mark, having been measured during Spring (second quarter) tides. In addition, the rise of the tide can be as rapid as 5 cm per minute during the third and fourth hours of a rising spring tide.
4Hire's solution avoids the many problems caused by the tidal flow such as the tide washing away supports on the scaffolding.
The T40180 18 is the largest model in the Bobcat range of rigid frame telehandlers. The new model has a maximum lift capacity of 4 tonne and a maximum lift height of 17.52 m.
The sea defence wall has been in place since the 19th Century and was added to by the German forces during their occupation of Jersey during the Second World War. It forms part of the island's Atlantic sea defence and as there is no land mass between this sea wall and the USA, it receives the full force of the Atlantic Ocean.
Jersey has a very dynamic coastline in which uninterrupted coastal processes have created some of its most beautiful and important features. To preserve this natural beauty, the Environment and Public Services Committee continues to apply a hard engineered approach to maintain the Island's existing sea defences, with local granite forming the structure of much of the seawalls. Many of the Island's sea defences require regular maintenance to prevent deterioration and the danger of collapse.