50% cut in construction CO2 possible now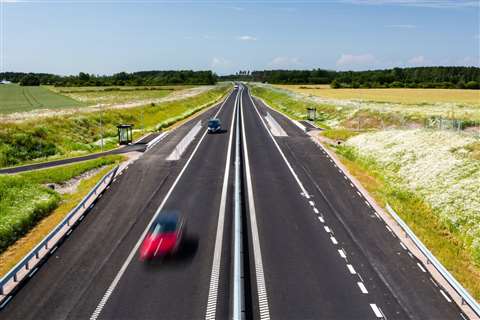 A report conducted by two Swedish universities has concluded that carbon emissions from construction could be halved using technology currently available.
The research, undertaken by teams from Chalmers University of Technology and the University of Gothenburg, also claims that the industry has the potential to achieve close to net zero emissions by 2045.
The study, entitled the Mistra Carbon Exit project, was based on an 8km stretch of Highway 44, between Lidköping and Källby in Sweden, completed by Swedish contractor Skanska last year.
The project was one of the first to include the Swedish Transport Agency's complete climate calculation. In other words, the agency broke down all materials and activities utilised on the project into chunks, assigning each chunk a total climate impact figure.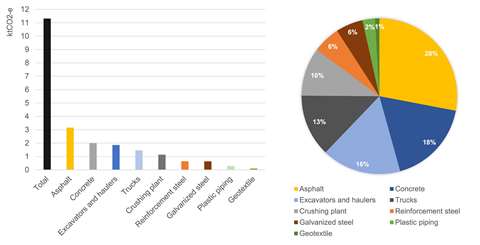 Estimated greenhouse gas emission, by category, from the construction of Road 44, before considering any measures to reduce emissions
Ida Karlsson, a PHD student at Chalmers, said, "We used the contractor Skanska's climate calculation as an input for breaking down emissions by materials and activities and then analysed how much they could be reduced. What materials are used? How are they produced? What alternatives are available, and how might those alternatives develop until 2045?"
The researchers on the project demonstrated that emissions could be cut by 50%, using technology currently on the market. They highlighted:
Transport optimisation
Recycling and reuse of excavation masses, asphalt and steel
Material efficiency and design optimisation
Replacement of cement clinker as a binder in concrete
"If you were to optimise the transportation of materials, excavation masses and waste…large gains could be made," said Karlsson.
The group also posited that, with a focus on transformative solutions (those requiring time and significant investment to develop), the industry has the potential to reach close to net zero emissions by 2045.
The study 'Reaching net-zero carbon emissions in construction supply chains - Analysis of a Swedish road construction project' was published in the journal Renewable and Sustainable Energy Reviews.