A fantastic run
By John Wyatt17 March 2008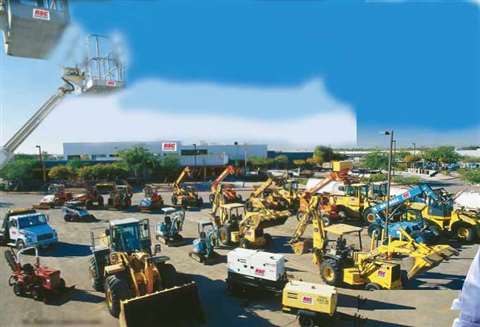 On the day metropolitan Phoenix broke a record of 28 consecutive days of 112 degrees F this past August, RSC Equipment Rental's President and CEO Erik Olsson is calm and cool. The second largest rental house globally, which boasted $1.7 billion in revenues last year, is confident 2007 will end on a similar note. Even with the national burden of a poor housing market, Olsson says residential accounts for only 6% of the company's revenue, and the company forecasts this year to end with $1.8 billion in total revenue.
"We're 18 or 20 months into the slowdown on the residential side and our numbers are stronger than ever," says Olsson, who began in August 2006 as CEO and President. "Studies show that the residential side and the non residential are independent; one doesn't affect the other."
RSC predicts that 2008 will be another growth year, however at a more moderate pace. "I think the most recent forecast we are looking at is 5 to 6% [for non residential construction], and 5 to 6% I'll take any day," says Olsson. The fact that industrial and non residential construction is particularly healthy at the moment assures him that, for the time being, business is well.
"I think we are in the middle of a normal, say eight year non residential cycle," he says. "We should see a couple more healthy growth years ahead of us. I think 2008 will be a growth year but maybe not at the same rate as 2007, which has been more fantastic."
The company says it has experienced 15 consecutive quarters of positive same-store, year-over-year rental revenue growth. Currently, RSC has more than 1,400 categories of equipment at a total fleet value of $2.5 billion. Remarkable, average product age is around 25 months, many of the older machines sold or auctioned off, its replacement fresh off the assembly line.
As new branches open (20 new locations by the end of this year the company says), does RSC plan to expand beyond North America? At this point, probably not. Olsson says the North American market still has strong growth potential.
In the long term there will be more consolidation, Olsson says. Part of its major growth process has been consolidations and acquisitions. "Right now, our acquisition focus is more on the smaller end of the market, a lot of tuck-in type of acquisitions – three branches, five branches, 10 branches," he says. Currently, there are more than 465 rental locations in North America (39 states and four Canadian provinces).
He thinks the top three or four "players" have to have a much greater portion of the market then they have currently. "The top four I think you have about 18 or 19 percent of the market. That should be 40 percent or 50 percent."
Big issues
In his opinion, the two biggest challenges facing RSC are safety and finding quality workers.
Olsson says the industry is accident prone by its nature. Whether the customer wants it or not, RSC, like all responsible rental yards, offers training to its customers. He wants all end users to behave as safely as possible and cites that he believes RSC has the strongest safety philosophy in the industry. "Our responsibility is to provide safe products and to supply products that are properly maintained. At the end of the day we can't take any responsibility for [the way] our customers chose to operate the equipment. We are responsible to provide a safe product and make sure equipment performs in a reliable manner," he says.
"On a more operational level, people sourcing is the biggest problem. At the rate we're growing our same store rental revenue growth at 18% in 2005, 19% in 2006 and today 11% (as of the second quarter) or so requires a lot of additional people. And to find the right talent to help drive this profit, it's a big issue," says Olsson. "It's a constant challenge to keep the flow going with talented people – especially with the managers." One way the company has found to attract and retain work staff is a flex time/home working schedule, for office personnel who might have transportation challenges but are good workers.
In regards to rental rates, Olsson says the rates are positive rate increases but they have been growing at a decelerating rate recently, returning towards a more balanced market pricing as there was in the late '90s.
"The story's the same on aerial equipment," he says. "We have experienced positive pricing trends, but the growth is slowing down."
As a lot of the rental companies cite, whether a large company or smaller independent, long-term growth is dependent on the level of service customers receive. If equipment is down on jobsites, a diagnosis better be made fast. When asked what new services the company is offering to its customers, Olsson cites the ongoing commitment to its customer base.
"The quality of service that we provide in our view is the main reason we're growing much faster than the industry and our peers at the moment, or at least the last couple years. We have identified very clearly a couple years ago the key … our customers are focused on: fleet availability, fleet reliability, [and] service," he says.
"We've addressed every one of these with very targeted investments, very targeted innovations, and we have a long list of projects to fully improve our services in this area. I think that's key and we're very pleased with the growth we're getting," Olsson says.
Customer-driven rentals
And the numbers show. Currently, RSC has 470,000 accounts. Olsson says RSC still has a small market share and he believes there is a lot of growth still to be had. Its second ambition is to expand its branch count by opening branches where there's a solid customer base. Its third endeavor is acquisitions and fourth is expanding its product lines.
"We do customer-driven rentals so we have almost anything a contractor would ask for," he says.
As standard, each of RSC's rental branches has a service center where returned equipment is checked and maintenance performed when needed. Because of the demand, RSC has outsourced its major repair needs to some of its suppliers. "For the big repairs, it clogs up everything for days so we've outsourced those things," he says. Olsson says the aerial suppliers "and others" are handling this outsourcing well.
Telehandler sales have been down significantly in the US this year – down from a record level in 2006. However, Olsson tells ALH that investment in handlers hasn't slowed down this year. His response is general when asked what the spending on aerial equipment in 2008 will be. "We have a strong growth here this year with our revenues, 13%, and we've grown them in [telehandlers] … in aerials, as well."
Mid cycle
Future investment in aerials and handlers also looks assured: "I think we are in the middle of a cycle so it should be good for us in the next couple of years. It's a big portion [aerials and telehandlers], so one could assume that there will be growth in those segments, as well," Olsson says.
Since November, RSC has been operating alone as it was divested from the Atlas Copco organization and is now a public company. Olsson says the biggest change has been the decision making process. He says now that the company is on its own, decisions can be made faster and the company has a more defined growth strategy. At this point, the rental yard is second in terms of its aerials fleet size with 35,705 units - as listed in this issue's ALH 20/20 survey, only bested by United Rentals' with a total of 73,555 units. The Scottsdale, AZ-based company has a long way to go to reach those numbers, but with new location openings, fleet investment and commitment to customer service, its future looks hot.