Antonio Basso works its new-look Liebherr
By Niamh Marriott24 September 2021
Italian manufacturer of pre-cast concrete parts Antonio Basso has had its Liebherr 1000 EC-H 50 Litronic tower crane in constant use for the last two years. Back in July 2019 it was the first customer in Italy to acquire one of these high capacity conventional saddle jib tower cranes. 
Tower Crane Solutions (TCS) tailored the design of the crane to meet the requirements of the concrete manufacturer. It is the largest standard crane in Liebherr's EC-H series.
Antonio Basso has it as part of its production process at its headquarters in Treviso. "The crane is like a Ferrari – it's extremely fast," said managing director Giovanni Basso.
The crane moves up to 45 tonnes, including picking up pre-cast elements from production, delivering them to the storage area and then loading the parts onto trucks.
Mounted on a 10 metre travelling portal base, it has a 50 metre jib and a hook height of 33 metres and can cover every corner of the storage yard.
"We have the ability to move pre-cast elements much faster than before thanks to the tower crane being on a rail-mounted portal, plus we have extra storage space underneath," said managing director Giovanni Basso.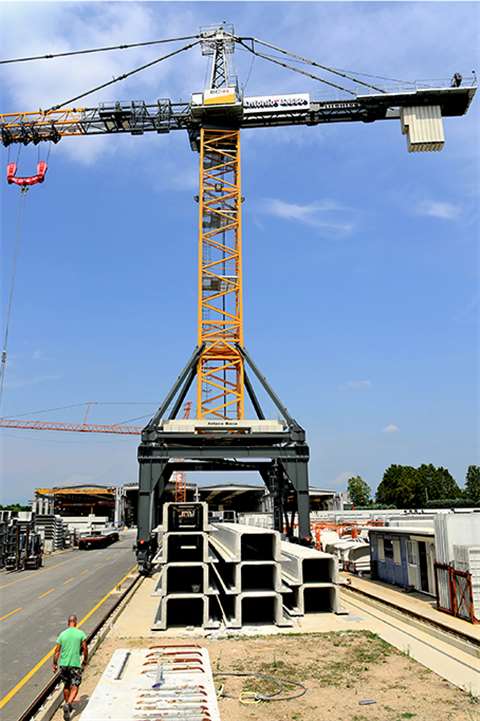 "We don't waste a single square metre of storage space. Thanks to the optimal use of space and the high handling capacity, we can achieve higher production volumes than before."
On-site crane track
The portal solution was one of the main reasons why they company opted for the crane.
According to Basso, Liebherr was the only supplier who came up with a suitable and complete solution regarding the incline of the on-site crane track.
As a result of extensive calculations beforehand, the crane can now be operated safely and reliably anywhere within the yard.
"We're also very satisfied with the modern crane control system with PLC and especially the control of the slewing gears," said Basso.
For the hoist unit, the company chose the 110 kilowatt version.
"As a large number of trucks are loaded each day, the handling of materials needs to run smoothly and quickly," Basso explained.
Cabin view
For the most part, the team operates the crane from inside its cabin.
"It's a much more comfortable experience up there. You have a better overview and can feel the crane – that's not possible with a remote control."
An interface between the crane control and the administrative production system ensures every handled part can be tracked.
"We're living Industry 4.0," said Basso.
Weather protection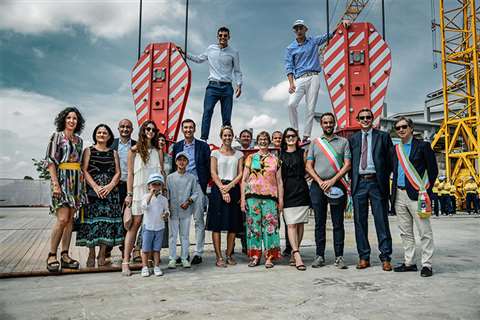 The strong gusts of wind that the region experiences, which can reach speeds of more than 180 kilometres per hour, were an additional consideration.
To address this, the crane is secured with special rail clamps each evening to ensure that it stays in place. In severe storms the portal can also be secured with steel ropes to a foundation embedded in the ground.
Giovanni Basso concluded, "Our production process wouldn't work without the crane. It's at the heart of our family business."