BMS expands in Scandinavia
By Euan Youdale12 June 2014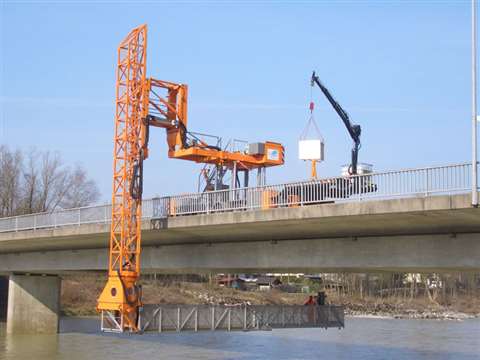 Danish rental company BMS has established a new company in Norway and bought an underbridge specialist in its home country.
Frantz Schrum operates truck and rail mounted platforms approved for driving on roads in Denmark. Following the acquisition BMS employed former owner Frantz Schrum as sales manager.
BMS has also invested in four Moog underbridge units.
The company said the inspection and renovation of bridges and tunnels will be a major focus in Scandinavia in the coming years. With this in mind, it has established BMS Lifts A/S, in Norway. The director of the new company will be Ib Steffensen, also director of the lift department at BMS.
Thomas Korreborg Riis has been appointed manager of the new company and will be responsible for its day-to-day operations. BMS is already well established in Norway as the main shareholder in Kran Ringen
"The large investments in under-bridge access equipment, means that we can offer the best opportunities to work effectively both in height, under bridges and in tunnels," said Mr Steffensen. "We have great expectations for the Scandinavian market, with Norway spearheading that - we expect solid growth over the next four to five years."
In March, BMS announced it was the world's biggest supplier of truck mounted lifts with more than 100 m working height. "Over the past year, BMS have experienced a significant growth in large truck mounted lifts, mainly used in connection with installation and maintenance of wind turbines and telecommunication towers across Europe," said a company spokesman.