BMS launches modular installation crane
By Alex Dahm22 April 2021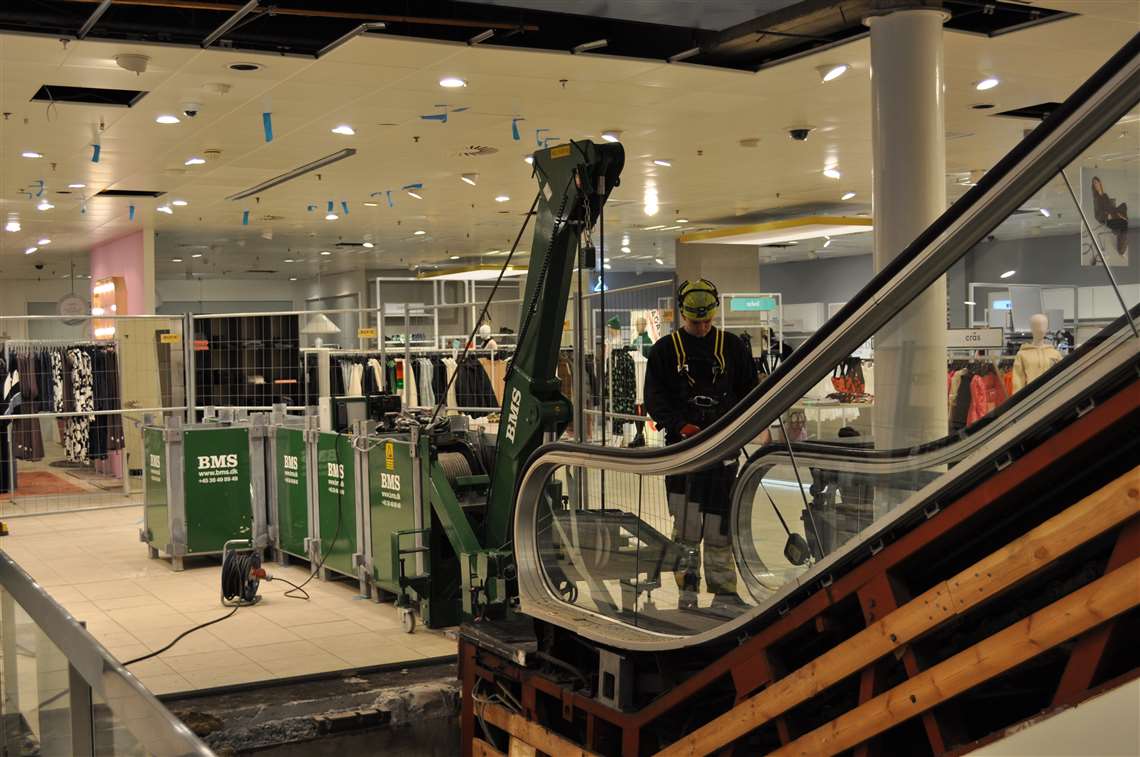 Danish rental house BMS has designed, developed and produced a modular crane for installation work, especially in confined spaces.
Applications so far include the replacement and installation of escalators in commercial buildings. There is always time pressure on such jobs, said the crane's creator Niels Arildtoft. "There was no smart solution already on the market, only the old fashioned way with chain hoists hanging in the building," Arildtoft explained.
Having spent several years searching for the right solution Arildtoft came up with it while watching TV with his wife. "The goals were to increase safety, reduce our guys' workload, and save time in preparation for an escalator lift and we achieved all three."
The company has units in its own fleet for rental, with an operator, but it is now ready to manufacture the crane and is making it available for purchase.
It is an 8 tonne capacity box boom crane with a counterweight system that can be configured in multiple ways to maximise the use of available space. The maximum capacity is on two falls of rope while on one it lifts 4 tonnes. Its 36 metre maximum height of lift as standard can be increased, Arildtoft said.
The boom has one hydraulic section for length adjustment. Maximum lifting radius with an 8 tonne load is 1,274 mm. Power for the electro-hydraulic system is from a 400 Volt, 16 Amp three-phase supply. Control for the crane is effected via a radio remote transmitter.
Crane setup takes about half an hour, the company said. Time saved on a typical job can be as much as 25 percent over traditional methods.
A key element of the modularity is the way the counterweight system can be set out in blocks, or T-shapes, an H-pattern and so on. The square stillage type containers for the counterweight slabs are fixed together with two bolts at the top. Each container is 500 kg and can be filled with up to another 500 kg of steel plates to act as counterweight.
For transport other components of the crane can be stored in the boxes and moved around with pallet trucks. They can also be stacked on top of each other to occupy less space on the floor. The largest component is 1,000 x 800 x 2,000 mm (LWH) and weighs less than 500 kg. All parts can be put through a doorway 800 wide x 2,000 mm high.
The crane is CE approved according to the following: 2006/42/EF-Maskindirektivet; EN 13155+A2; DS/EN 13001-1 Cranes – General design; DS/EN 13135:2013+A1:2018.
BMS Drawing of modular configurations.pdf
Some of the possible counterweight configurations for the BMS modular installation crane
Size: 3.9 MB
Click to download
Supporting documents
Click links below to download and view individual files.
BMS Drawing of modular configurations.pdf
Some of the possible counterweight configurations for the BMS modular installation crane
Size: 3.9 MB
Click to download