Barnhart teams up with ITI Learning Hub
By Hannah Sundermeyer21 July 2021
Barnhart has implemented ITI Learning Hub to enhance employee training and learning.
Barnhart's leadership team identified some growth areas it intended to solve in 2021 relating to workforce development, the company said. Through the implementation of ITI's Learning Hub, the team set out to enhance their training.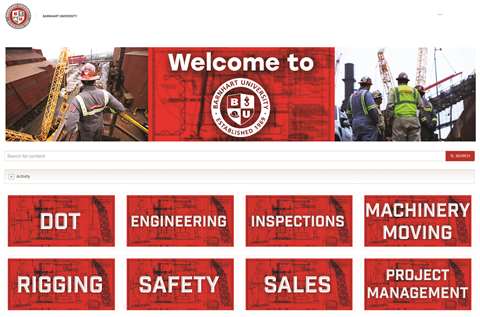 "We wanted to improve several aspects of our approach and delivery of employee training so we reached out to ITI for help," said Jeff Latture, senior vice president of sales & marketing, Barnhart.
Latture then initiated the discussion with ITI's President Zack Parnell. "We have worked with ITI formally since 2010, most notably as partners in our Memphis-based collocated training center, and in the development of its ASME-credentialed online Rigging Engineering program."
"As a workforce development company focused on hoisting and load handling activities, we serve a variety of industries," said Zack Parnell, president, ITI. "Though, we have a certain affinity for the crane rental and specialized transport industry because load handling is what they do for the world! They are the pros. We have had tremendous success partnering with companies like Barnhart in this industry because we are able to deliver world-class learning management technology along with all the learning and development content and forms of delivery the industry needs including instructor-led, online, curriculum, and virtual reality."