Big hammer from Hilti
By Lindsay Gale10 April 2008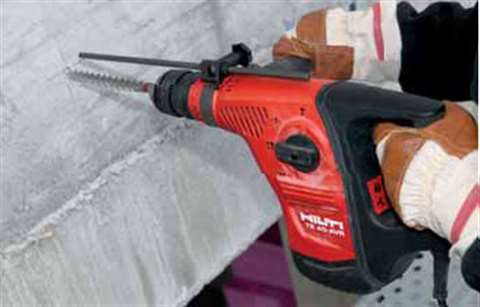 Hilti claims its new TE 40-AVR combi hammer is "the most powerful in the TE- C class with an extremely wide range of applications thanks to rapidly interchangeable chucks: TE-C Click chuck, 3-jaw key chuck and keyless quick-release-chuck."
Further advantages, according to the Liechtenstein company, include 1000 W of power for drilling concrete, masonry and natural stone and active vibration reduction, making it less tiring to use.
It also comes with Hilti's TPS electronic theft protection system.
In addition, Hilti has introduced its TE706-AVR breaker hammer for medium- to heavy-duty chiselling applications. It features a brushless motor, with no carbon brushes to change and therefore longer service intervals. The model, according to Hilti, is "the first medium-weight breaker with symmetrical design."
Stihi has unvelled its successor to the TS400 cut-off saw, the TS410. Operating benefits, according to the company, include minimised maintenance and reduced fuel consumption, as well as low vibration levels. The TS410 features a three. stage air filter system, which Stihl claims removes 80% of dust, extending the filter life to one year in normal building site use with no interim cleaning needed. The company also claims the new machine's high performance engine reduces fuel consumption by 20% compared to its predecessor. The TS410 is available with both 300 mm (TS410) and 350 mm (TS420) cutting wheels and has an integrated water attachment kit for dust suppression fitted as standard.