Boom truck market sees momentum post-pandemic
By D.Ann Shiffler14 June 2021
The boom truck market is on the road to recovery with a few bumps.
The boom truck market's recovery from the Covid-19 pandemic is steady. Orders for new machines are gaining momentum and inquiries are strong. The market for used boom trucks is gangbusters, mainly because of supply chain issues and OEM backlogs.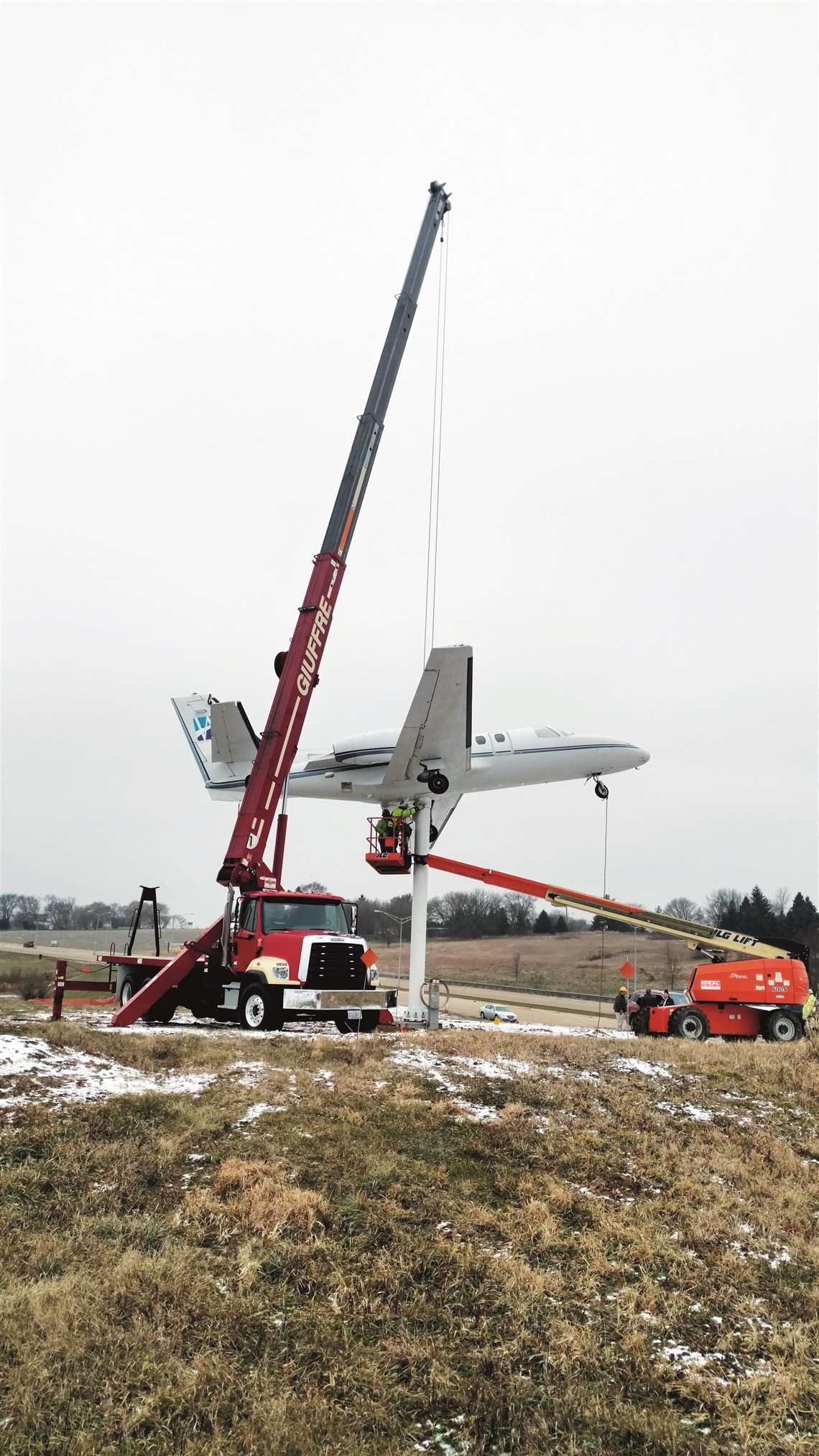 There doesn't seem to be any disproportionate runs on any certain types of boom trucks, even with lead times for new machines "crawling out," said Beau Grassl, sales manager, Giuffre Bros Cranes, which was the Number 1 Manitex dealer in 2020.
Long lead times
"The market is steady," Grassl said. "The long lead times I attribute much more to material shortages and raw material pricing than I do to market demand. Demand has been affected in a positive way due to the lead times."
The demand for boom trucks 35 tons and larger has remained steady throughout the pandemic, Grassl said.
"Even with the lack of energy industry work, these classes are growing in popularity in the roofing, tree care and taxi crane industries," he said. "Just about every market besides energy is firing at 110 percent. I talk to customers who have backlogs a year long, but they are also struggling with material shortages."
He said the Biden Administration has "massive plans for infrastructure that we're all hoping keep those industries moving. The pandemic has also played a factor in many projects. Schools, offices and warehouses were empty of employees, and that allowed contractors to get in and complete work on them."
Energy industry decline
Grassl referred to the energy industry, which has long been a strong market for boom trucks, as still declining, and he doesn't see a revival of this industry for some time.
"The industry seems to be further declining rather than recovering," he said. "This is somewhat of a 180 from the previous administration, which put an emphasis on energy independence and pipeline projects. I see the rental market in the energy sector coming back long before the sales end. Many companies were forced to sell equipment at huge losses when the industry turned down, and I just don't see them jumping back into that right away."
Grassl said that his company's focus right now is on getting product.
"The pandemic, the Suez Canal incident, hostile foreign relations and changing trade agreements are all contributing factors to major supply chain shortages," he said. "The pandemic is obviously the biggest factor in this, as it affects the ability to even get raw materials into the U.S. for converting. Lead times have crawled from 8 to 10 weeks to 50 to 55 weeks in a period of just over six months, and that has drastically affected all companies in the boom truck industry. Getting bare chassis to convert to boom trucks is going to continue to be a challenge well into 2022."
Improving picture
From the OEM perspective, the overall boom truck market is improving, based on recent order bookings, said Manitex's Randy Robertson.
"Manitex is seeing higher demand for 30-ton and larger machines for above ground utilities," he said. "Manitex recently secured a 4-unit order of 30-ton boom trucks for a California power provider, and we are seeing more opportunities with others coming up."
Utilities and residential/commercial market segments are showing stronger demand. Mining is just starting to show signs of improvement, he said.
"The oil and gas market has been slow to come back with only incremental signs of improvement related to Manitex's line of lifting solutions," he said. "Contractors are hesitant to invest over concerns of the cyclicality of oil and reduced global demand associated with Covid. New government has delayed or stopped major pipeline projects and is pressing for clean energy alternatives with a goal of net zero emissions by 2050 or sooner. At the same time investors are looking for better returns and making equipment investment more challenging."
As the pandemic subsides, Robertson said that Manitex is focusing its on the growing residential and commercial utility markets.
Manitex introduced the TC50128X at ConExpo in 2020. Randy Robertson said inquires have been strong and orders for the machine have been excellent.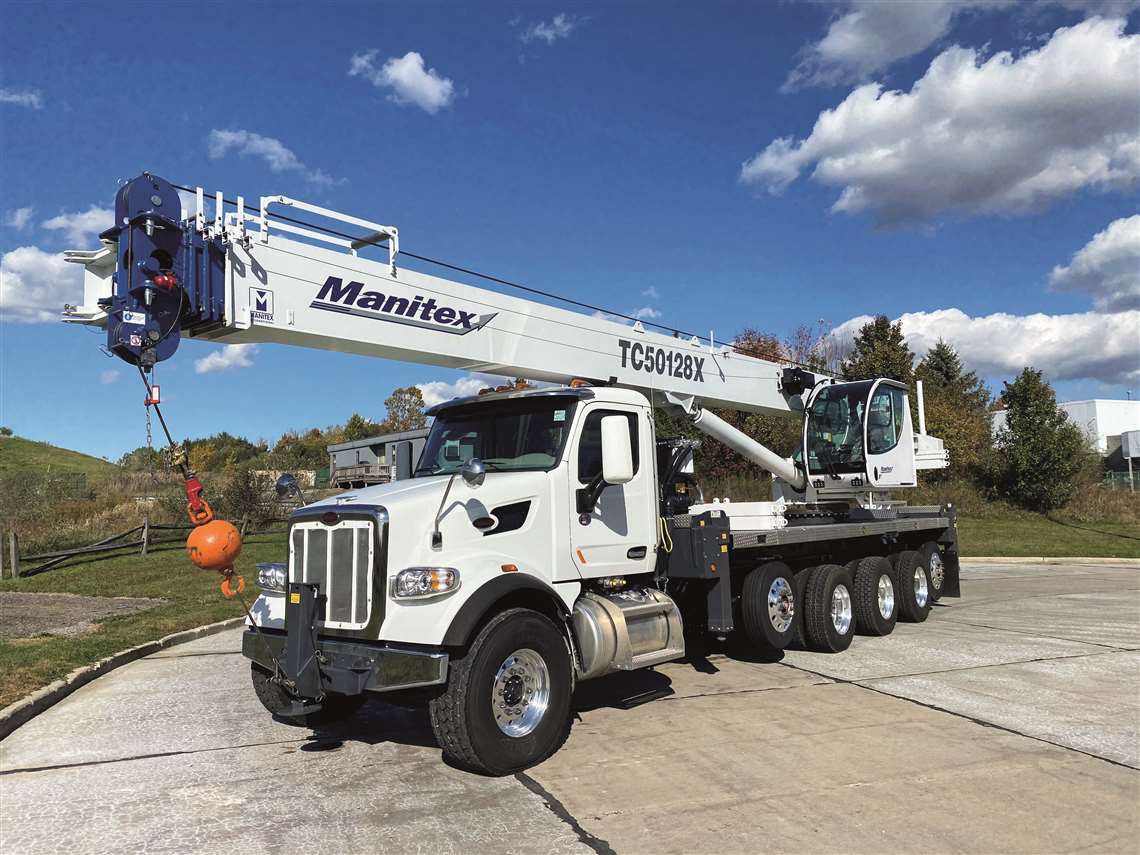 "The X designation features the machine's removeable counterweight system that enables the crane to be configured with the full 10,000-pound counterweight or only what is need for a particular job," he said. "The machine is federal bridge legal with up
to 6,200 pounds of counterweight on a 6-axle set-up making it convenient to perform smaller jobs far from home base operations to a remote job without having to deal with permits. In Canada customers can run the full 10,000 pounds on a 5-axle twin-steer tri-drive chassis."
Robertson said the TC Series has become popular as a one man "taxi-crane," enabling the operator to set up quickly given the design features for one-man operation. Standard features include remote operation of the load line and outriggers via the handheld remote controls. Line rollers are available for windy conditions and duty cycle work. Unequal outrigger settings enable the machine to set up in confined spaces and work at full capacity in given areas.
"When configured with the 1,200-pound capacity personnel platform the machine can be programmed to work as a personnel platform for high reach work," Robertson said.
Bigger is better
Load King's John Lukow agreed the boom truck market is recovering,
"Used and rentals are still more active than new sales, but new equipment sales are showing signs of increased demand," he said. "Generally, the larger size boom trucks, greater than 40 tons, are in higher demand. The smaller end of the market has been under pressure from alternative lifting products for some time now, but for high reach or long radius applications in the construction industry, a boom truck is hard to beat."
Lukow said that all the crane people he talks to are very busy, but that there is still caution about making large investments.
"Stretching your existing equipment, overtime, renting from a crane service are all ways for a company to hold off on a new purchase," he said. "Then they might go for something used. As oil is increasing in price, this is also fueling demand (pun intended). Several associated industries are poised to come back strong. Wireline customers are starting to get busy again, as the price of oil has crept up."
The other wild card dynamic this year is truck availability.
"Fortunately, CTOS has a large inventory of trucks, and we have great relationships with our truck suppliers. This puts us in a better position than most. We know that new product is the only way for us to gain share and make our mark on the industry. We have several new models in development that will all come to market this year," said Lukow.
Supply chain challenge
Exact Crane's Jack Swan said supply chain issues are having an effect on the market for new boom trucks.
"A lot of the supply change issues are the trucks," Swan said. "We've been putting them on Kenworth trucks. I was told that five or six weeks ago, Kenworth had 6,000 trucks waiting for parts."
He said in some cases, they have gone ahead and mounted the crane on the truck, even if it was missing an element.
"The truck may have been missing some small plug-in part," he said. "When the part comes in, they will ship it direct to the user. This works as long as it's something easy."
Generally, Swan said that boom trucks are 25 to 30 percent of Exact's sales.
"Last year I bet it was 60 to 65 percent, and almost all used boom trucks," he said.
He said of 20 used boom trucks in the Exact fleet, eight or nine are sold and the rest are being repaired or serviced and will be sold in the coming weeks. Boom truck demand is everywhere, he said, including California, the Dakotas and the Carolinas.
"We are not seeing any particular industry although I'm surprised at the number of tree guys buying boom trucks," he said. "Tree guys generally go for the smaller models, the 23-to-30-ton range. But the swing cabs are also popular. I've had a good number of tree guys buying the 38 to 40 tonners. Used and new boom trucks are bringing in good money right now."
Celebrating the two-year anniversary of its entry into the boom truck market, Load King is rolling out the new Stinger riding seat (RS), said Load King's John Lukow.
"The 35-127RS now boasts a five-section, 127-foot boom and two-piece 55-foot jib for a maximum tip height of 192 feet," he said. "The boom retains the Stinger signature keel shape for added strength and natural self-centering, and now offers the choice of an internal or externally wired anti-two-block (ATB) cable."
The crane has out-and-down outriggers with three position charts and a maximum span of 25.5 feet to the outside of the pads. Additional features are enclosed operator cab with electric over hydraulic controls, dual single-axis joysticks, outrigger controls, electronic RCI with integrated work area definition and optional air-conditioning.
"We have used aluminum decking to save weight and we have integrated ground level outrigger controls on each side and upgraded the ladder access to the cab and deck," Lukow said. "The front stabilizer comes equipped with an electronic keypad to operate the winch and raise and lower the stabilizer cylinder, making one-man setup easy."
"All our new crane designs come standard with rotation-resistant rope and a swivel ball," Lukow said. "The crane is very compact with less than 36 feet in length. The crane is federal bridge legal on a 6x4 chassis with a 265-inch wheelbase. The sister in this family is our Stinger 40-127RS, which adds a swinging counterweight for increased capacity. These cranes began production in January 2021, with the first shipment in March."
Multi-year cycle?
While the oil and gas markets are still pretty flat, Swan said this is where Exact has been getting a lot of its used boom truck inventory.
Generally speaking, the OEMs are hopeful that Congress will pass an infrastructure bill, which will further stimulate the start of projects that utilize boom trucks.
Elliott's Jim Glazer said the market is improving and he is optimistic.
"We are seeing an increase in demand for all our cranes," he said. "We are optimistic this will be a multi-year cycle."
Glazer is seeing boom truck inquiries from a range of sectors.
"We are seeing an across-the-board recovery from governmental, utility, construction and home building," Glazer said. "Assuming some type of infrastructure package is passed, the boom truck segment could see above normal growth for an extended period of time."
Glazer said the oil and gas market will come back at some point.
"New equipment can help this segment be more efficient and competitive in the years to come," he said.
The focus for Elliott is "delivering the highest quality products and backing them with outstanding support," Glazer said.
Manitowoc, with its National Crane line, is in a good position as the market for boom trucks improves, according to Michael Heinrich.
"We saw significant challenges throughout the pandemic and a slowdown in rental fleet replacement activity," he said. "We are now seeing the retail business pick up and an improvement in orders. But there are still plenty of headwinds, vendor challenges and chassis challenges."
Elliott recently delivered its 3095 for a utility application, according to Jim Glazer.
"This machine features a 30-ton capacity with 95 feet of main boom and a tip height of 105 feet," said Glazer. "It has full hydraulic controls, Bluetooth diagnostics and a tilting, high visibility operators cab."
Other attributes are an easy access bed, air compressor system, hydraulic tool circuits, radio remote controls and boom tip and winch cameras.
"The crane features our two-year parts and labor warranty and our lifetime structural warranty," Glazer said.
Headwinds remain
Heinrich agreed that supply chain issues are causing delays in getting new machines off the assembly lines and out the door.
For National, Heinrich said the 30-ton and up boom truck classes are in a demand position, which is a reflection on the company's aggressive product development over the past few years.
"We see demand for the 50 and 60-ton long boom and 60XL and we have a new 40-ton machine coming out this summer," he said. "These new products are creating market excitement, but a lot of it is the taxi service is growing."
Residential, commercial and the tree business seem to be driving the market, he said. The oil and gas market may have bottomed out, he said, and "we are seeing fleets go back to work in that market segment."
National Cranes' focus as the pandemic subsides will be building out its product line.
"We've added new features with tilt cabs, lattice jibs and increasing capacities," Heinrich said. "We are building up the load charts and trying to build in some economy of scale across certain lines. We are working to consolidate vendors and platforms."
The bottom line is that boom trucks are solid machines that get the job done safely, efficiently and cost effectively.
Manitowoc's National Crane NBT40-2 and NBT45-2 feature 40- and 45-tons capacity. These models have multiple boom options from 127 to 142 feet. They were designed with a premium hydraulic tilting cab (zero to 20 degrees) with heated operator seats and adjustable joystick controls.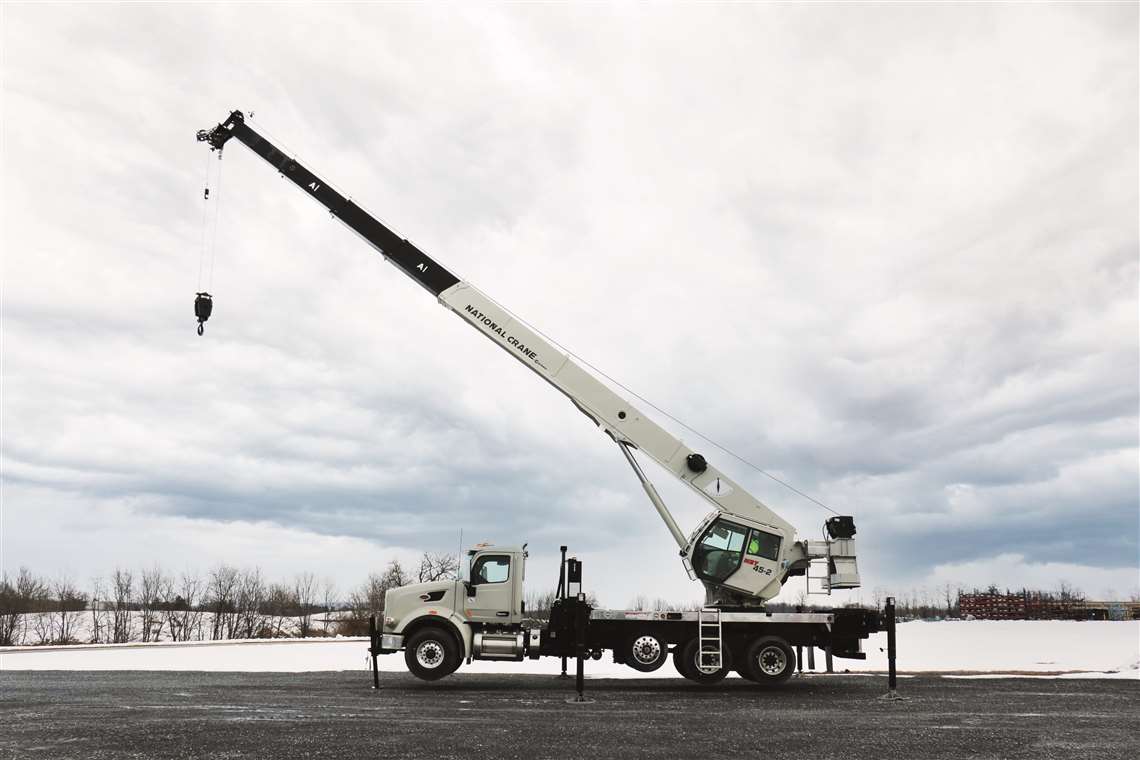 These cranes were designed for easy and quick mobilization with front bumper mounted controls and optional wireless outrigger remote controls. Both the 40 and 45-ton configurations offer the 127-foot and 142-foot five-section boom options. Each boom has an optimized design for minimized overall length and weight while delivering a strong load chart available to the operator, the company said.
A color, graphical RCL simplifies setup and operation. The operator can monitor both the truck and crane vitals with an on-board diagnostics system minimizing the need for a laptop to service. The NBT45-2 offers an optional 6,000-pound counterweight package for more lifting capacity. It features the NTC performance package with four (100, 75, 50 and 0 percent span) position outriggers, wireless windspeed indication, two-camera system and wireless outrigger controls.