Bridge work for Mammoet
By Christian Shelton26 March 2019
Heavy lift and transportation specialist Mammoet used the accelerated bridge construction (ABC) method to install an elevated guideway for a light rail system in Edmonton, Alberta, Canada.
Mammoet was contracted by TransEd civil joint venture to assist with installing the elevated guideway of the Valley Line LRT project, a 13 km light rail system designed to meet Edmonton's growing transportation needs.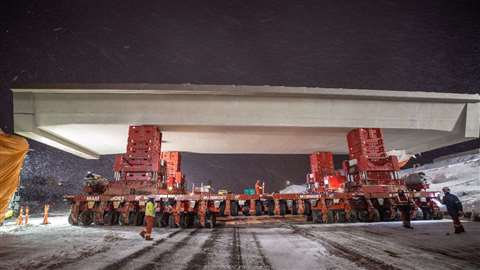 The jacking system on the SPMT
As part of the rail system, two concrete guideway spans needed to be installed to form a bridge over a busy freeway. According to Mammoet, using conventional bridge construction would have taken months, causing major disruption to thousands of commuters using the freeway which had to be closed while work was carried out. The company claimed that its ABC method provided a faster and safer alternative and enabled the two guideway spans to be set over the course of just two nights.
The ABC method allowed the TransEd civil joint venture to cast the concrete guideway spans next to the installation site in a controlled location, at a lower elevation, Mammoet explained. This resulted in a safer operation, Mammoet said, by eliminating the risks of working at heights for construction workers. The method significantly minimised traffic delays associated with conventional construction methods and removed safety risks associated with working among traffic, it added.
Installation occurred overnight when traffic quietest so that the freeway closure had minimum impact. The guideway spans were transported about 100 metres, from their cast location to the installation spot. Mammoet transported and set them into place using an Enerpac JS500 jacking system on top of SPMTs. The south span was moved and set on the first night, followed by the north span on the second night. It took Mammoet a total of 21 hours to install them over the two nights. Mammoet reported that there was no disruption to daily commuters, with the freeway open again by 6am after each night.
Mammoet will continue to install the remaining guideway over the summer.