CMC appoints Norwegian distributor
By Euan Youdale30 September 2020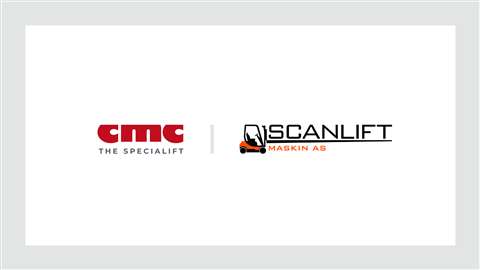 CMC has added a new distributor to its growing number across Europe, this time Norway-based Scanlift Maskin.
Based in Sandnes, Rogaland County, Scanlift Maskin becomes CMC's second dealer in Scandinavia, following Scandlift, in Gothenburg, Sweden, which has been a partner of the manufacturer for some time. Scanlift Maskin SA has five locations, in addition to its headquarters in Sandnes, offering extensive service across the Norwegian market.
Apart from classic sales, the five branches in Stavanger, Trondheim, Hamar, Haugesund and Oslo, will all also provide direct import services, a spare parts warehouse, rental and and after sales support. Scanlift Maskin also owns rental company Scanlift Rental, which cemented the new partnership with the order of an S15F spider lift, from CMC's full hydraulic range, along with a 19m working height S19E.
Alessandro Mastrogiacomo, export sales manager at CMC, said, "There is satisfaction and pride every time we are lucky enough to communicate that a new affiliate has joined the CMC sales network. The market is rewarding us for all the investments we have made in the last year and a half, first of all in people and then in R&D, production and marketing policies - all areas that are contributing to establishing our brand in the continent."
Next month CMC expects to announce further dealers in Western European countries that are new to the brand. Mastrogiacomo added, "This follows a precise and ambitious business plan aimed at gradually increasing the company's market share throughout Europe."