CTE upgrades stability system
By Euan Youdale27 October 2020
CTE is set to introduce an updated version of its stablity system. The S3 Evo improves on the existing Smart Stability System (S3) and will go into production this month.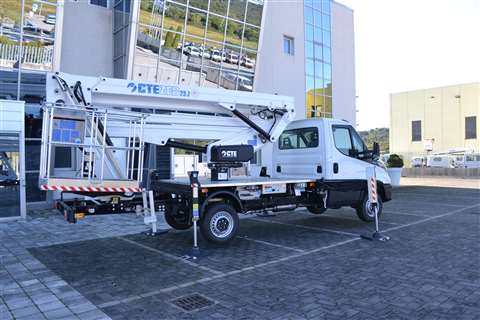 Available since 2015, CTE says S3 raised the bar from pre-calculated geometrical, angular limited, working envelopes or moment limiting systems. The S3 calculates in real time maximum performance, depending on the basket load, geometrical configuration and stepless position of the outriggers. Forward and backward stability, wind influence, dynamic and manual forces are all taken into consideration, providing improved performances and safety.
The new S3 Evo upgrades the system to CAN bus. Besides the standard operating and safety features, new optional and customised functions will be available, from automatic stabilisation to the new 'virtual roof' ZTS (Zero Tail Swing) option, for increased safety on highways. All customised functions will be developed by CTE's Special Project Division according to customer requirements.
New ground and basket controls, using the joysticks and paddles, are also features of the S3,along with new diagnostic display and graphics  integrated in the console, through an LED display. The display informs the operator in real time of allowable maneuvers and any obstacles that restricts movement. The new basket control panel also provides functional information such as outreach, working height and residual capacity, while the ground console incorporates a diagnostic display for resetting MEWP sensors, switches and selectors.
All CTE platforms can also be connected to the cloud through CTE Connect, providing optimised fleet management, remote monitoring, settings and assistance interventions.