Clausen adds tele crawler
By Alex Dahm20 April 2020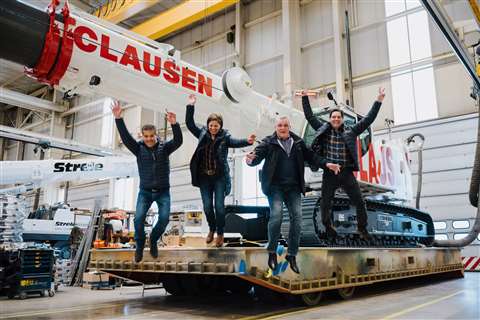 Swiss crane rental specialist Clausen reconfirmed the value of telescopic boom crawler cranes with the addition of a second unit to its alpine fleet.
It follows the initiation of its first Liebherr LTR 1060 in 2013. Faster set up time and outstanding offroad ability were key factors in the decision, Liebherr said. It is planned for jobs on mountain sites involving steep, difficult access in the Pennine Alps, the manufacturer said.
Clausen Kran is a family business opened in 1972 in Brig im Wallis. The area is known as having the most mountains above 4,000 metres in the Alps. Some of the local ski resorts are as high as 3,000 metres above sea level. New cable cars are being built and old ones need to be removed.
Geri Clausen, company owner, was one of the first crane contractors to use a telescopic crawler crane in these extreme conditions, Liebherr said. "The LTR 1060 has proven excellent on gravel tracks with very tight bends and steep slants as well as gradients of up to 40 percent. We have often taken it to altitudes of over 3,000 metres. Once it arrives at the site, the LTR 1060 can be made ready for action extremely quickly. The machine has had no problems, we are very satisfied."
Cornelia Clausen-Ogi said: "The LTR 1060 is a compact machine and can be moved very quickly and easily on the site. In addition, the crawler crane can move heavy loads. That is a major benefit".