Comet looks to North American market
By Lindsey Anderson15 April 2019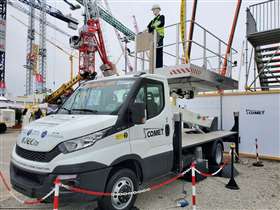 Speaking to ALH at Bauma 2019, Comet Officine said it is looking to enter the North American market, specifically for its trailer-mounted and insulated MEWPs. The company will exhibit at ConExpo 2020 for the first time and is currently on the waiting list for ICUEE, which will be held in October this year.
The company says it has a process in place to determine which products would be best for the market and then they will work to establish an importer and dealer/distributor network.
"The United States is a huge market for insulated machines," the company said.
Comet Officine currently has eight insulated and two trailer-mounts products in its lineup. Stay tuned to klh.com for more information.