Compact crushing
By Lindsay Gale20 March 2008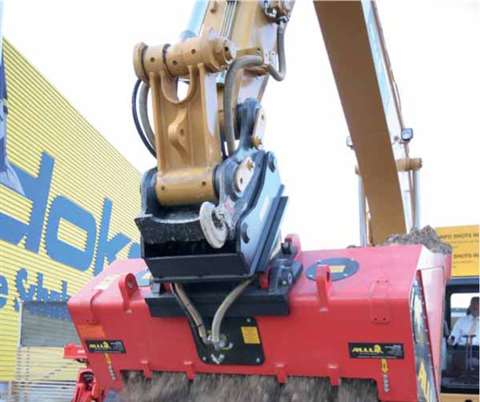 Around the world, legislation governing C&D waste that goes to landfill is tightening, putting pressure on contractors to carry out re-processing on site (and offsite on order to minimise their landfill costs and generate additional revenue streams from selling reusable materials.
As a result, mobile crushers and screens are an increasingly common sight on many of the larger demolition jobs around the world processing the brick and reinforced concrete waste from the site, often to te used as fill for he new build. However, there are many demolition jobs carried out each year around the world whose scale is such that the use of the larger tracked and wheeled crushers and screens would be impractical for cost reasons.
Nevertheless, legislation is now beginnig to be put in place that requires on-site processing of demolition and and construction waste, no matter the size of the job.
Europe is leading the way where recycling is concemed, with average recycling rates for individual jobs in the 80% region (and many a lot higher than that), but legislators are looking to further improce the recycling performance of the construction industry.
In the UK, the Department for the Environment, Farming and Rural Affairs (DEFRA) has recently issued a proposal document that outlines measures intended to reduce the 109 million tonnes of construction waste produced in the country each year. DEFRA estimates that one third of all illegal waste disposal (fly tipping) in the UK is construction and demolition waste. The key element of DEFRA's proposals is that site waste management plans, detailing how all the waste produced on the site would be reused, recycled or disposed of, would become a legal requirement for all projects worth more than 250,000 (US$495,000). The plans would be updated to record what actually happens to the waste, including the legitimate disposal of materials that cannot be reused or recycled. This would result in the creation of an audit trail that would reduce the potential for illegal waste disposal and increase accountability of contractors.
DEFRA further proposes that higher-level reporting and review processes would apply to projects over 500,000 (US$980,000) in value.
But it does not stop there. According to Marcus Clay, of compact crusher manufacturer DigBits: "We've been involved with concrete crushing since 1999, and with mobile crushing equipment since 2004, and in that short time things have moved very quickly within the demolition and recycling industries. However, certainly as far as the EU is concemed and possibly - with wider global emphasis on the environment - other developed nations, the rate of change is about to increase massively."
"Today, we learned a new buzz-phrase relating to waste mangement in the UK - the Proximity Principle - which states that waste should be managed as close as practicable to the point at which it is generated. This is not, in fact a new idea (the phrase has been in use since 1991) but it is being implement in the policies of County Councils throughout the UK and no doubt replicated to a degree by their European counterparts-and will, we predict, see an end to the removal of waste concrete and rubble from all sites, even small domestic projects such as extensions and home improvements."
According to Mr Clay, many local authorities are already making it conditional in the planning approval of these smaller projects that no waste concrete is removed from site by trucks o grab lorries, and are also refusing permission to park skips in the road (however, recent UK government proposals that will eliminate the need for planning approval for these smalle scale projects may lessen this impact).
From this, it is clear that the demand for ultra compact crushing solutions is likely to grow around the world over the nex few years
Crushing buckets
So what is available for small–scale crushing? The first obvious small–scale solution is a crushing bucket–and there are numerous manufacturers around the world producing such tools. Three of the best known are Italian–VTN, Meccanica Breganzese and Eusiti.
VTN produces a two–model range, the FB 250 that weighs 2,900 kg (6,380 lb) fo excavators weighing 18–24 tonnes and the FB 350 that weighs 3,950 kg (8,690 lb) fo carriers weighing 24–50 tonnes.
Meccanica Breganzese offers a four mode range, the BF 60.1 for 8–14 tonne excavators the BF 70.2 for 14–20 tonne excavators, the BF90.3 for 20–28 tonne excavators and the BF120.4 for excavators over 28 tonnes. Unde ideal conditions these four buckets have a maximum production rate of 20, 30, 40 and 50 m3 per hour, respectively. They weigh in a 1,500 kg (3,300 lb), 2,250 kg (4,950 lb), 3,500 kg (7,700 lb) and 4,900 kg (10,780 lb).
Eusiti produces a single crushing bucket the EBF 900 VP jaw that is designed fo use on excavators weighing 22–35 tonnes. I weighs in at 3,400 kg (7,480 lb) and has a maximum production rate of 30 m3 per hour
Arguably the best–known manufacture of screener/crusher buckets is Allu (formerly known as Ideachip). This Finnish company manufacturers a six model SC range fo excavators weighing from 8 to 25 tonnes SC 2–10, 2–15, 2–20 3–10, 3–15 and 3–20 the last five of which also be used on wheeled loaders weighing to 14 tonnes. They weigh 810 kg (1,782 lb) 915 kg (2,013 lb), 1,245 (2,739 lb), 940 kg, (2,068 lb), 1,200 kg (2,640 lb) and 1,500 (3,300 lb) respectively.
Finally, there is the US Crush–all range, manufactured by R. R Equipment Co. This consists of three models, the CR75, CR95 and CR125. The CR75 is an impact crusher bucket that weighs 2,635 kg (5,800 lb), the CR95 is a jaw unit that weighs in at 3,590 kg (7,900 lb) and the CR125 is an impact crusher that weighs 4,545 kg (10,000 lb)
On track
In addition to crushing buckets, there have been developments in the ultra–compact (or micro) crusher field, notably in the UK. Two companies in the country have developed extremely small tracked crushers that can fit through a standard door.
DigBits' BAVtrak jaw crusher weighs just 750 kg (1,650 lb) so can easily be carried by any trailer, and has an overall length of 1.2 m (3.9 ft), a height of 1.5 m (4.9 ft) and a width of just 0.7 m (2.3 ft). Currently powered by a Mitsubishi gasoline engine, the machine is ideal for crushing waste concrete and brick to produce hardcore on site. DigBits told D&Ri that development work on a new larger model is well in hand. According to Mr Clay: "from the development of the micro sized BAVtrak 009, we've made some interesting discoveries regarding small scale crushing equipment and we believe the technology required is vastly different the scaling down of established quarry and recycling equipment."
Red Rhino is perhaps the leader in the micro crusher sector, with its larger 5000 series machines having been sold around the world over the last year. It added three new models to its range at the SED show last month and D&Ri will report on these in the next issue.
Moving up the scale from these micro machines, there are a number of compact crusher available with capacities in the 50–100 tonne/hour range. Austrian manufacturers such as DSB, Hartl Powerscreen, Kormann Rockster, MFL, MSB and Rubble Master, and Italian companies such as Guidetti, OM and REV to name just a few dominate this sector.
Guidetti introduced its Caeser 3 compact machine to the industry at Bauma. This is an 8 tonne (17,600 lb) tracked machine that has a maximum throughput of 80 m3 per hour. It has a length of 6.5 m (21.4 with ft)a height of 2 m (6.6 ft) and a width of 0.7 m (2.3 ft).
From South Africa comes Piolet Crushtec's tracked Rubble Buster. Weighing in at 8.8 tonnes, this machine has a maximum throughput of 50 tonnes per hour and is powered by a 53 kW John Deere diesel engine.
And a new player may enter the compact sector in the not too distant future. Talking with Lars Josefsson, president of Sandvik, after his company's acquisition of mobile crusher/screen manufacturers Extec and Fintec, he said that the current Sandvik plan is to have mobile crushers in the resultant range with throughputs of 50 tonnes per hour and upwards. This would require that Sandvik either acquire a compact crusher manufacturer or develop an in–house compact design. Since the integration of these two companies will no doubt take some time, it is unlikely that we will see a Sandvik branded compact in the immediate future, but it is definitely a case of 'watch this space'.