Compact loaders: miniature muscle
By Joe Sargent11 September 2019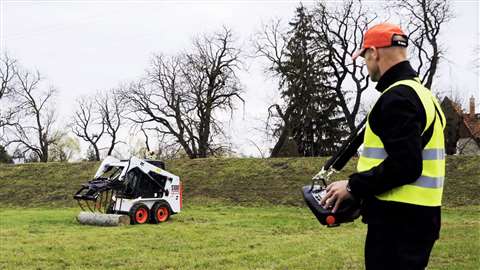 There are many applications in construction which require a small loader, but the choice of tool varies widely from region to region around the world. Between ten and 20 years ago, the main choices were skid-steer loaders – essentially a US product and strongly favoured in that part of the world – and compact wheeled loaders, which have a European, particularly a German, heritage. Going back further into the 1980s and beyond, crawler loaders were very popular too, despite now being all but extinct.
According to specialist market research and forecasting company, Off-Highway Research, the emergence and acceptance of new types of equipment over the last two decades has changed the structure of the industry.
In Europe demand for the skid-steer loader has fallen from a peak of some 12,000 machines per year in the early 2000s to 3,000-4,000 machines per year in recent times. While it is true that sales are growing overall in Europe, this is largely due to a general improvement in market conditions in the Southern European countries which favour this equipment type, rather than a general resurgence for skid-steers.
Some of the previous demand has been replaced by compact tracked loaders, but European sales of these machines total only 1,000-1,500 units per year. This is at odds with the situation in North America, where compact tracked loaders now comfortably outsell skid-steer loaders. More significant in Europe has been the growing popularity of telescopic handlers, particularly in the powerful markets of France and Germany.
Developments for other types of loader have also played a part. Compact wheeled loaders (under about 1m3 bucket capacity/56 kw engine power) have always been popular in Germany. Sales last year totalled almost 9,000 machines out of a Western European market of 15,600 units. The development of telescopic boom variants has opened the door to new applications and uses. These machines come with the advantage of a higher operator position than a skid steer loader, and also a central cab, unlike European-style telehandlers.
One company that's shaking things up in the compact loader market is Bobcat. The US-based company has been developing a remote-control feature for its machines which promises to boost productivity and safety in one go.
All Bobcat compact loaders are now equipped with a quick-change Bob-Tach attachment mounting system. This system facilitates quick and safe interchange of over 100 different types of Bobcat attachment. The new remote-control system has been designed in the same way – it is a plug and play system utilising a portable, but industrial radio remote control solution that can be mounted and unmounted on machines relatively quickly.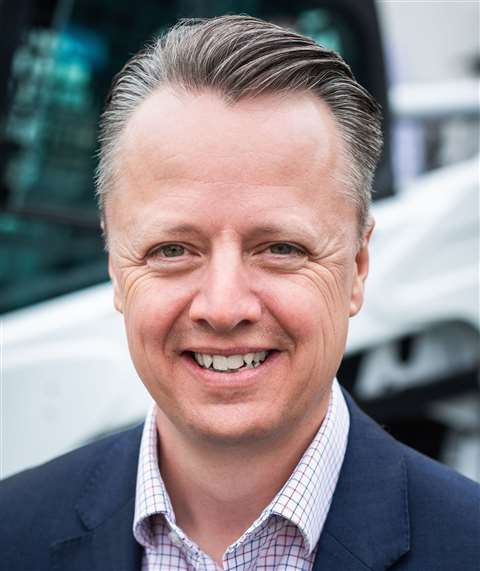 Mike Vought, senior director of product management at Bobcat, said, "Remote-control aims to increase safety, comfort and productivity by distancing the operator from dust, noise, vibrations and other hazards encountered at the workface or on job sites that require special safety precautions.
"Work can be done faster with higher precision and, in some applications, with fewer personnel on the job site."
The remote-control system provides the operator with a direct view of the work being undertaken with a range of attachments, which Bobcat says further increases the versatility of the loader and a range of attachments including angle brooms, augers, breakers, buckets, snow blowers, trenchers and wheelsaws – where the operator specifically needs to drive backwards with the loader.
It also allows operators to talk face-to-face with project partners and manage the surroundings at the same time.
Vought said the new feature is also useful in other applications, including demolition environments with poor air quality and distracting noise. "In the waste and recycling industries, the remote-control solution allows operators to handle dangerous or toxic materials from a safe distance, minimising the risk of exposure."
Typical applications are road maintenance, industrial applications such as recycling, heavy duty construction activity and demolition. The hydraulic performance coupled with the attachment portfolio make the loaders highly productive in many applications.
COMPACT AND FULLY CHARGED
German OEM (original equipment manufacturer) Wacker Neuson has targeted the core of its compact loader machines by completely changing the powertrain.
Wacker Neuson's electric wheeled loader, the WL20e, is a machine in the two-tonne class that works completely emission-free. The WL20e, which has a shovel capacity of 0.2m3, employs two electric motors, one for the drive system and one for the hydraulics. Utilising two motors rather than one ensures that the performance parameters of the WL20e correspond to those of the conventional machine and that its off-road capability remains similar to the diesel-driven model – the WL20.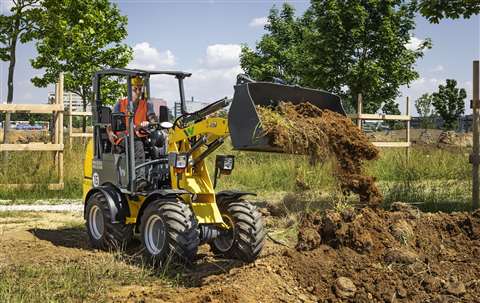 Wacker Neuson's WL20e compact loader is powered by two electric motors
Producing zero emissions is an aspect that is becoming increasingly important, especially on construction sites in urban areas, or when working indoors, such as in greenhouses, building restorations or parking garages. Working without a traditional engine also has the added benefit of reducing noise emissions.
Wacker Neuson says that the energy costs of the wheel loader WL20e are also significantly below those of a diesel-operated model and savings of up to 40 percent can be achieved.
The electric wheeled loader is equipped as standard with new AGM (Absorbent Glass Matt) battery technology, which is particularly easy to handle and requires little maintenance. A 230V battery charger is integrated into the machine, and the battery can be recharged with a cable from any plug socket.
Wacker Neuson has also improved the operator visibility on its WL44 (four tonne) and WL52 (five tonne) compact loader models. The front carriage on both of these machines is now 1.69m high, providing the operator with a better view of the attachments while working.
L5 READY FOR STAGE V
Fellow German manufacturer Liebherr has introduced Stage V-compliant versions of its L506 and L508 compact loaders, and its L507 and L509 stereoloaders. The working and driving functions on these machines are intuitive and the compact design of the machines, which are under eight tonnes, ensures stability, making it easier for the operator to get a clear view of the working area.
Liebherr's stereoloaders, the L 507 and L 509, have an operating weight of 5,550kg and 6,390kg, respectively and can be made available in a Speeder version. In this version, stereoloaders can reach a top speed of up to 40km/h depending on the model. This helps customers move their wheel loader from one operation to the next quickly.
A VOLTAIC VOLVO
Another advocate for electric machinery is Swedish giant Volvo Construction Equipment (Volvo CE). In a surprise product launch, the manufacturer unveiled its new electric compact loader, the L25, at Bauma Munich in April this year.
Though many would say that the markets are not yet ready to buy into electric equipment, the Swedish firm is adamant that the technology is now mature enough to deploy in its machines. Melker Jernberg, president of Volvo CE, said that the company is, in fact, ready to create the electric market. "We really believe in this," he said. "We believe that the technology is now mature enough."
The company is so confident in the electrification move it is going to stop the development of new diesel-powered compact loader models. The L25 is currently undergoing tests by customers in pilot projects before production begins in mid-2020, when Volvo CE will launch its wheeled loaders range from L20 to L28.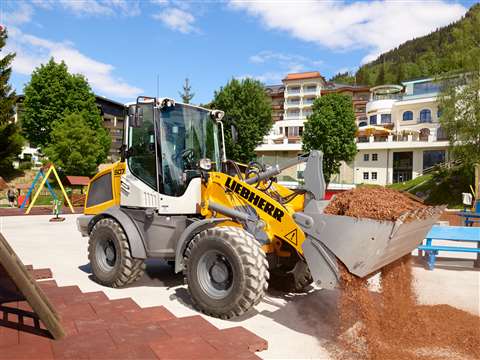 The electric variants of the machines promise to deliver zero exhaust emissions, significantly lower noise levels, reduced energy costs, improved efficiency and less maintenance requirements, compared with their conventional counterparts.
Using lithium-ion batteries, the L25 can operate for eight hours of operation in regular applications. It has an onboard charger that enables overnight charging via a regular household socket. A fast-charging option will be made available, but will require more powerful grid access.
In response to questions about the L25's return on investment (ROI) capabilities, Faires Beainy, Volvo's electromobility strategy & business development manager, said, "To answer this is, much like with today's diesel products, a lot can depend on usage and application, so will be very customer specific.
"That said, experience shows that batteries and motors could well outlive the machine itself, but again this will be conditional based on the life the machine leads. As with any new technology, the key will be to offer differing business models to the customers to minimise possible risks they may perceive in moving into an electric machine, therefore providing similar TCO's (Total Cost of Ownership) but with the many added benefits of the electric machine."
When asked where Volvo believes the key markets lie for these machines Beainy said, "If we look at how consumers have taken to other comparable products in recent times, then there are obvious trends as to the countries where early adopters reside, and environmental legislation and incentives exist.
"But, rather than be solely market driven, we expect that this will also be application led, exposing us to not just our current customer base, but to others for whom the clear advantages of this product fit perfectly with their business."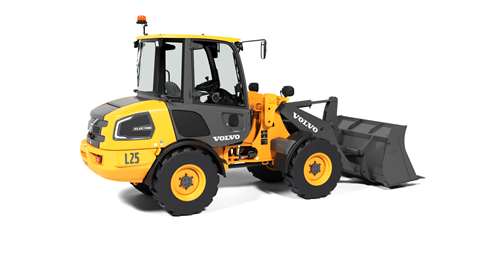 THIRD GENERATION
The largest OEM in the world, US-based Caterpillar, has announced that its new Cat D3 Series skid-steer and compact track loaders are ready for production.
These new machines are said to advance the D and D2 Series' reputation for quality, comfort and performance and deliver improvements in operator experience and track loader stability.
The new D3 compact track loader (CTL) models include the 239D3, 249D3, 257D3, 259D3, 279D3, 289D3, 299D3, and performance variant – the 299D3 XE. These machines range from 3372kg to 5085kg.
Cat's D3 Series CTLs deliver improved operating stability while handling heavy loads, grading or truck loading. Changes to the undercarriage frame and torsion axles have also reduced machine pitching and rocking, while still promising quality ride comfort.
All of Cat's D3 CTLs feature two-speed travel as standard and are geared to deliver high torque digging performance as well as high top-end speed for travel. The Cat 279D3 and 289D3 loaders boast a 13.6km/h top-end ground speed – a 20% increase over their D Series counterparts.
The Cat 239D3 and 249D3 models are now also built with two-speed transmission as standard, versus the previous single speed – increasing travel speed by 9%.
With a focus on implementing the newest technology, the D3 Series models also support a line of 'smart attachments'. This technology recognises certain attachments and tailors the controls and operator information to match the tool and the task.
A wider cab door has also been added for easy access to the new D3 Series loader's enclosed cab. Additionally, the distance between joystick pods has been increased by 76mm, offering extra space for the operator inside the cab.
Cat's new skid steer loader (SSL) models include the 226D3, 232D3, 236D3, 242D3, 246D3, 262D3, 272D3 and performance variant – the 272D3 XE. These machines range in weight from 2,653kg to 4342kg.
Cat SSLs and CTLs offer advanced control features that include Return-to-Dig and Work Tool Positioner to assist operators with repetitive tasks like grading, digging, and loading. These items are now bundled together with the dual direction self-level feature, allowing associated tasks to be completed with less user interaction and expertise.
Compact wheeled loaders are also part of Cat's line-up. Models include the 906M, 907M and 908M, which the company says have evolved from just material handling with buckets and forks into true tool carriers. A skid-steer loader coupler has been added, enabling Cat's compact wheeled loaders to be fitted with a range of Cat hydro-mechanical attachments like brooms, cold planers and snow ploughs.
The company also shared its concept 906 fully-electric compact wheeled loader, powered by a lithium-ion battery at this year's Bauma Munich.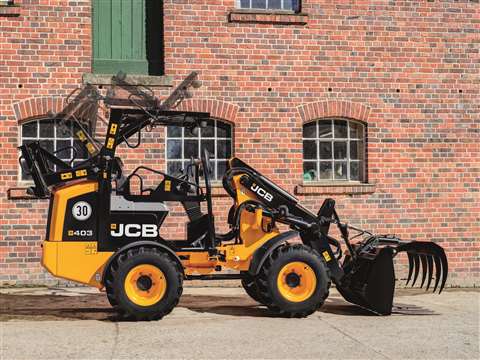 SMART POWER
UK manufacturer JCB will soon be introducing a second engine option for its compact 403 loader. While the current 26kW model will remain in production, the company will also offer a 19kW 'Smart Power' model, for those customers seeking the best fuel economy.
JCB will also make a folding ROPS frame available as an option on the 403 for the first time. Designed to work in low height applications, the folding frame reduces the overall height of the machine from 2,235mm, to just 1,845mm, making it suitable for work in tight spaces, such as multi-storey car parks and agricultural sheds.
The 403 will be offered with a free-flow hydraulic return line for motorised attachments and the machine will be available with a hand-controlled inching function. This will allow the operator to set the travel speed, independent of engine rpm, to allow powered attachments to be operated while moving at a steady inching pace.
The 403 can also be ordered with an extra 160kg counterweight to create improved stability. This bolts on beneath the machine, increasing the full turn tipping load by up to 151kg.
Manitou 3200 VT: Europe's first look
French OEM Manitou launched its new compact tracked loader in Europe this August.
According to the company, the 3200 VT has been designed from the ground up to be a versatile machine on the jobsite.
Manitou said the welded chassis has been constructed to deliver superior weight distribution, enhancing stability, grading, tractive effort and providing a smoother ride. Flush rear door and angled rear towers provide tight rear clearance radius and excellent visibility.
Steel plating, heavy-duty pins and bushing have been installed to strengthen the loader for heavy-duty work. To make the machine more responsive to the operator, electronic engine control and foot throttle allow partial throttle application, reducing sound levels and boosting fuel consumption.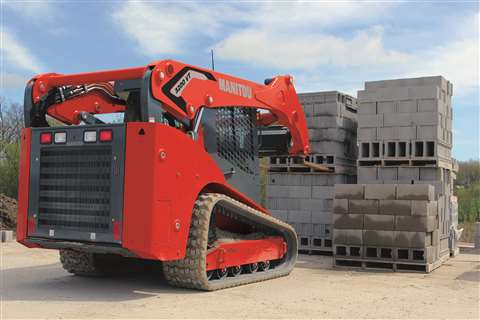 For safety, a Hydraloc system is used which applies the parking brake whenever the operator raises the restraint bars, leaves the seat, opens the door or switches off the ignition. Standard, selectable two-speed drive motors, horn and backup alarm also feature.
Optional speed control adds the ability to tailor machine operating speeds to application, independent of engine rotation, while an optional HydraGlide system allows the lift arm to effectively float when transporting loads, minimising loss of material and providing a smoother ride at faster transport speed.
The machine also boasts an improved reach with a vertical lift path of 3.35m, providing an increased dump height, resulting in more efficient load placement and performance. A Low-profile design has been selected to provide good forward, rear and side visibility.
A Giant product launch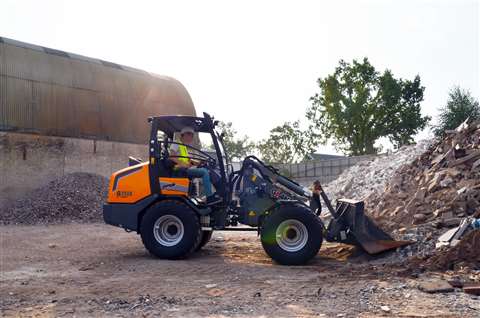 Tobroco-Giant has revealed its new 3.5 tonne G3500 X-TRA compact loader.
The Dutch company has developed its new machine to be a reliable and compact powerhouse while providing a comfortable and safe working environment for operators.
The G3500 X-TRA can lift 3060kg, but promises a high tipping load of 3,990kg in comparison to its own weight of 3,600kg.
Depending on the choice of tyres, the loader has a width between 1.34m and 1.65m and the machine only stands 2.27m tall so narrow and low passages are easily navigated.
The G3500 X-TRA is powered by a new Stage V-ready 48.5kW diesel engine from Kubota. The engine is equipped with a catalytic converter and soot filter (DPF).
A hydrostatic 4-wheel drive system with automotive control (Bosch Rexroth) and 100% switchable lock on both axles prevents the machine from losing grip – even on loose soil. A driving speed of 30km/h also allows reasonable travel times from one building site to another.
New features include a fully adjustable steering column and air suspended seat. All necessary information can easily be read from a central LCD display during work. As standard the compact loader comes equipped with an EU certified safety roof.
Supporting documents
Click links below to download and view individual files.