Compact wheeled loaders: Covering all the bases
By Jenny Lescohier16 November 2020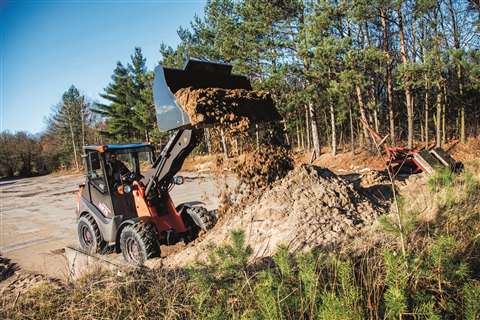 On construction sites, there's long been a balancing act between desiring the precise right tool for every job, and also wanting those tools to be versatile enough to tackle a variety of tasks. Look around at the machines on the market today, and its clear equipment manufacturers have done an admirable job of offering the best of both worlds, with the compact wheeled loader a prime example.
A compact wheeled loader is a natural tool carrier, able to switch easily from one attachment to another, including those used on smaller types of equipment such as skid steers and compact track loaders.
"Compatibility of front attachments is very popular with today's new compact wheeled loaders," says Tim Boulds, Kubota CE product operations manager. "Many of the same attachments for compact track loaders and skid-steer loaders can be shared with wheeled loaders if the wheeled loader is equipped with a skid-steer style coupler. Specialty buckets, pallet forks, sweepers, snow pushers and grapple buckets are just a few examples of what can work on both product lines."
Mario Bican, product manager for small wheeled loaders at the Liebherr-Werk Bischofshofen GmbH, says small wheeled loaders are famous as versatile machines for a broad range of different applications, but their appeal is broader than that. Simply, there are easy to use.
"We observe that the demand for versatile helpers, for example at construction sites, has been growing steadily," he states. "Above all, we see an increasing demand for higher comfort levels and the need for increased safety standards in the small wheeled loader sector.
"Moreover, ease of use is an important trend in that segment, because usually small wheeled loaders are used by many different machine operators," he continues. "For the equipment owner, ease of use means that productivity is rising when working and driving functions are self-explanatory and can be learnt fast and intuitively by the operator."
Comfort is king
Operator comfort is key to productivity, and so many of the recent improvements to Hitachi compact wheeled loaders reflect this, says Seigo Yamamoto, product manager for mini & compact products, Hitachi Construction Machinery, Europe.
"These include a new standard seat that is more comfortable, new right window for better visibility, redesigned arm rest for more convenient support, DAB+ radio as an option, and upcoming pilot control levers to operate the wheeled loader more easily and precisely," he explains.
Yamamoto notes Hitachi compact wheeled loaders feature a self-stabilising concept which consists of an articulated pendulum joint that transfers the centre of gravity of the rear end to below the pendulum axis. The resulting self-stabilisation of the pendulum motion not only increases the stability but also translates to better driving comfort and optimum stability on all terrain.
Likewise, visibility makes a big difference in ease of use to the operator. Hitachi offers large tinted windows on its loaders to ensure all-round visibility, Yamamoto says, noting, "The panorama roof allows for an exact overhead view, for example for truck loading."
Attachments make the grade
The ability to utilise a wide variety of attachments and switch them with ease is part and parcel of what compact wheeled loaders stand for. Manufacturers offer a slew of features to make this happen.
For its part, Hitachi offers the Monoboom offering high tear out forces. Cables and hoses are protected and out of the driver's field of vision, the company states, while the protected, internal Z-kinematics allow parallel guidance of the attachments.
"This translates to a high degree of safety, particularly when loading pallets," Yamamoto says. "Fast cycles and an unrivalled view on the attachments make daily work even more efficient."
Kubota claims its R430 is unique in offering the ability to install a backhoe that provides up to 9 feet (2.7m) of digging depth for trenching projects.
"The R430 is the only model that has a backhoe option and will be a popular choice when working in extremely compact areas," notes Boulds. "The 'bend in the middle' articulation design for all Kubota compact wheeled loaders allows for less scuffing and damage to tender surfaces compared to a compact track loader or wheeled skid loader."
Kubota loaders feature an optional quick coupler to allow easy bucket and attachment changes.
Boulds notes Kubota's R630 features four operating modes that are referred to as Power, Standard, Economy and Attachment. With a broad selection of operating modes, it allows the operator to match the machine to the application and front attachment for the most efficient operation.
"In many cases, there is no need to own a totally separate line of attachments for a compact wheeled loader because of front coupler compatibility with other machines in an operator's fleet," he states. "Owners and operators still need to make sure the recommended operating capacities are not exceeded, according to the compact wheeled loader or attachment guidelines, since the lifting capacities are often greater than many compact track and skid loaders."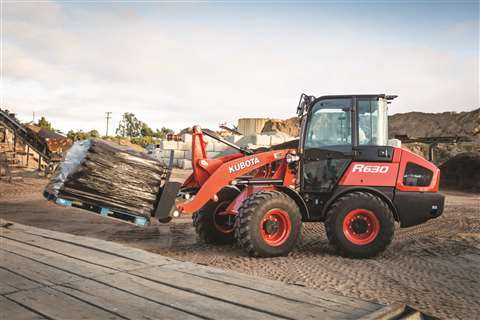 With further regard to attachments, Liebherr offers a hydraulic quick hitch for its small wheeled loaders. The company says it is useful to switch between attachments such as earthmoving and light material buckets, fork attachments, buckets with hydraulic clamp or snow plows.
Value-added features
The implementation of new technology or design solutions in smaller wheeled loaders has to be functional, well thought out and within the customer's budget.
Kubota machines, for their part, offer joysticks with a forward-and-reverse switch that allows for convenient, on-the-go direction changes without clutching or braking (included with the R530 and R630).
For example, in terms of design, Bican points to the generous amount of window space in the cab of Liebherr wheeled loaders and the mirror arrangement that ensures unimpaired all-round visibility during work.
In terms of technology, Bican says Liebherr offers several intelligent solutions. "For example, the new L 509 Tele features the 'Comfort operation Tele' to make working with the telescopic lift arm easier and safer. This includes automatic bucket return-to-dig, programmable auto lifting and auto lowering, as well as visualisation of the equipment position on the display."
Volvo Construction Equipment (Volvo CE) is one of the leading players in the compact wheeled loader sector. The company recently announced that the H-Series wheeled loaders have received additional enhancements that help reduce total cost of ownership.
"Over the years we have built on experience and worked closely with customers to improve these machines," explains product manager, Lars Eriksson. "Now, in 2020, we have introduced new features that take these machines to a new level of efficiency."
These include the rimpull control system now coming as standard on all H-Series models, Volvo Co-Pilot monitor being available on a wider range of machines and an extended engine oil change interval of 1,000 hours as standard for H-Series models equipped with Stage V engines from April 2020.
Volvo CE have committed to only producing electric compact wheeled loaders in the future, and Wacker Neuson are another company investing in electric.
In Erfurt, Germany, preparations are being made for the National Garden Show, scheduled to take place in 2021. Only emissions-free construction equipment was used to protect the exotic plants while offering operational efficiency, including the company's electric wheeled loader, the WL20e.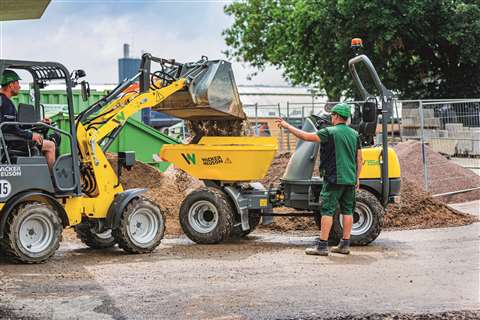 Powered by an AGM (Absorbent Glass Mat) battery, which is designed for simple handling and low maintenance, the wheeled loader was used for a variety of applications. Wacker Neuson says the WL20e saves around 90% of CO2 emissions over its entire service life.
Monitoring performance
The use of telematics is changing the service business for compact wheeled loaders, in line with the rest of the construction equipment market. It is enabling dealers to be more proactive in providing service and maintenance, ensuring optimum performance and a higher resale value. It also provides peace of mind to owners that service and maintenance are taken care of.
To that end, it's now possible to install ABAX remote monitoring software on Hitachi compact wheeled loaders to track working hours and location. Yamamoto says this is now standard on other compact equipment in the UK, Norway and France, and customers in Germany are also showing an increased interest in this development.
Electrification, or the use of alternative fuel (hydrogen, gas, etc.), will play a prominent role in the future of compact wheeled loaders. The new technology required for this, however, will initially cause higher costs for customers.
"We already have the technology for electrification and alternative fuels from the automobile industry, and it is relatively easy to apply this to compact equipment," Hitachi's Yamamoto states.
"But it will take time for the cost of such machines to come down, and for the surrounding infrastructure on the job site to be in place, such as charging points for electric compact wheel loaders, for example. Therefore, there will still be a market for diesel-powered engines."
Another important point to remember is that compact wheeled loaders carry out fundamental tasks of loading, dumping and travelling, and for these duties, some customers are happy to have a rather basic machine, while other customers expect advanced features. Fortunately, today's manufacturers are offering customers a mix of both.
Liebherr's telescopic wheel loader
L 509 combines lift and reach capabilities with handling power
Liebherr introduced its first telescopic wheel loader, the L 509 Tele, in July, aiming to combine the lift height and reach of a regular telescopic loader with the productive material handling capacity of a classic wheeled loader.
Based on the company's Speeder L 509 stereoloader, the new telescopic loader offers Liebherr's stereo steering and can reach a top speed of 38 km/h as standard, thanks to the hydrostatic travel drive.
Instead of classic wheel loader lift arms, the new L 509 Tele has an extendable telescopic lift arm which can lift to a height of 4.8m with a fork attachment. The integrated Z-bar kinematics allows the telescopic lift arm to load containers and lorries at great heights or stack loading material. When working with a fork attachment, no manual readjustment is necessary.
The Liebherr stereo steering system, a combination of articulated steering and the steered rear axle, ensures manoeuvrability, the company says. The combination of these technical solutions makes the new L 509 Tele suitable for many applications including landscaping, municipal, snow clearing or recycling services.
Growing in popularity
Germany hosts the largest market, followed by Japan
The surge in building and construction activity in Germany in the last five years has driven a steep rise in sales of compact wheeled loaders (under 56 kW engine, with a bucket of 1 m3 or less). These machines are enormously popular in Germany, says Chris Sleight, managing director of Off-Highway Research.
"Their popularity in Germany is such that this country alone represents over a third of global demand for this class of loader," Sleight says. "Demand in the next largest market (Japan) is only around half that of Germany at the moment, while these machines also sell in good numbers in North America."
Although compact wheeled loaders are arguably a niche machine, sales last year were unusually high for this type of equipment, but that still only totalled 30,000 machines. Sales in countries such as Belgium and the Netherlands have risen steeply in the past decade, partly due to the growing presence of local manufacturers such as Tobroco Giant and Knikmops.