Components and accessories
By Euan Youdale05 July 2017
One area of huge potential growth is in environmental efficiency and safety. Among all the solutions that spring immediately to mind, like hybrid and electric over diesel-powered equipment, there are lesser known solutions that have the potential to make a huge difference to the industry.
One of them is biobased hydraulic oil, which can be used in place of petroleum-based products. While it is not strictly a component, hydraulic fluid of one kind or another is a necessity.
At the moment, biobased solutions are not widely used, although, according to producer Lubitec, around 30% of the construction industry uses it. Lubitec's Biotech products have been in production for over 25 years. Although received well there are a few stumbling blocks. The first being education and information avenues within the industry and the second is perceived costs.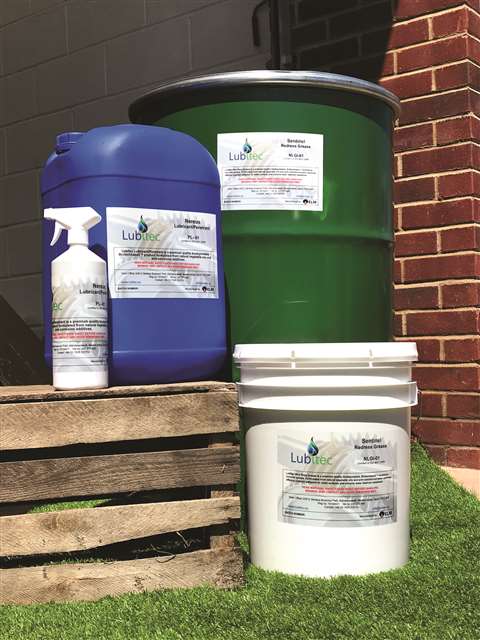 Peter Farthing, Lubitec managing director explains that new legislative environmental guidelines are driving users to give consideration not only to typical lubricants that lubricate and protect, but also to consider the environment in its production and use.
"Biobased base oils have higher flash and fire points than conventional petroleum products and are not as harmful when released into the environment because there are no toxic ingredients."
The Biotech-based products are founded on unique technology; using microwave energy for production processes and formulated using renewable, biodegradable natural vegetable oils. Unlike most lubricant facilities Lubitec uses the instrumentation unique to vegetable oils such as the oxidation stability instrument required to test the oxidative properties of its products.
At Lubitec, all products are manufactured and packaged at its production facility, which the manufacturer says makes the products affordable. Though Mr Farthing points out that the difference in cost comes not in product costs but quantity of scale.
Setting standards
Increasingly stringent regulations are forcing a wider range of equipment and devices to comply with new standards.
For example, Spain-based TGB Group specialises in slewing rings and drives. It has produced a lightweight slew drive for access equipment, the LBE. It has an aluminium casting with a specially-designed seal. It's a one-piece seal with two steel wires inside which guarantees a high IP (integrated protection), so withstands high pressure washing.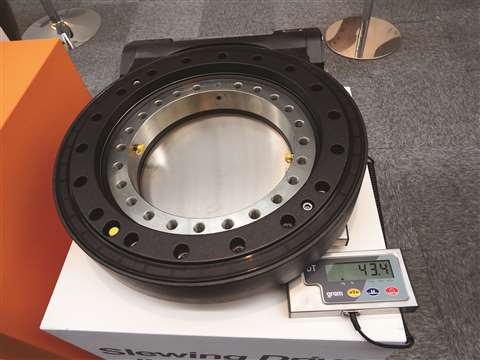 It is suitable for all types of booms and tracked lifts. With Euro 6 regulations, weight of the components is critical, so these lightweight slew rings are designed to compensate for this situation, says the manufacturer. For example, the LBE range incudes the 435 model, which weighs 44kg – the standard version weighs 62 kg, as shown in the picture top left.
InterControl, on the other hand, has produced a PLC controller for mobile applications. A programmable logic controller, (PLC) is a digital computer used for a range of electromechanical processes, such as control of machinery.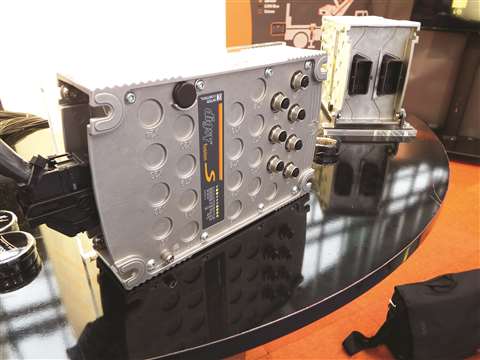 This new one from InterControl is based on a modular system, rather than closed system, and meets EN ISO 13 849-1:2006. It has a redundant and safe 32-bit, 200 MHZ CPU and certificated FPU (floating point unit) for the required performance level as stated by EN280; in this case it must meet category level 2&3, performance level D. You can find FPUs in mobile phones but this is certified to the high level safety requirements for platforms.
The unit is scalable from 48 to 240 inputs and outputs and is designed so that users don't need more than one controller. The controller also means that safety applications can be closed off on the controller so that the OEM can make changes to non-safety options like lights for example, but is unable to tamper with the safety-relevant components. It has 4 x CanBUS, USB 2.0 and Ethernet for direct communications with a laptop.
DIS Sensors has extended its QG series of sensors with CANopen safety sensors with built-in redundancy for safety-critical applications. These inclinometers and accelerometers meet Both SIL2 and PLd standards. This means using components that have been certified to at least that safety level. Inclinometers measure the angle of inclination in one or two axes, and DIS inclinometers are based on robust MEMS (micro-electro-mechanical) technology. Thanks to their modular design, these sensors are easily adapted to meet specific requirements. It is also possible to adjust the sensors as required, by means of CAN commands.
Accelerometers measure acceleration in 1, 2 or 3 axes. These sensors are likewise based on MEMS technology, with the difference to the inclinometers being the wider bandwidth, enabling it to measure much faster movements, with greater precision.
These sensors are therefore suitable for applications such as vibration measurement for maintenance purposes, or for active vibration compensation. The company says most machine manufacturers prefer the PL system (Performance Level in the ISO 13489). SIL (Safety Integrity Level as per IEC 62061) has more variables and complex formulas, but it is more comprehensive, especially in the area of documentation and data registration.
This, the company says, can be beneficial to management of systems or the compilation of a functional safety plan, information which is required by more companies.
New entity
Demonstrating the importance of modern control systems, UK-based distributor of access platforms and specialist cranes Utility Equipment has launched a dedicated business, Uniquely Engineered Components.
The new entity will design, develop and sell the existing UE Components brand of joystick controllers, control boxes and battery chargers. The move follows a successful first year for UE Components, said the company, which saw it enter the OEM arena as a joystick supplier for two established European access platform manufacturers, alongside the recruitment of three parts sales companies as local distributors.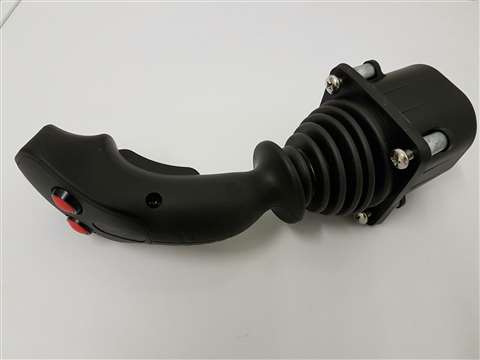 The UE team were at the APEX exhibition in Amsterdam meeting prospective distributors and would like to hear from interested parties. "Restructuring ensures UE Components can dedicate investment and engineering resource to new product development, stockholding and, critically, the expansion of the distributor network with several territories still available," said Scott McCall, managing director, "It also allows the Utility Equipment Parts team to focus on product support and parts supply for the UK market across the brands we represent, including UE Components."
UE Components has positioned in both the OE and replacement parts markets. "Operating in both sectors gives direct communication with service engineers to understand product issues in the field, with the opportunity to translate this information via product development back to design engineers at the equipment manufacturer," commented Mr McCall.
This double pronged approach also ensures that replacement parts are developed to solve issues with the OE component, rather than as a lower cost alternative. "Aftermarket parts supply is frequently debated across many industries, sadly some replacement parts are nothing more than low cost copies, which gives the sector a bad name. Frustrating those that have worked hard to design and manufacture a quality machine, to then see it fitted with inferior parts, and frustrating owners who have made significant investment in their equipment to see it fail due to low cost parts."
Ground force
Outriggerpads is launching a new heavy duty ground protection mat aimed at the plant hire, events and construction industries.
Ground mats protect concrete, turf and paved areas from the damage caused by access platforms, construction equipment and other heavy vehicles. They also help prevent machines from losing traction or getting bogged down. Applications include construction, landscaping, utilities, estates management and outdoor events.
Charles Grizzle, business development co-ordinator for Outriggerpads, said, "We developed the ground mat in response to demand from our customer base, as a complementary product to our spreader plates.
"We've worked hard to deliver a product that is extremely durable, has great load bearing capabilities and provides a superior grip. It is also lightweight, portable, and easy to link together, making it ideal for creating temporary roads or even a parking area."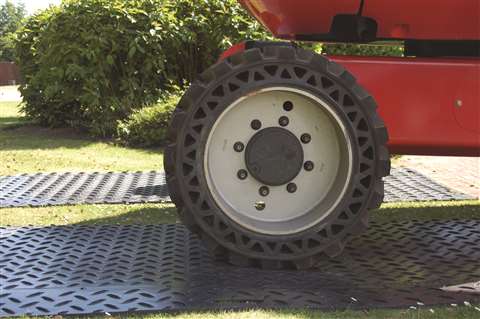 Manufactured from high density polyethylene (HDPE), they are highly durable as they are resistant to water, oil and chemicals; and there is no chance of corrosion or splintering. A standard steel connector easily joins the mats together to form a temporary roadway, while a four-way link bar is also available for creating a large surface area such as for parking.
Outriggerpads offers two sizes of ground mat. The 1.8m x 0.9m product is designed to accommodate most access platforms, mini-excavators and similar-sized plant equipment. Featuring integrated handles and weighing just 24kg, it is light enough for one person to safely lift and position.
The heavy-duty 2.88m x 1.44m pad is suitable for big booms and scissors, as well as cranes and excavators. It can withstand extreme vertical pressures, with load-bearing capabilities of 12 to 65 tonnes, depending on terrain. This pad weighs 65kg and, features six handles, making it easy for two people to carry it and put it in place.
The mats have a non-slip 8mm extruded finish on both sides, meaning they grip the ground as well as providing a superior grip for machine tyres or tracks.
Mantracourt takes JLG prize
Sensor technology specialist Mantracourt has won JLG's Partnership in Action - Supplier Cost Reduction Idea Programme (Scrip) competition.
The UK-based company took home Scrip's top prize, the Platinum award, which celebrates cost reduction in high quality components
In this case Mantracourt developed a cost-effective specialised load sensing system by investing in its processes and production equipment and working with suppliers. It is used in JLG's scissors and boom lifts.
Robert Willmington-Badcock, Mantracourt CEO, said, "We were up against major players internationally, so to come out on top is excellent. The award is the culmination of a lot of hard work from our teams in the UK and around the world."
For over 40 years, Mantracourt has been supplying technology to OEM sensor manufacturers and produces high performance strain gauge, load cell signal conditioners and wireless telemetry.
Mark Vierling, vice president GPSC, JLG Industries, said, "We are very proud that the Supplier Cost Reduction Idea Program (SCRIP) continues to generate such great results and believe that this award speaks to the level of dedication supplier partners like Mantracourt, place on mutually beneficial cost reduction efforts."
Delta-Q
Delta-Q Technologies has released its first ever lithium-specific battery charger. The ICL1200 is a 1200 watt charger designed to charge Lithium battery systems with any Lithium-ion chemistry. The charger is suitable for use on any electric machine including booms, scissors and more.
"Our products are designed to meet the evolving needs of our customers while providing reliability and long-term performance. The new ICL1200 is a perfect complement to our OEM customers as they incorporate Lithium technologies into their products," said Trent Punnett, Delta-Q's vice president of sales, marketing, and product management.
The ICL1200 uses Controller Area Network (CAN bus) communications and carries a set of global regulatory approvals, including touch-safe requirements for the European electric vehicle market. The charger can operate on any single-phase electrical grid around the world.
TVH distributes parts for Hy-Brid Lifts
Hy-Brid Lift wanted to handle its distribution outside the US better in its desire to strengthen its position in Europe and was therefore looking for a partner for the distribution of its parts.
With major parts provider TVH as its distributor, Hy-Brid Lifts, which is a brand of Custom Equipment, can benefit from next-day delivery as well as its online order platform MyTotalSource.
Custom Equipment was established in 1981 and in 2004 started production of the lightweight low level access scissor Hy-Brid Lifts. TVH Group has two business units: TVH Parts and TVH Equipment.
TVH Parts is the one-stop shop for material handling, industrial and agricultural equipment parts and accessories. TVH Equipment consists of 4 activities: Sales, Rental, Service and Trade.
Power upgrades lead batteries
Building on its Power series, IPS is bringing a new lead battery technology to the powered access market.
The new gel tubular plate batteries are robust and long-lasting. They are also leak-free, a characteristic increasingly demanded on "green" sites such as Canary Wharf in London, UK.
Kevin Shadbolt, operations director of IAPS Group, which owns IPS, said, "These long-life batteries are ideal for the demanding duty cycle of industrial access applications."They give hire companies and end users peace of mind that the battery is not going to let them down. And because they last up to three times longer than lead acid or even AGM batteries, they significantly reduce the time required and cost of ordering and fitting new batteries."
Previous lead acid or gel batteries used a flat plate. The new tubular plate design is more rigid and therefore stands up better to the stress of deep cycling. The battery pumps electrolyte into the tubes, which means it is better protected than in flat plate batteries, where it can be prone to shredding.
The series includes the GTP6215, a 6v, 215ah battery. Sealed and maintenance-free, it offers a typical maximum life of 1,500 cycles at 80% depth of discharge.
Supporting documents
Click links below to download and view individual files.