Compressors: Putting on the pressure
By Katherine Weir21 November 2019
While ease of use, versatility and low maintenance cost remain some of the main criteria that portable compressors must meet for rental companies, of increasing importance are also low-emissions and low-noise.
Earlier this year, Sweden-based Atlas Copco released its mobile electric variable speed drive (VSD) compressor range designed for tough environments and low emissions zones.
Due to the lack of exhaust fumes and noise levels as low as 61 dB(A), the E-Air range – from 7 up to 31m3/min – is also suitable for underground applications.
The compressors require low power to start up due to the integrated VSD-driven permanent magnet electric motor.
Hendrik Timmermans, Vice President of Atlas Copco's Portable Air division, said, "The benefits of going electric within specific applications cannot be overstated. The new VSD electric compressor range is a game changer when it comes to clean drive technology for rough and dusty environments like underground tunnelling and mining."
The manufacturer said that the VSD E-Air compressors are smaller and lighter than equivalent diesel air compressors. For example, the E-Air H 250 weighs less than 750kg, which means no special driving licence is required to tow it in Europe.
Currently available in the VSD electric compressor range are the VSD E-Air H 250, VSD E-Air H 450 and VSD E-Air V 1100.
Earlier this year, Atlas Copco also launched the new Smart Air Xc4004 controller on all its large and speciality air compressors with flows from 20 to 128m3/min and pressures of up to 345 bar.
The 18cm controller display gives a simultaneous view of several parameters, including pressure and flow, and can be navigated in 30 languages.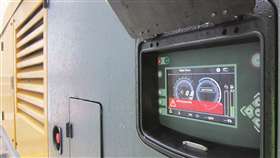 The manufacturer said that a secondary point-of-use controller unit is also available to give users the option to remotely operate their portable compressors, for instance in drilling applications.
Timmermans said, "The Smart Air Xc4004 controller protects your investment and improves your efficiency, while drastically decreasing the operating costs of equipment through advanced insights."
Noise control
Compressed air specialist Kaeser Kompressoren has released the new Mobilair M55 and M59 portable compressors, with a basic body and new motors that meet European and North American exhaust regulations.
Both models offer compressed air treatment and generators for simultaneous production of compressed air and electric power.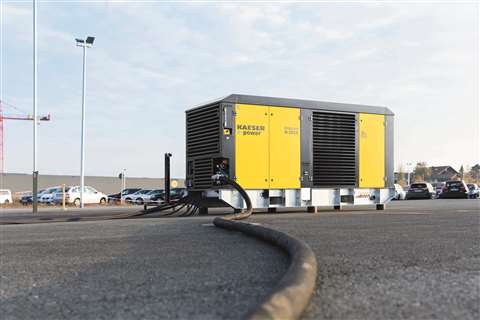 They come with a pV control that allows large pressure ranges to be covered with a single system. With this control, the infinitely adjustable maximum pressure (p) directly influences the maximum flow rate (V). The Sigma Control Smart controller has been designed to make it easy and convenient to set the pressure.
For the first time, noise protection is provided by gull-wing doors made of rotation-moulded polyethylene.
In relation to Stage V, the M59 is powered by a Hatz motor that meets stringent EU standards and is available in a version that weighs less than 750kg.
Also offering a solution for low emissions zones is Kaeser's M125 portable compressor, which has a compact design and low tow weight, as well as a variable pressure feature. Any machine can be operated between 7 and 14 bar with the machine's 'infinite, dynamic pressure and delivery control'.
A flow rate of nearly 10m³/min is available at a maximum pressure of 14 bar.
The M125 is powered by a low-emissions Deutz engine, fitted with a diesel particulate filter (DPF) as standard. This filter meets the EU Stage V emissions standards, which will come into force in January 2020. In addition, Kaeser said the fan helps to save a further 6% in diesel.
Other new additions from the company include the 132kW M250E and 160kW M255E, which have been added to its exhaust-free and quiet Mobilair e-power compressor series.
Depending on the combination and pressure range, the M250E delivers flow rates of up to 25m³/min at 8.6 bar, while the more powerful M255E can put out up to 24.7m³/min at 10 bar or 19.9m³/min at 12 bar.
The e-power compressor range is built to be moved quickly and easily from place to place with galvanised skids and forklift slots fitted as standard. An optional filter combination for oil-free compressed air is installed within the compact body of the unit.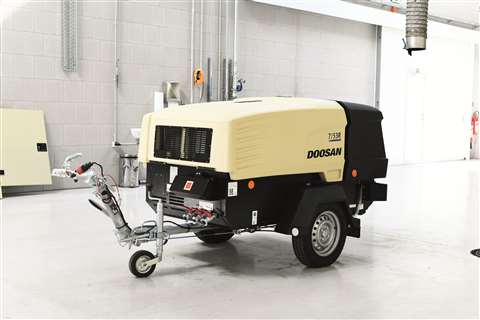 US-based Doosan Portable Power has launched several new Stage V portable compressors for the construction and rental markets. Nine models offer free air deliveries from 14 to 30m3/min at operating pressures from 7 to 21 bar.
The new 7/53R portable compressor supplies 5m3/min of compressed air at a rated pressure of 7 bar. Designed to meet O1 trailer category requirements – the 750kg category – the new 7/53R is suited for the rental market and covers the most common applications in construction and utilities.
Low-pressure models are powered by the new Cummins B6.7 Stage V engine, while the high-pressure compressors are powered by Cummins' new L9 Stage V engine. All the compressors in this range have an integrated after-treatment system and offer improved fuel efficiency.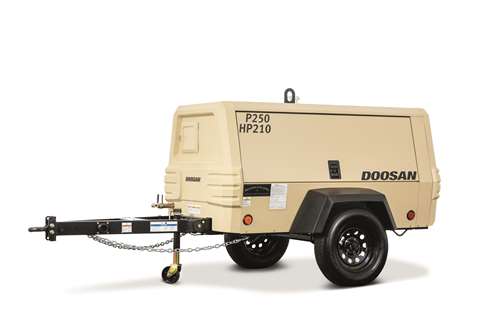 Environmental protection is enhanced by the fact that the models have a bunded base as standard and can be fitted with an optional ECOmizer system, which can reduce fuel consumption by up to 30%, depending on the application.
Meeting market demand
Back in January, the manufacturer also introduced its P250/HP210 Tier 4 Final portable air compressor, in response to growing demand for air compressors that can deliver increased airflow.
The company claims that this model, which replaces the P250/HP185 air compressor in the company's line-up, is the only compressor on the market to offer a 5.9m3/min high-pressure mode. It has also been described as a two-in-one machine because it delivers the pressure and flow typically supplied by two units.
The P250/HP210 runs eight hours at 100% load on low-pressure mode and nine hours at 100% load on high-pressure mode. Extended runtime is achieved with a 157 litre fuel tank, which offers a larger capacity than its predecessor while remaining compact and weighing 8% less.
In addition to these new products, the manufacturer has updated its P185WDO portable air compressor, which now offers longer runtime. It has a proprietary airend as well as a Doosan engine.
The P185 has a Tier 4 Final Doosan D24 engine and a Doosan DSN100 airend that, together, deliver 5.2m3/min at a rated operating pressure of 6.9 bar. The unit runs 12 hours at 100% load – two hours longer than the previous P185 generation model.
More recently, Doosan Portable Power expanded its small air compressor line-up with the high-pressure XP185WDO, which produces 5.2m3/min at 8.6 bar. It is said to be applicable to a variety of applications, such as general construction, sandblasting, pneumatic tool operation, pipeline testing and fibre optic cable installation.
The new model can simultaneously power air and electrical tools when outfitted with an optional 4kW generator.
Jeremy Bailey, Air Products Manager at Doosan, said, "Many of our customers are also using small electric or rechargeable battery-powered tools and 4kW of generator power is enough to charge those tools or even a cell phone while on a remote jobsite."
The XP185 is powered by a 54kW Tier 4 Final-compliant engine that has a diesel oxidation catalyst (DOC) aftertreatment system that requires little maintenance. The compressor can run for 10 hours at 100% load and was said to be dependable even in extreme working conditions.
Purchase includes a one-year, 2,000-hour bumper-to-bumper warranty, a three-year, 3,000-hour engine warranty, and a two-year, 4,000-hour airend warranty.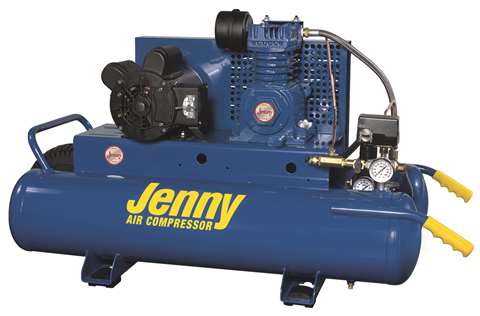 At the end of September, compressor manufacturer Jenny Products – based in Pennsylvania, US – released its electric K-series wheeled portable compressors. This series includes the K pump, which is a heavy-duty, single-stage cast-iron compressor pump. It comes in 0.7, 1.1 and 1.5kW power options and four basic air configurations: 36, 68, 77 and 136 litres.
Operating on 115 or 230V single-phase power, the K-series compressors can deliver as much as 0.2m3/min at 7 bar. An optional dual voltage feature allows for easy switching between 120 and 230V, while a dual control option offers start/stop or constant-run operation.
The electric compressors are available in one- and two-wheeled configurations, and the wheels are fully pneumatic for simple worksite mobility. Lifting handles are integrated into opposite ends of the compressors' frames for convenience.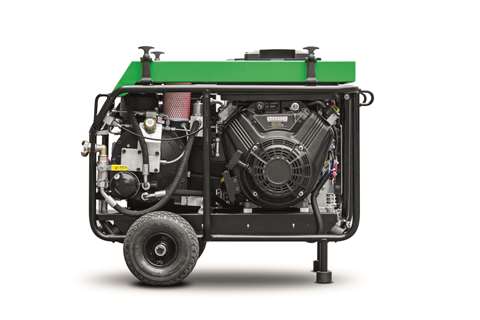 Meanwhile, Atmos Chrast, based in the Czech Republic, has added the PB82E to its range of compressors, which are driven by Vanguard B&S 23 HP petrol engines.
The new compressor can be adapted to different applications since its pressure can be configured to 6, 10 and 14 bar, and its stepless pressure regulation can be adjusted accordingly.
All of Atmos Chrast's machines can have a 12V socket added to them for connecting to an external Atmos aftercooler. Once the air has been cooled, the condensate is drained via a cyclonic separator.
The large choice of products in this niche market can make purchase decisions difficult. For this reason, UK-based compressor supplier Direct Air, offers an information page on its website giving a rundown of the main features to consider.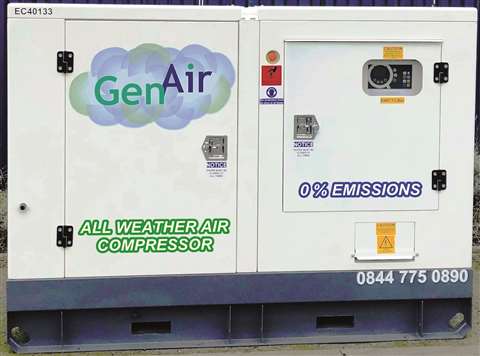 GenAir plucks an award
UK Rental company GenAir has won a Green Apple Environment Award for its All Weather All Electric Air Compressor.
GenAir's individually designed air compressors have won the award this year. The units have a working pressure of 0.7 to 13 bar with a maximum free air delivery of up to 11.3m3/min. The electric units run without fuel, have a weatherproof canopy and can be used in all areas, including those governed by emissions and noise rules.
David Timmins, GenAir's Managing Director, said, "Naturally, we are honoured to receive this award. Emission elimination and compliance with NRMM [non-road mobile machinery] regulations have been the driving factor in developing these compressors. To have them officially acknowledged as a sustainable product is extremely satisfying."
The annual awards, which were established by the Green Organisation in 1994, campaign to recognise, reward and promote environmental best practice around the world.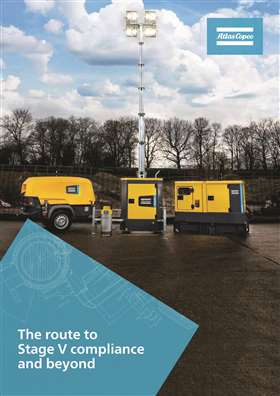 Stage V e-guide
In July, Atlas Copco Power Technique published a free e-guide that explains the impact of new European Commission emissions standards legislation on non-road mobile machinery such as compressors, generators, pumps and lighting towers.
'The Route to Stage V Compliance and Beyond' guide outlines the scope of the Stage V standards, which are being implemented between 2019 and 2020 as a means of reducing air pollution.
It is intended to provide customers with a roadmap to Stage V compliance, while explaining how the new standards will lead to a range of cleaner and better performing products.
It also takes a look at the noticeable trend towards non-polluting and connected air, power and flow solutions that are reliant on alternative power architectures such as hybrid, electric and battery power.
Andrew Walker, president of Atlas Copco's Power Technique business area, said, "While the speed and magnitude of this conversion is geographically determined, there can be little doubt that society's perception of diesel particulates in connection with health-related issues will continue to grow. That's why the e-guide looks at the transition to alternative drive technologies such as battery and electric driven equipment."
The guide can be downloaded from atlascopco.com