Conquest Offshore removes large wreck in Mexico
By Ian Vallely04 January 2017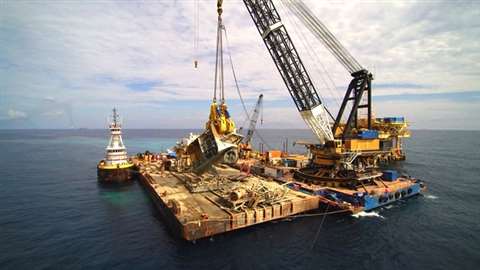 Amsterdam, Netherlands-based Conquest Offshore's MB-1 heavy lift barge was the key asset in the largest wreck removal recorded in 2016. Conquest MB-1 removed the Troll Solution jack-up rig from the seabed 30 metres deep of the Bay of Campeche, Mexico.
The accident occurred in May 2015 when the Troll Solution collapsed during positioning to carry out maintenance work related to a production platform.
The salvage operations were led by salvage company Ardent Global. Ardent deployed the Conquest MB-1 crane barge and non-traditional hoisting technologies with a 1000 ton hydraulic salvage grab. The 6 pieces that made up the deck house and the 31 pieces from the vessel's hull were lifted during the course of 2016.
"The experience and knowhow gained in a complex project like this in an oil and gas field has elevated us to the next level. The project showed excellent integration from the people, assets and technologies, and we look forward to conquer more challenges with our partners in the offshore industry," said Michiel Zwagerman, CEO of Conquest Offshore.